It's that time of year again! Pantone has just announced its choice for the 2023 Color of the Year. Designers, marketers, and creatives wait anxiously for the big reveal. This year's color is "Viva Magenta 18-1750" which makes a vibrant, yet powerful statement.
A quick history.
Pantone first introduced the "Pantone Color Of the Year" back in 2000. It was meant to inspire and be a trendsetter for the year ahead. The Pantone Institute examines and analyzes all aspects of the world around us including fashion, social media, current national and world events, and the overall tone of our environment. It wasn't until 2007, however, that the world really started to take notice and know that this color is special and has a deeper meaning. Today, the big announcement is highly anticipated and after the launch, creates an entire media frenzy with articles plastered all over the internet and news.
For the Pantone Colour of the Year selection process, colour experts at the Pantone Colour Institute comb the world looking for new colour influences, from the entertainment industry to fashion, travel destinations and socio-economic conditions. Influences can also stem from new technologies, materials, textures, social media platforms and even upcoming sporting events that capture worldwide attention.

Oliva Heath, House Beautiful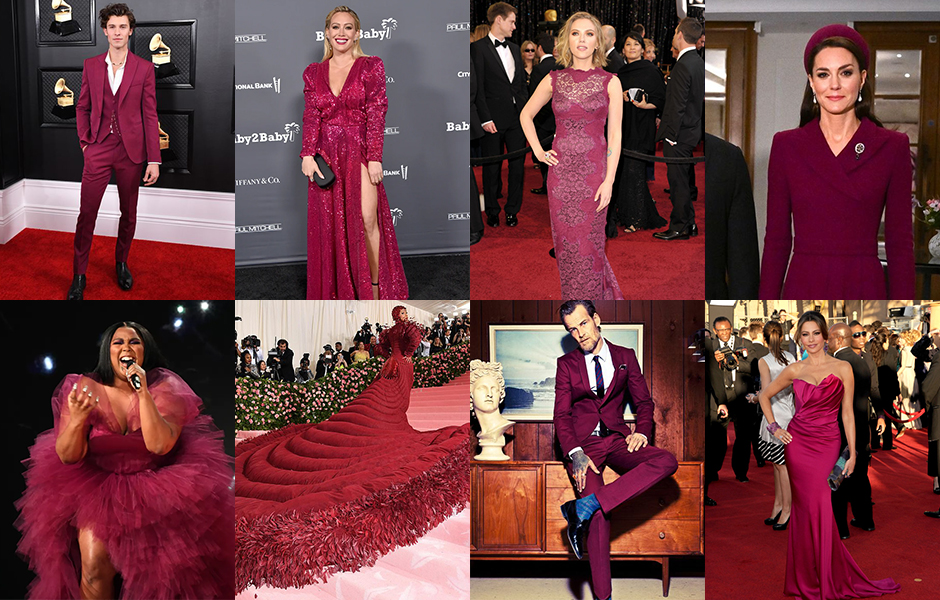 Approximately 12 hours after the color announcement was made, we are seeing major headlines in publications such as the New York Times, Time Magazine, LA Times, Architectural Digest, and even Vogue, to name a few.
Why do we care?
Why is it that so many people put this much energy and excitement into a single color? And how can one company so clearly dictate the direction of the coming year and the tone that is ahead? The answer is simple: Pantone is the leader in all things color. They literally wrote the book on color classification. By taking notice of the Color of the Year, you can save hours upon hours of research trying to find a color that will potentially connect to your audience. This particular color will gain global attention and be seen in advertising and publications everywhere.
The "Viva Magenta" is a very dramatic color. It's a beautiful balance between a warm and cool color. It's romantic, yet a symbol of power. It screams confidence, commands attention, is a risk-taker, and has the potential to energize the world around us. Even if you choose not to use Viva Magenta in your advertising strategy, the research behind the color is a wealth of insight into the minds of the consumers.
The 2023 Pantone Color of the Year is Viva Magenta, hybrid red that mixes the excitement of crimson and the calmness of blue for a zing that signals risk-taking. Just what we need as we try to ease our way out of the pandemic.

Pantone Color Institute
How will we see this color used in 2023?
Look for "Viva Magenta" in high-fashion, beauty products, interior decorating, and all forms of advertising. While the Color of the Year is normally very present and recognizable, we think this year we'll be seeing "Viva Magenta" on another level – loud and proud everywhere.

But like all trends, this color will change. There will be a new Color of the Year in 2024. So do not base your brand around this color. Instead, use small doses of it in your advertising, on social media posts, and in your content. If you have special limited-edition products, the packaging is a great place to use the color. Use It sparingly or use it boldly, but keep it on things that are temporary, and not items that define your brand.
We don't know what the outcome will be, but we've done the research to know we want to make this change. It speaks to our need of optimism and joy. Viva Magenta is powerful and empowering."

Eiseman, Pantone

How can it be paired?
"Viva Magenta" is like the new black. It goes with just about anything. Pair it with pinks and creams for a natural, romantic look. Pair it with olives or deep greens and for a strong and rich feel. Or use it by itself to create a bold statement. Want to show that your brand is fun and outgoing? Pair it with light teal or pale orange.

To see how Pantone has used the Color of the Year in the past, click HERE.