More than ever, it's important to practice social distancing, and businesses have taken it upon themselves to make sure their customers are safe. Many of the retail stores, such as grocery stores, restaurants, banks, and post offices, have included the use of floor decals, directional signage, and window clings. Learn more about each product and how they can help keep your customers safe.
Floor Decals
Whether your business is a grocery store, restaurant, retail establishment, or other essential business, a floor decal can highlight social distancing while creating a positive impact on your customer's health and safety. These social distancing floor decals can help create a personal space within high-traffic and social areas to limit the spread of Covid-19.
For maximum exposure, Primoprint offers two different types of floor decals, including 4mil vinyl and our 20mil aluminum decal.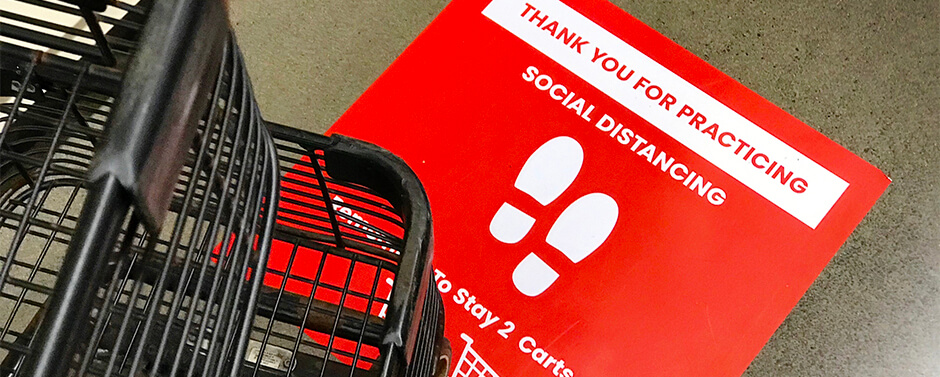 Vinyl Floor Decals
They can be used as social distancing floor decals, that are easy to peel and stick! Floor decals are suitable for short-term interior applications that can adhere to a variety of surfaces. We do not recommend they be placed on asphalt, cement, or carpet as it will not adhere properly. Each decal offers a protective overlay that can withstand most cleaning chemicals and cleaning methods.
Circle Sizes: 12″, 24″, 36″, and 48″
Square Size: 52″ x 120″
Aluminum Floor Graphics
Our aluminum floor decals are made of rugged aluminum foil material, making them slip-resistant to improve stability. Whether you're using them indoors or outdoors, they can withstand the hot and cold weather conditions.
Sizes: Minimum size is 12″ x 12″ with a maximum size of 120″ x 50″.
Shapes: Circle, Oval, Octagon, etc.
Quantity Option: Can be ordered as low as one quantity.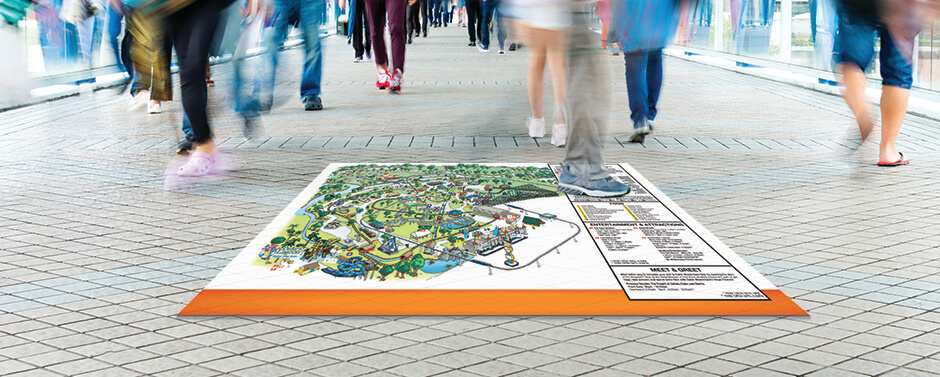 Applying Your Floor Decals
With the following three simple steps, you'll be ready in no time! First, you'll want to clean and dry the area free from debris and dust with a mild detergent or soap. Next, carefully peel your floor decal from the backing and place it on the surface. Once applied to the floor, smooth out any air bubbles.
Window Decals
Our window clings are printed on premium 7mil thick glossy material with a backer that can be used for either indoor or outdoor uses. The ideal surface to be applied to is glass, but it can be easily applied to other clear and smooth surfaces. Use them to advertise your business, update customers on social distancing, display store hours, and more. Our custom window decals are easy to apply and can be used for temporary or long-term use.
Sizes: Select from a variety of popular sizes including 3″ x 3″, 4.25″ x 6″, 6″ x 9″, 8.5″ x 11″, and more!
It's important to make sure that you have properly prepared the surfaces for your floor or window decal. Below we included brief instructions on how to get started for each product.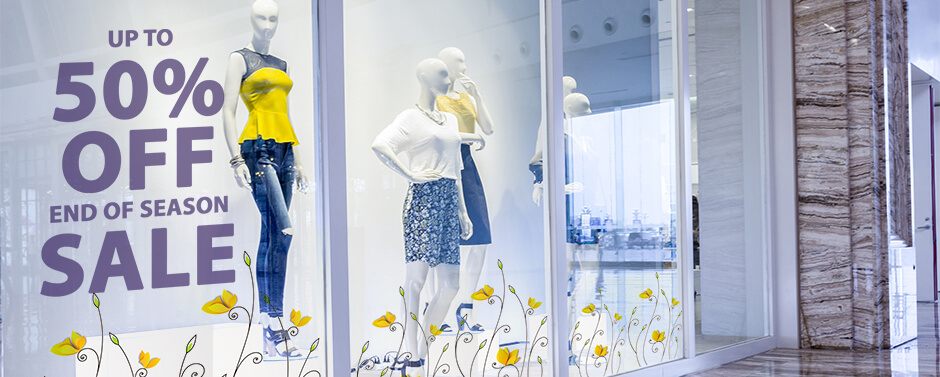 How to Apply Window Cling?
Before you get started, there are a few steps to get you ready to apply your decal. First, you'll want to clean the window. Grab a dry cloth to remove any particles and dust. Next, you'll want to mix mild soap with warm water and apply it to the window surface. Once you have dried the window, peel the window decal from the backing and apply it to the window. After the cling is applied, it's best to start from the center of the decal and press outwards to remove any air bubbles.
Once you have decided to open your doors, it's crucial to create a well thought out social distancing plan to incorporate the signages.
The following products are available by custom order. Please complete our custom order form or chat with one of our customer representatives to help you get started.
Do you need help with a custom design? Our in-house design team is ready to help with a one-of-a-kind custom design.