We are excited to offer the USPS®'s Full Service EDDM® along with our Print Only service. By purchasing Full Service Every Door Direct Mail®, you can send high-quality postcards from your computer to your customer's mailbox for as little as $0.1675 per home…this includes postage!
There's no paperwork, no mailing list, no need for addressing or sorting, no mail permit required or USPS® account needed. Plus, no need to deliver massive boxes of postcards to your post office. Full-service EDDM® allows you to place orders from the convenience of your computer. We offer a variety of sizes and print options to meet your needs.
Download our Free EDDM® Success Guide
What's Included?
On-site map tool and route selection.
USPS® processing and paperwork.
Postcard bundling.
Facing slip preparation and insertion.
Packaging and delivery to the Post Office.
EDDM® Route Selection Tool
Learn how to utilize every aspect of our route selection tool. Our video tutorial teaches you how to select routes based on Zip Code, residential and/or business addresses, median income, age, and household size.
Cost Savings and Advantages:
No shipping charges – save $20 – $90 or more per order.
No sales tax – save $20 or more per order.
Full-Service postage is only $0.1675 compared to 17.6¢ saving up to $80 per order
EDDM® vs. Direct Mail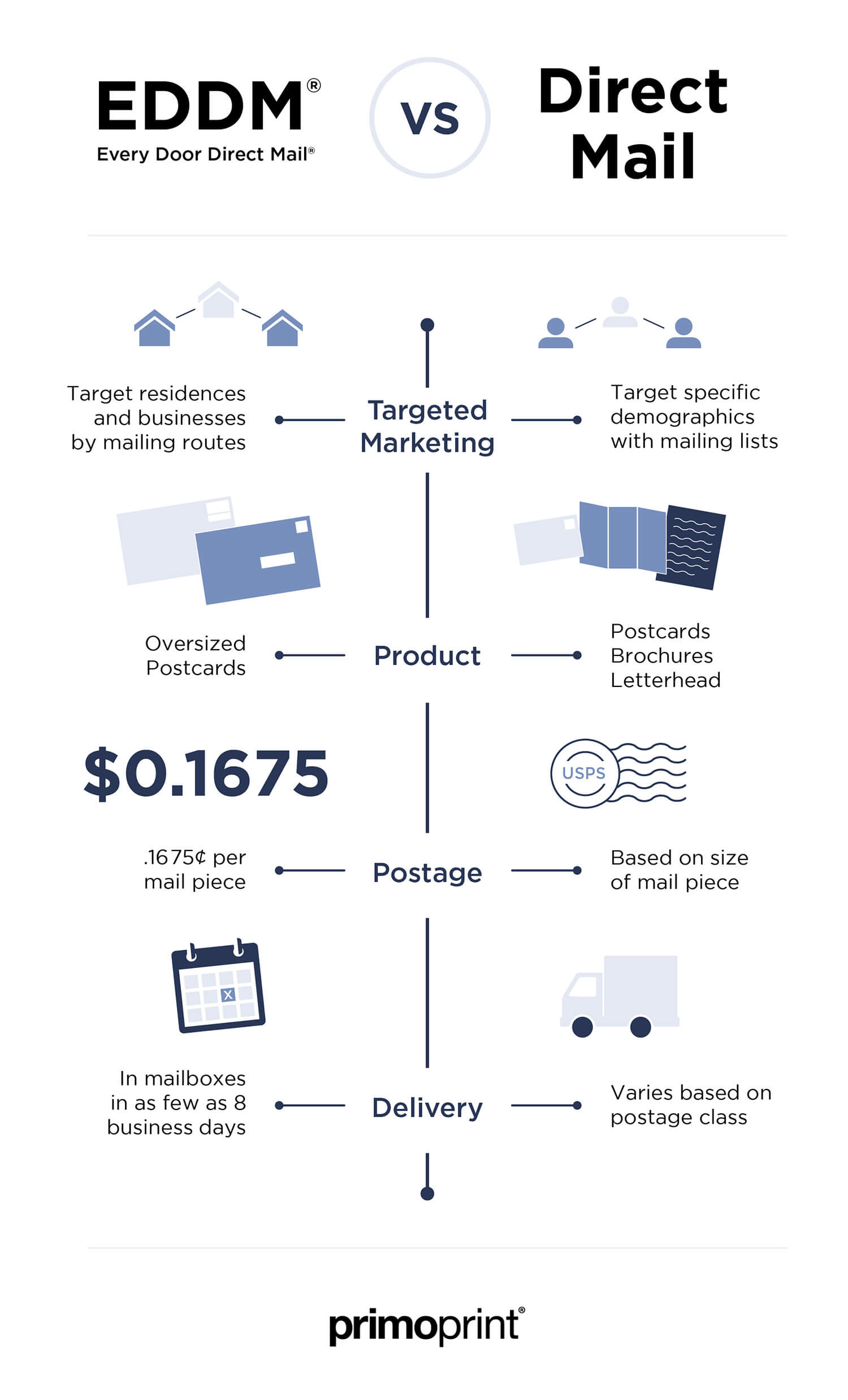 The process is easy. Upload your design files or have our creative team create a unique design for your business. Review your order and complete your checkout including postage (only $0.1675 per home). That's it! We handle the rest which includes print, processing, and delivery to the post office.
Most of our clients agree that Full-Service EDDM® saves them money in addition to saving time and frustration. Get started today and put your business in front of the people who matter most.
Need artwork for your design project but not sure where to start? Our in-house creative staff has the knowledge and expertise to maximize your direct mail marketing campaign. Get started by completing our online graphic design form.