So, you're looking for a great way to grab the attention of potential customers or promote a product, service or event? We suggest our latest product, custom promo flags. We offer two types: teardrop and feather.
They can be used for either indoor or outdoor to help promote a message or business brand.They are printed on one side on a durable light weight 3oz Polyester fabric.
Common uses for an indoor flag includes conferences, trade shows, special events, product displays, and more. Our flags offer plenty of space to display a logo or a message that can be seen clearly and easily. When selecting an indoor flag, we offer optional hardware : a cross base and pole.
Our promo flags are also great for outdoor use. Some common outdoor uses include promoting a sporting event, business advertisement, grand opening, product display, promoting a special event such as a wedding, and more. As you can see, the possibilities are endless!
If you have any questions about our printed flags, please contact us by completing our online form. We do offer graphic design services if you need assistance with a custom design. Contact our graphic designer here.
Teardrop Flags:
These flags are offered in three different sizes: 7ft, 9ft and 11ft.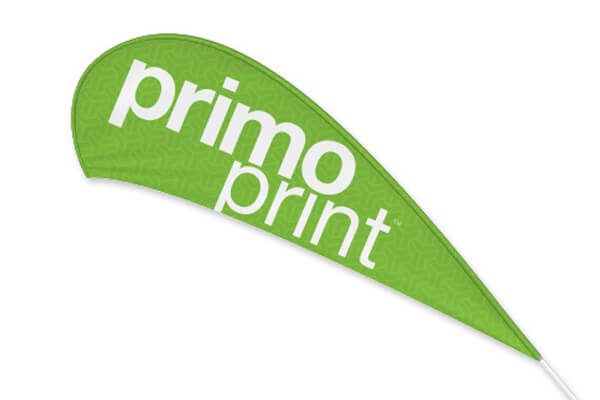 Feather Flags:
Select from four different sizes; 8ft, 10ft, 12ft regular and 12ft jumbo.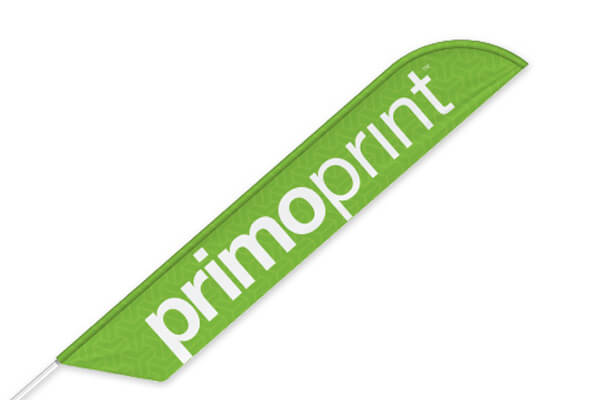 If you have any questions about our custom flags, please contact us by completing the online form. Our graphic designers are happy to help create a custom design. To get started, click here to complete our graphic design form.
Shop Flags