In a few short weeks, the Class of 2023 will be celebrating a great life achievement. Whether it's a Kindergarten graduation or a Doctoral degree, Primoprint is here to help your graduate feel extra special on their big day. From announcements to yard signs, we've got you covered with our graduation supply checklist.
Announcements & Invitations

Share your success with custom announcements or invite everyone to share the big day with an open house/party invitation. We offer 9+ paper stocks to fit your unique personality.
• Matte– Our Matte invitations and announcements offer a non-glossy and smooth appearance making them great for any occasion.
• Natural– Our Natural invitations and announcements offer a natural, light cream color with a smooth, elegant finish
• Pearl Metallic– This beautiful card stock has pearl fibers providing a subtle shimmer, unlike any other stock.
• Glossy UV Coated– They're our most budget-friendly option that provides a glossy coating applied over the entire card stock, also referred to as flood coating. The UV coating not only enhances the colors but also protects the card stock.
• 14PT Uncoated- Our 14PT Uncoated stock is perfect for including a handwritten message with a pen or pencil without the fear of smudging.
• 18PT French Kraft– This elegant and trendy card stock offers a rustic and beautiful appearance. Our Kraft paper announcements and invitations contain 30% recycled materials making them a popular eco-friendly print option.
• ModCard- Get noticed with our ultra-thick invitations. Printed on 32PT thick premium card stock with a variety of sizes and printing options.
• Velvet Laminated- Our Velvet invitations provide a creamy and velvety texture, unlike any other card stock.
• Silk Laminated– Our Silk laminated invitations and announcements offer an elegant and luxurious protective finish making them a top seller.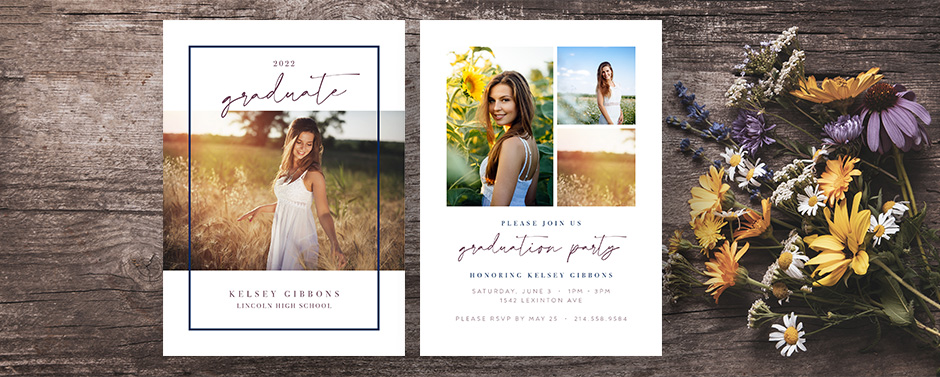 Yard Signs
Share this proud moment with your neighborhood! Our yard signs are perfect to put your graduation on display. We offer two durable signs to fit your needs: 4mm and 10mm Coroplast. Coroplast is lightweight, sturdy, waterproof, and stain-resistant. And these signs have a high tolerance to handle the extreme elements outside. (Both cold and hot temperatures).
Need help with a design? We offer free templates right on our website. Simply choose the one you like, enter your student's information, and send it to print!
Trading Cards
You may be thinking of trading cards? But as you transition from high school to college you lose yearbooks and sometimes lose touch with close friends. So why not leave your stats and interests in a trading card that your graduate can share with friends and family? You can include a photo (or two), their name, graduation year, degree, clubs, organizations, and more! We offer 13+ options for you to choose from!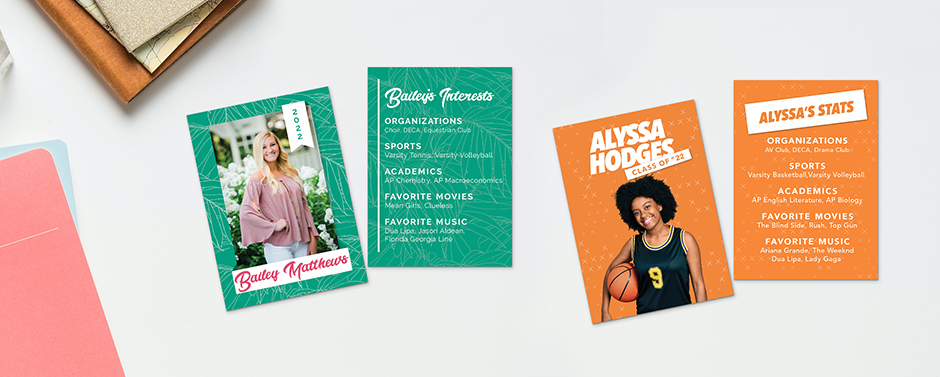 Buttons or Stickers
Your family is proud of your accomplishments! Let them share their happiness with you with custom buttons or stickers. Our buttons come with a locking safety pin backer and our stickers offer crack and-peel paper backing for easy removal, and they're available in multiple shapes, sizes, and finishes.
Banners
Banners make a great party decoration and can also be used to draw attention at a large event. We offer a variety of sizes and indoor/ outdoor banners. If you are having an open house or graduation party, large backdrop banners can be a lot of fun. Guests can take their photo with your graduate and have memories of the event for years to come.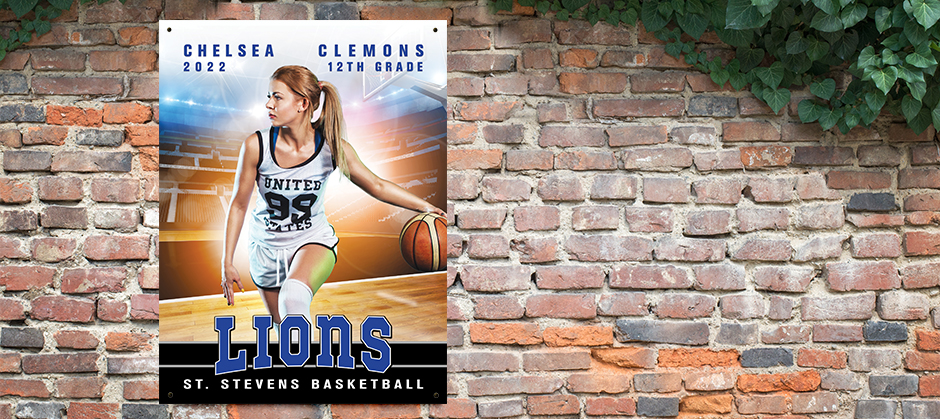 Business Supplies
If you're currently in the workforce and advancing your degree, don't forget about updating your business supplies to reflect your new achievement.
Examples:
– A registered nurse (RN) now a Critical Care Registered Nurse (CCRN)
– A lawyer (J.D.) now a Master of Laws (LL.M.)
Business Supplies include:
Business Cards
Stationary
Flyers/ Brochures
Greeting / Thank you Cards
Updating Website
Updating Email Signature
Congratulations to the Class of 2023! We are excited to share your accomplishments with you and your loved ones. Our design team is on standby to help make your supplies truly reflect who you are.
Don't forget if you're preparing to transition from college to the workforce check out our blog: Preparing to Transition from College to the Workforce – Primoprint Blog