Real estate is changing because of COVID-19. The virus is impacting realtors, real estate agents, and brokers around the country. Not only is it making everyone rethink their business, but also their marketing strategies.
As a realtor, it is your job to help your client sell, purchase, or rent properties. However, this is not entirely possible with the current situation. Although the current situation is challenging, we've listed products to help enhance your real estate marketing, allowing you to still promote your business.
Use Printed Flyers
Print your real estate flyers to advertise your services and available properties. Leaflets and brochures are perfect as leave-behinds as you do not have to hand them to someone or interact with an individual personally. Even though prospects might not need your services at this time, they can hold onto them as a future reminder of your services.  The flyers act as your representation. Don't let your printed flyers get unnoticed or get lost in the crowd. Make them stand out. Keep in mind; the primary objective is to build interest in your properties and services.
Send Direct Mail and EDDM® Postcards
When done right, mail can be an efficient way of advertising and boosting your sales. Not only are they a great marketing tool, but they are also cost-effective. It is a thoughtful and personal way of contacting your customers and prospects. People appreciate direct communication with a service provider. Send them oversized postcards telling them about your business, updates, offers, and news.
42% of recipients read or scan their mail daily.
Resource: How Realtors can Benefit from EDDM® Postcards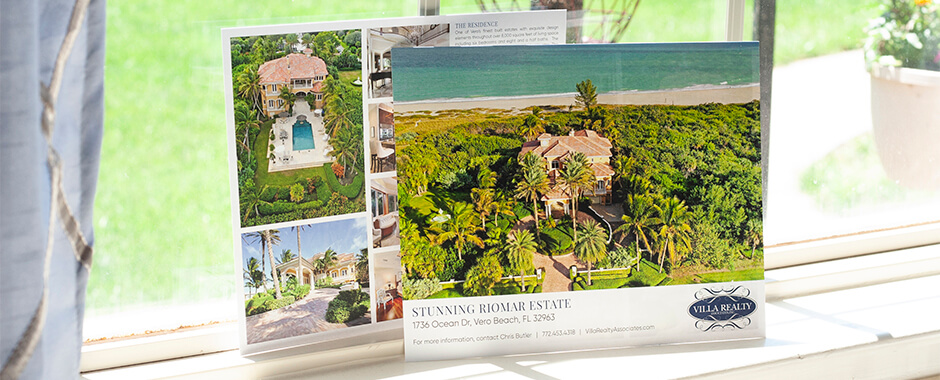 Are you new to EDDM® or looking to learn more about the service? We've created a 15-page Free EDDM® Guide full of information and tips to ensure a successful campaign.
Include Yard Signs
Place a realtor sign on the property you are selling. Using yard signs is one of the best ways to reach potential buyers. As they search their dream neighborhood, a for sale sign or coming soon sign can grab their attention quickly.
This method does not involve one on one contact with people. Furthermore, well-designed signs provide information on the services that you offer and how to contact you, making them a great lead generation.
Premium Brochures
Similar to business cards, you can easily place a brochure around the house for clients to pick up. The buyers and sellers will take notice if you have beautiful, well-designed brochures that target a particular market segment. It's equally important to make sure that each printed piece is of the highest print quality.
Resource: How to Design an Effective Brochure
Business Cards
Rather than handing them out, you can place the business cards on the countertops, side tables at the entryway, and kitchen table. This method involves minimum physical contact.  Make sure that your card is up-to-date and includes useful contact information and the services that you offer. As businesses start to reopen, you can pin your business card on the community wall, so that people can see your information and phone number. Through the connections, you can quickly get inquiries from clients and send replies.
Resource: Request a Free Real Estate Printing Sample Pack
Are you looking for a premium business card design? View our free Real Estate business card templates. You can select from a variety of designs to display your contact information and photo to the appropriate fields.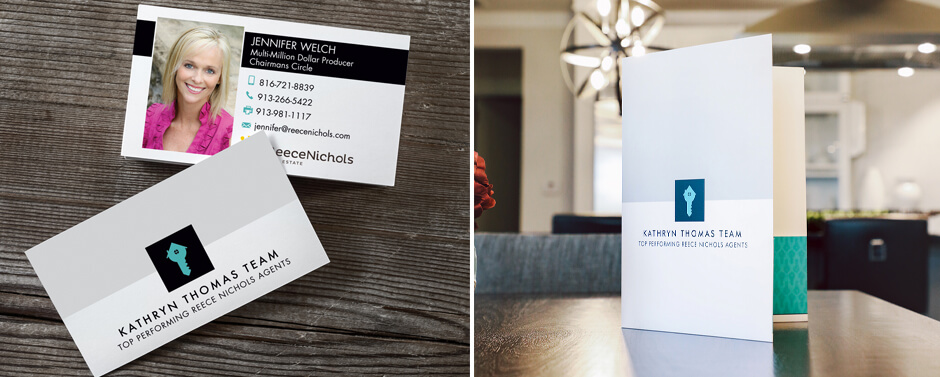 Presentation Folders
Give your clients and customers a great first impression with custom presentation folders. Similar to brochures, you can place them on a table for clients to quickly pick up and take with them. Include essential details regarding the property, including sell sheets, flyers, and business cards.
A custom real estate folder is a simple marketing tool that can go a long way towards enhancing your image and brand to clients.
Billboards
To make an impact with your advertisement, you can hire professionals to provide a valuable message that reflects you. Besides, they have a higher chance of reaching your target market. Surveys show that most people use the first realtor that they contact. Give your prospective clients a reason to contact you. Realtor billboards can be a compelling way to establish your name and brand in your target market.
Although the COVID-19 pandemic has stopped active interaction with clients, it does not entirely prevent you from marketing your business. All you need is a little creativity and consistency in using print media to reach your audience. Real estate is all about building trust. Research about what your target market needs and do your best to prove that you can meet their needs. 
Highlight your achievements and present your best representation. The more your potential clients view you as honest and confident, the more likely they will trust you to fulfill their needs.
If you are looking for a custom design, please contact our design team by completing the online form.