Custom Door Hangers typically are not the first thing that comes to mind when people think about tools they can use for marketing. However, this method of marketing can potentially be beneficial. Special events, coupons, holiday sales, significant announcements and political messages are examples of some of the products you can market by printing custom door hangers.
The Benefit
Ensure Your Customers Get The Message
It's easy for people to ignore many other forms of advertisement. For example, when people see ads on television, they often change their channel. Many people will turn their radio to another station when they hear an advertisement. Even though newspaper advertisement is still widely-used, fewer people are reading the newspaper today than in the past.
However, you can ensure your customers receive the message if you use door hangers. They will have to glance at it, and many people will take the time to read it. That is why using them is one of the most effective ways you can advertise your business.
Flexibility
One of the many great things about using door hangers for advertisement is that it allows you to be flexible. There are a variety of things you can use them to promote. You can advertise your seasonal and holiday promotions. Custom printed door hangers can help support the opening of your new business. There are endless possibilities.
Customizable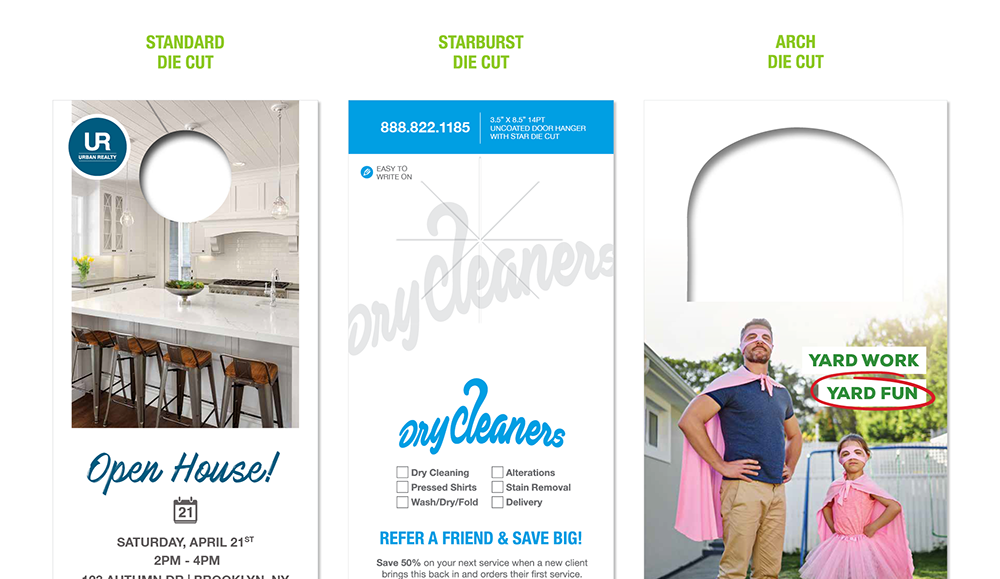 A benefit includes the ability to customize them to represent your marketing needs and your overall purpose. You can choose the colors, fonts, images, and graphics.
Before deciding on the colors, take a look at one of our previous blogs: Color Speaks Louder than Words. We also have a blog emphasizing the importance of choosing the right font for your printed materials. Both can help you determine which colors and fonts to move forward with. You can always ask one of our graphic designers too.
No matter what product, service or items you would like to promote, you can do effectively with custom printed door hangers. At Primo Print, we can help with your design. Not sure where to start? We can help. Contact us today to get started on a custom design for your next project.
Market Small Areas
Even though any business can benefit from using them, they are especially useful for companies in small areas. You can reach hundreds of people in a short amount of time. Not only is this relatively simple, but it is also cost-effective. Investing in this inexpensive tool can help you grow your business quickly.
Door hanger marketing is quick, easy and highly targeted. To learn more about printing custom hangers, contact us by filling out our contact form.