Many small and local businesses wonder what the best method is for finding new customers and getting the word out about their products or services. Today, business owners are utilizing the power of the internet; some prefer face to face marketing, and others use local mail.
How Every Door Direct Mail® Can Help Your Business
All of the methods have their own pros and cons; they are all different when it comes down to how much money is spent and the effort required for each marketing campaign. 
One option which has seen a recent uptick in usage is direct mail, specifically Every Door Direct Mail®, a service offered by the U.S. Postal Service®. This is a popular postcard marketing avenue to reach potential customers. 
EDDM®'s popularity lies in its simple use and ability to reach far: no specific addresses are needed to be collected by the business for the postcard to be sent out. A local business simply selects a zip code, address area, or mail route, and provides the necessary postcards to the post office. 
Download our Free EDDM® Success Guide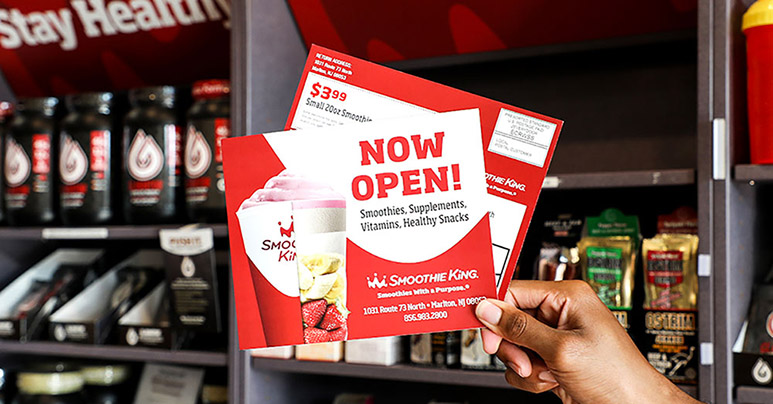 Then, the USPS® will deliver every piece of mail supplied to the specified route. Business mailings must include at least 200 mail pieces and can't exceed 5,000 per day.
One of the best aspects of Every Door Direct Mail® is flexibility, as advertisements mailed can include a variety of messages. However, they must meet the size requirements. Some great examples of how businesses are using these oversized postcards include coupons, menus, grand opening announcements, general announcements, giveaways, contests, and many more. 
Resource: EDDM® Marketing Checklist
It's cost-effective, with prices starting as low as $0.1675  per piece of mail, depending on the size and route chosen. 
New: Full-Service EDDM®
We are excited to offer Full-Service along with our Print Only service. By selecting full service, you can send high-quality postcards from your computer to your customer's mailbox!
Full-Service Tutorial
Learn more about this easy-to-use and cost-effective service by watching our tutorial video.
We also offer custom graphic design services to ensure that your oversized postcard grabs the attention of potential customers.
We offer custom postcards that fit the Postal Service's specification for Every Door Direct Mail®. Once the customer provides the desired size and design, the postcards are created and delivered to the small business. 
Once the company has received the postcards, the next step is to drop them off at their local post office with the specified EDDM® routes. Business owners can then sit back and watch as their postcard travels to exactly where they have assigned them too. Next – enjoy an increase in traffic to your business! 
As the internet becomes more and more widespread, many customers still choose to discover local businesses online. However, every home in the US has a mailbox, and paper mail is the easiest way to reach new customers. The research found that coupons received in the mail have a 35% redemption rate.
These postcards expedite and simplifies this process, and are a fantastic tool for small and local businesses to reach potential customers. Contact us and learn more about how this service can help your business.