After reflecting on your community's current political landscape and your abilities, you have decided to run for office. You're ready to make a major contribution to strengthen and improve your community. To win elections at a local level, it's imperative to have a strong campaign strategy with the essential materials to get the word out.
The success of any campaign begins with capturing potential voters with your presence.  They must know who you are and what you stand for.
While candidates for federal offices have significant funds to finance major spending on advertising, events, and promotion, most contenders for local elections have slightly smaller budgets and must focus on getting the best return on their marketing investment.
Print marketing has been proven to be successful to get in front of potential voters. Here are some of our favorites.
Print Marketing Strategy
Palm Cards & Business Cards
Palm cards, also known as push cards or postcards, are easy to carry around and get your information into the hands of voters. Small enough to fit in your pocket, they are considered your "campaign in a capsule" because they should contain all of the highlights of your candidacy. These durable cards typically feature a photo of yourself, logo, a small bio, and a couple of key causes you support. 
Similar to palm cards, custom business cards are ideal to hand out to potential voters. Keep the design simple by including your name, contact information, website and office you're currently running for.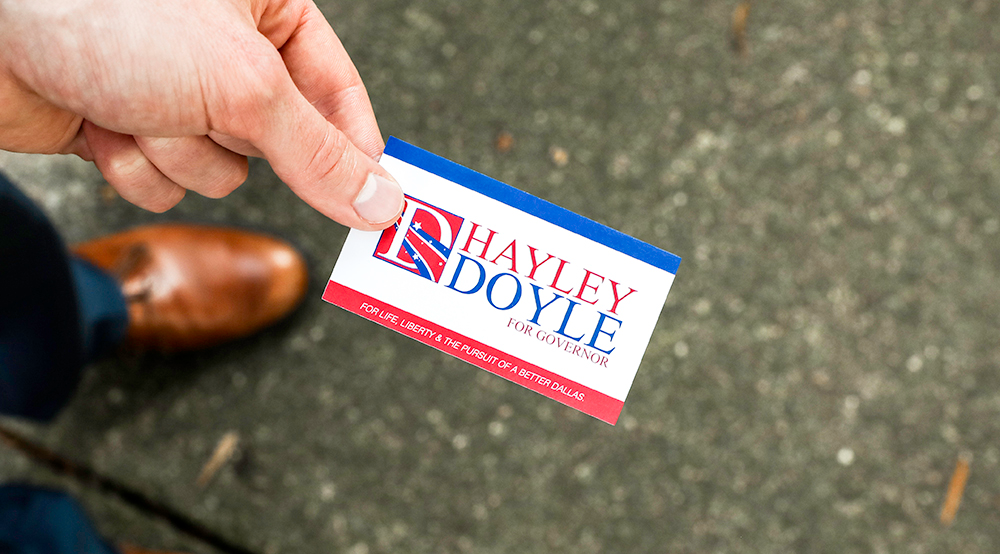 Political Mailers
Political Mailers, including EDDM® and Direct Mail, can be extremely beneficial and cost-effective. Research has shown that 81% of recipients read or scan their mail on a daily basis, reaching a potential supporter's interest within seconds.
Because of its size, this tool is ideal due to its large canvas, making it perfect to place additional information on your platform and vision. More significant than the traditional envelope, your mailer is sure to stand out among your recipient's mail.
Download our Free EDDM® Success Guide
Campaign Signs
These signs serve as a public recommendation because lawns blanketed with your signs illustrate how widely you're endorsed. Lightweight and durable, their size makes them easy to hand out at rallies and events. Since the majority of people will see your signs of moving cars with only a few seconds to read them, it's critical to design for easy reading.
Therefore, your name should be the most visible element in a font that's easy to read. In slightly smaller letters, you can include a call-to-action, such as "vote," "re-elect," or a slogan.
Political Door Hangers
Bring your message to their front doors with premium door hangers. Political door hangers give you more canvas to convey your values and political views. When creating your door hanger, make sure to keep the front side simple, and to arrange your text in a clean and organized manner; an overload of information can confuse your message.
Other favorite print items that are sure to help you excel include campaign bumper stickers, political business cards, brochures, and flyers. 
While print products have spearheaded many successful campaigns, there are also several digital options that can increase your reach and strengthen your platform.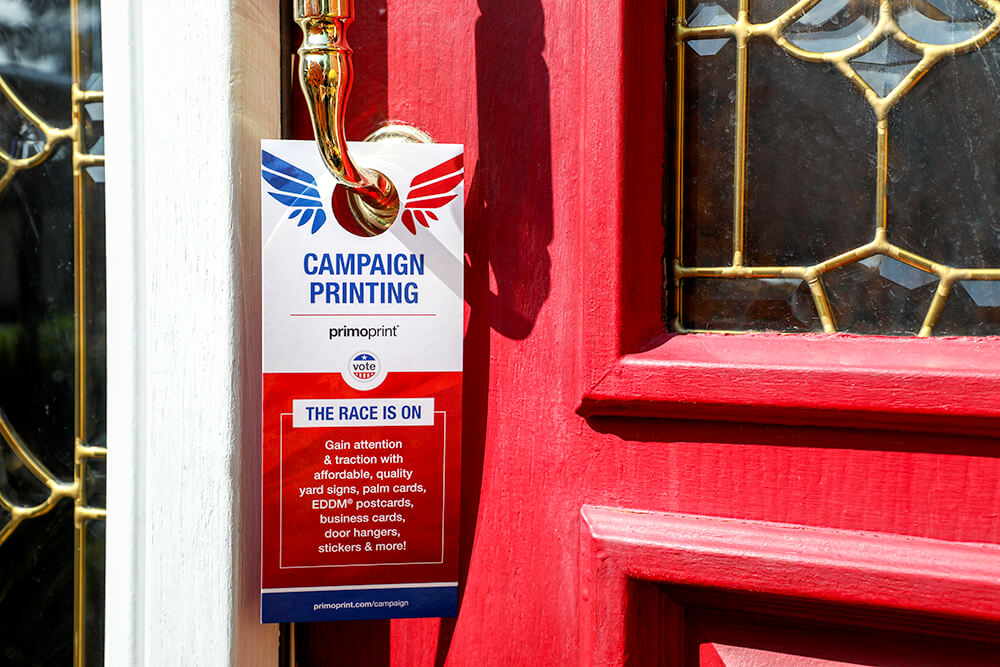 Digital Strategy
Create a Website
Honesty and transparency are the pillars of public service. Since the majority of US residents are on the Internet, it is vital that you have an accessible and interactive online headquarters where people can read your biography and viewpoints. Podcasts are a great addition to your website, giving you a popular platform to connect with listeners of all ages.
Including an email sign-up button allows you to track those interested in your campaign and gives your supporters a way to stay connected to upcoming events and appearances as well as how they can support your candidacy. You could also use that information to send out personalized emails to your supporters periodically.
Reach Out On Social Media
According to a study by statista.com, in 2017, 81% of US Americans had a social media profile, representing a three percent growth compared to the previous year.
Now, consider this: Which social media platforms are your supporters on? How can you best interact with them? What are their concerns and beliefs?
Once you discover their most popular social media sites, you can discuss the best way to deliver your message on each one. A common mistake candidates make is sharing the same message across their accounts.
From Facebook to Snapchat, each platform is different—from how they use them to the reasons people use them. Understanding each platform's subtleties is the first step to creating messages that will stay with your audience. Here are our top suggestions for effectively utilizing each platform.
Facebook
Facebook has proven hugely successful in creating and strengthening communities. Because of this, it is also an excellent platform for targeting ads. Facebook features several options to help you effectively reach your voters. Facebook also offers a live video function. Use Facebook Live to host a virtual forum and answer questions from citizens.
Twitter
Use Twitter to discuss and comment on current events that impact your platform. Create catchy hashtags for yourself and your campaign. Make sure to get your account verified so everyone knows you're legitimate. Through Twitter, you can post videos that are 140 seconds long. Use that tool to share your story and viewpoints. You can also purchase space for political ads.
Instagram
Use Instagram to capture key moments as you canvas your community. This social media app allows you to create featured 'stories' that stay on your profile page for 24 hours. It also features paid ads for you to promote yourself.
With photo ads, you can tell your story through a clean, simple, and creative canvas with one or multiple pictures. Video ads give you the option to incorporate the power of sight, sound, and motion into a 60-second compilation.
Whether you're running for county commissioner or a seat on the school board, there is a diverse range of print and digital marketing tools available to you. By combining both into your strategy, you're sure to run a successful campaign.