Business owners today not only need to update customers on hours and product/service availability, but they also need to explain any new health and safety protocols that are in place to prevent the further spread of COVID-19.
For many of us, local governments are beginning to cautiously reopen. More and more small businesses can reopen and serve customers once again. This can still be a confusing time for many of us. Laws and regulations vary based on each municipality; on top of that, it's hard to tell which businesses are reopening and when not to mention the restrictions or rules that each business might impose upon itself.
It's necessary as the business owner to make sure that your customers are certain as to when and how you're reopening. You want to make the timing and status of your reopening as clear as possible. With that in mind, here are six simple and practical ways to let your customers know you're reopening.
Signage and Vinyl Banners
Chances are, your customers can't wait to revisit your establishment. When they are out and about, they need a clear indication of when you're planning on opening or if you're open. Make sure to print and display the appropriate signage to inform your customers of the news.
Your signage should be large, eye-catching, and on-brand. Consider options like vinyl banners, foam boards, or window decals. A large sign with a clear indication of when you're reopening is a great way to serve your customers and communicate clearly that you are back in business.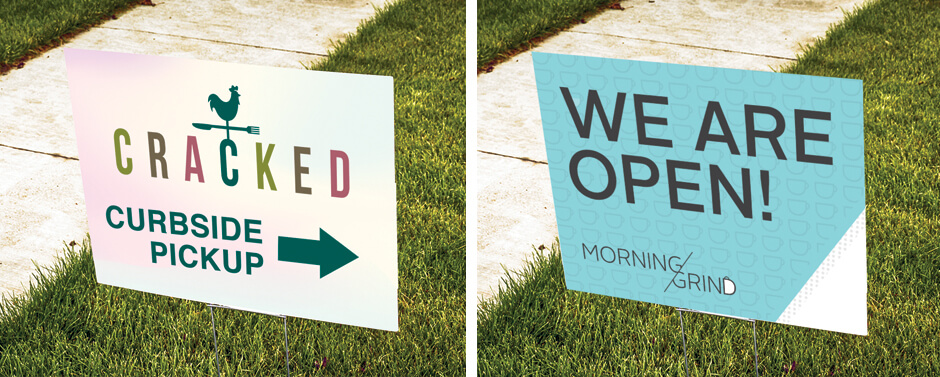 Promotional Flags
Show customers your business is open with large flags! Hanging a teardrop or feather flag next to your business or doorway entrance will let anyone drive-by, seeing that you are open for business! The custom flags are light-weight and can be used not only to allow customers you're open but also as an effective way to promote your products and services. Choose from a variety of sizes to fit your marketing needs.
EDDM® Postcards and Direct Mail
Whether you are a business selling products, services, or a local restaurant, sending out oversized postcards can be essential. Not only can you reach new customers, but you have the opportunity to communicate with previous customers. Adding pictures of your products, beautiful food images, coupons, and promotions is a great way to get them reacquainted with your business and restaurant.
Resource: How to Get Started with EDDM®
At Primoprint, we offer Direct Mail and Full-Service EDDM®. If you're not familiar with EDDM®, it's an affordable marketing mail service that enables you to target a specific audience reaching within a 5-mile radius or zip code(s). Select your mailing route and let your customers know you are open for business.
Download our Free EDDM® Success Guide
With Direct Mail, you'll be able to target demographics, including age, income, voter registration, and more.
Studies show that 85% of small business customers come from within a five-mile radius, making Every Door Direct Mail® the perfect tool for growing your restaurant clientele.
85% of small business customers come from within a five-mile radius
Business Website
Make sure that your customers can easily find the status of your new launch through email lists, social media, and your website. On your website, the date and the status of your relaunch should be the easiest thing to find. Consider a pop-up that displays when a user visits your page. Include information that will be helpful for your customers.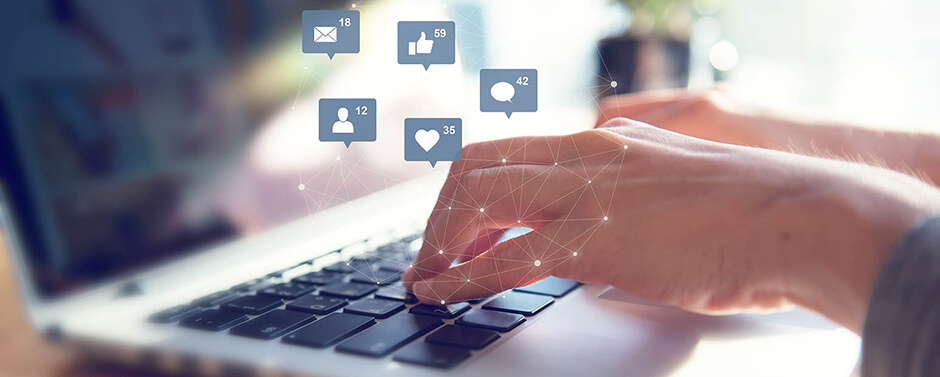 Keep customers in the know by creating blog content and video. Create a marketing plan with content that can be geared towards your reopening efforts.
Resource: How to Use Data to Fuel Your Content Marketing
Show them what you are doing and how you are preparing to reopen. A simple, short video can go a long way. Make sure you upload the videos to your social media accounts and engage with your customers. Businesses that use video grow revenue 49% faster than non-video users.
Be creative, and have fun with your reopening efforts.
Social Media
With social media, show customers what you are doing and how you are preparing to reopen. Produce a series of social posts for every platform your business uses and consistently launch them, leading up to your reopening.
Highlight the same information on all your social media accounts. Include eye-catching graphics or images and post often. Whether you have a social media coordinator or a designated employee, having the ability to answer questions and monitor customer comments is a must.
Take a moment and look into how your business can utilize Instagram and Facebook Stories. Elise Darma does an excellent job of discussing how to use Instagram stories to grow your business.
Email Marketing
Along with social media, email marketing is another powerful way to keep in touch with your customers. Apart from being a powerful marketing tool in its own right, it's a great way to stay in touch and make the announcement that you're reopening directly to their inbox. Studies show that newsletter readers spend 80% more time on the site.
Studies show that newsletter readers spend 80% more time on the site.
Digital Marketing Strategy
It's important to communicate with your customers. Examples include video marketing. Videos are great for getting information in front of customers.
Video Marketing Statistics:
82% of Twitter users watch video content on Twitter
YouTube has over a billion users, almost one-third of total internet users.
45% of people watch more than an hour of Facebook or YouTube videos a week.
Offer Discounts and Sales
As part of your relaunch party, say thank you by offering an enticing deal for your customers to let them know that you appreciate them and their business. Offering a slight discount sets the expectation that you value your customers. It's a powerful way to communicate the value of your brand through mail or email.
Be Prepared
Keep in mind that your reopening plans might evolve from your original intention, and that's ok. Because of the uncertainty, it's challenging to predict or determine how things will change. But, it's necessary to be transparent and timely about communicating essential updates to your customers.
Before you get started, it's important to communicate your new business guidelines. Your business has been given a chance to reopen. But, keep in mind that we're still in the middle of a pandemic. It's imperative to follow your state and local officials on how to reopen your business properly. Reassuring customers that you are following all the guidelines is vital.
Our in-house design team is available if you need help with a custom design or are looking to update your current files, and our in-house design team is available! Get started by completing the online form.
How are you reaching customers? Let us know by commenting below.