Nearly everyone is on social media. Today, social media is continuously evolving, and the behaviors of the users change as well. Statistics show that 69% of adults are on at least one social media platform, and there was an increase of 9% from last year.
They are spending an average of 2.5 hours a day on these sites making social a great platform to reach your audience. It also means it's a crowded space.
When you are ready to post, timing plays an important role. You'll want to determine when you are most likely to be heard. And more importantly, when are you most likely to be heard by the people you need to connect with most.
77% of customers are more likely to buy from brands they follow on social media. – Social Media Today
Every social network has its own culture. For example, a tweet might perform well early in the morning, and a pinner can be active late into the night. Not only that, but niches on specific social networks have different habits.
Resource: 59 Social Media Statistics You Need to Know in 2020
People interested in reading an article on personal finance are going to be more active at a different time than a parent looking for the best backpack to buy for their child.
It's recommended to experiment with posts to determine when to reach your audience. A great place to start is by looking at the performance of previous posts to learn the best times for the different platforms. Next, you'll want to schedule your posts in these time ranges. Then move an hour earlier and see how that does. Tracking how active your audience is at different times is how you will eventually find the very best times for engaging with your audience.
Still, you need a place to start.
Below we'll dive in each platform and discuss useful insights that can help you determine the best time to post on each social network.
Best Time to Post: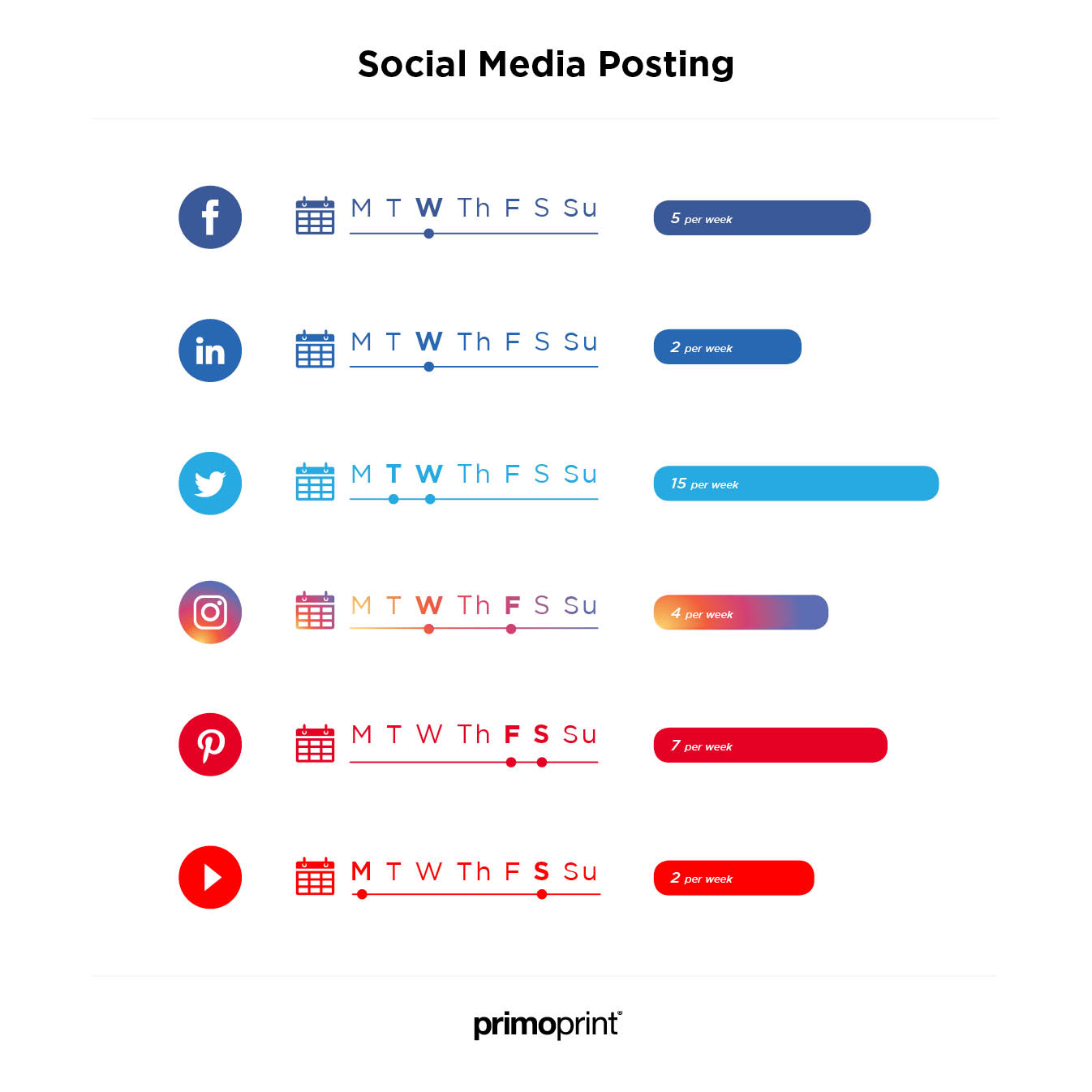 The Best Times to Post on Facebook
Facebook is huge. Not only is it the largest platform, but it's also the most widely used in the world, with an estimated 2.7 billion people. With such a large audience, it's an excellent opportunity to generate organic engagement. People use it for keeping up with businesses and interacting with family and friends. There are many ways to engage your audience. Whether it's done by adding stories, videos, or text posts, Facebook can be a powerful marketing tool.
With such a large audience, it's hard to say if there is a wrong time to post on Facebook. But, there are key data points that suggest the best time is generally 9:00 A.M. – 3 P.M.
The best days to post are Wednesday, and the least popular day is Sunday providing the least amount of engagement.
You want to post at least once a day on Facebook, but a maximum of twice. At the bare minimum, you should post three times a week, or your posts will stop showing to your audience. Facebook rewards accounts that have a higher level of engagement by showing those posts to more users, so this is more important than on many of the other networks. Learn about Facebook's algorithm.
The Best Times To Post On Instagram
There are over one billion users active on Instagram every month, making this a popular platform worth paying attention to.
The majority of user activity browse on their smartphones. Instagram included several new features, and there are more ways for users to interact with this visual platform. Users can scroll through the photo feed and easily watch Instagram stories. The benefit of stories, they are featured at the top of the home feed.
People are most active, weekdays at 1:00 P.M. and 5:00 P.M. This means they're on Instagram on their mobile devices during their lunch break and at the end of the workday.
The best days to publish on Instagram are Wednesday and Friday. Both days tend to show a higher rate of engagement. Similar to Facebook, Wednesday is considered the best day to post.
Aim to post on Instagram at least once a day. Posting one to three times a day is your best strategy for this platform. Instagram's algorithm is continually changing, and it's crucial to stay up-to-date.
The Best Times to Post on Pinterest
Pinterest is a somewhat different platform than the other social media sites on this list. Pinterest is excellent for marketing. Users treat Pinterest as a search engine. Whether they are searching for a recipe or researching a product to buy, you can often find it on Pinterest.
With Pinterest, think of creative ways to showcase your business and products visually. In general, images that were considered "lifestyle" images generally outperformed standard product images.
Pinterest is a content-sharing network, and that makes it a compelling place for marketing. It also means that the timing on this platform is slightly less critical. Content has a better chance of becoming evergreen if it performs well.
Similar to other platforms, there are some days and times that are better than others. It can be challenging to determine the best times to post on Pinterest. But, we've found that the evenings, from 8:00 P.M. to 11:00 P.M., are generally a good time, with a peak time of 9:00 P.M., which is a time for heavy traffic. Users are also active between 2:00 P.M. and 4:00 P.M., 2:00 A.M. and 4:00 A.M.
The best days to post on Pinterest are Fridays and Saturdays because these are the days that users generally research and plan projects.
Unlike other social media platforms, the recommendation is to post a lot. Posting 30 times in one day on Facebook will have people unfollowing you. But on Pinterest, it best to post 3 to 30 times throughout the day.
The Best Times to Post on LinkedIn
LinkedIn is slightly different than the other listed because they are so targeted. This platform is primarily used for networking, generating business leads, and learning. With over 575+ million users and growing, Linkedin is a platform to look into using, especially for B2B marketing.
The majority of users tend to log in during weekdays and typically within business hours.
The best times to post on LinkedIn are between 10:00 A.M. and 12:00 P.M. at least one time a day.
Once again, the best day to post is Wednesday.
This platform doesn't require as frequent posting, so aim to post on two to five times a week for best results.
The Best Times to Post on Twitter
Are you aware that there are over 500 million Tweets sent each day? With over 313 million active users per month, Twitter presents a massive opportunity for brands to interact directly with their followers and manage customer care.
Not only is Twitter about interacting with your target audience, but it's also important to engage with them too.
When we look at the best time to post, we can look at when people are most active.
Let's say your goal is to have people visit your website, blog, or landing page. The best times to post are weekly 8 A.M. – 4 P.M. with the highest click-through rate from 1:00 P.M. to 3:00 P.M. Times with the lowest engagement is every day 10 P.M. through 4. A.M.
The best days to post on Twitter are Tuesday and Wednesday. Users tend to be active earlier in the morning and during lunchtime too.
Tweets have a shelf life of about an hour, meaning the majority of your retweets and visibility will happen during this time. You will see higher rewards by posting more frequently on Twitter, somewhere between 5 to 20 times a day.
The Best Times to Upload a Video on YouTube
YouTube is one of the most popular social platforms, with over 1.9 billion monthly active users. More and more video content is being watched more now than ever before.
54% of consumers want to see more video content from a business or brand that support. via @oberloapp
Some popular topics include graphic design tutorials, how-tos, recipes, DIY home improvement, educational resources, and more! Plus, 68% of users watched a video to help them make a purchase decision.
Users on YouTube are most engaged at 5:00 P.M. until 9:00 P.M.
The best days to post for engagement on YouTube are Friday, Saturday, and Wednesday. Posting in the afternoon gives YouTube plenty of time to index the video and send a message to the subscriber's feed.
If your primary goal is to keep your audience engaged, it is best to post at least once a week on YouTube.
A Starting Point
While the above information is helpful, this is only a starting point. It's necessary to test your audience and deliver the best engagement levels for your business. Test by publishing different kinds of content on various subjects and try to include different mediums such as links, text posts, photos, and video, depending on what is suited for the platform.
Also, setting expectations with your audience can have a powerful effect. For example, if you tell your audience that you'll post a video on YouTube every Wednesday at 5:00 P.M., not only is it something they look forward too, but it's an excellent way for it to become a part of their routine.
Create a schedule for yourself, start testing, and track your analytics. You'll soon discover what your audience responds best to and be on the path for success.
Social Media Monitoring Tools
One of the best ways to make social media work for you and your business can be done by monitoring your audience. You can see what they are saying about you, your products, and your services. You can even monitor your audience's behavior and competitors. There are plenty of social media monitoring tools to look into, and we've listed a few to get you started.
Hootsuite
Sprout Social
Buffer
How do you determine the best time to reach your audience on social media? Let us know by commenting below. Do you suggest a tool? We would love to mention it.