Custom hang tags are the perfect way to showcase your company brand. They serve as an opportunity for a customer to remember your brand.
Read on to learn more uses and why your company needs them, and a product guide to walk you through available sizes and finishes.
What Are Hang Tags?
They are exactly what they sound like: a small tag that hangs from an item with info printed on one or both sides. They're the tags that dangle from new clothing and tell you how much it costs and brand info. Sizes vary, but a square or rectangle is the most common.
While clothing hang tags are common, there are other ways to use them for business or personal reasons including custom jewelry tags, product hang tags, and more.
Common (and Uncommon) Uses
They aren't just for clothes, jewelry, and sunglasses. Make your brand memorable by attaching a product tag to anything you give or sell to a client.
Here are the ways you can use them to elevate your brand.
Clothing Hang Tags
The most popular use is for clothing. These are the calling cards of most retail brands, and often contain the same information as business cards. Since these get thrown away shortly after purchase, invest in a special finish or technique to get attention.
Product Tags
Any item sold online or in a brick and mortar business can benefit from using them. As with hang tags for clothing, investing in a non-standard size and/or special finish is a great way to get attention since tags get thrown away before use.
They are available on any retail item, from jewelry to sunglasses to gift baskets. Get creative. Even if your item typically doesn't include a tag, add one to grab a customer's attention. That one small detail may steer them away from your competition.
Personalized Party or Wedding Favors
Throwing a special party or fundraiser? Add a hang tag to party favors to mark the occasion so everyone can remember how much fun they had. Custom hang tags are a great way to personalize wedding favors, too.
Custom Gift Tags
If your business gives lots of gifts, personalized hang tags add another dimension to your brand while showing how much you care. Common industries for this include hospitality and real estate.
Hang Tag Design
The information you put on them depends on the purpose. More utilitarian tags will often include UPC codes and prices, but some tags are as creative as the items they're attached to. Special finishes like Spot UV and inline foil grab attention.
Here's a list of info you may want to include on your tag:
Logo or brand name
Tagline
Website
Product information
Price
UPC Code
Contact information
Care instructions
Social media
Hang Tag Product Guide
Ready to print them? The following product guide walks you through the available sizes, paper stocks, and finishes to help you get started.
Hang Tag Sizes
The size depends on two things: how big the item is and how much info you need to give your customers. Bigger isn't always better, but consider your item's shelf/rack placement and how visible the tag will be.
Primoprint offers a variety of sizes for your hang tag printing needs. Here are what's currently available:
1.5" x 3.5"
2.5" x 2.5"
2" x 2"
2" x 3.5"
2" x 4"
2" x 6"
Stocks and Finishes
We've already mentioned that the best way for people to notice your hang tag is by using special stocks and finishes.
Here's what we currently offer in stocks and special finishes.
Silk Laminated
If you're looking for extra protection from wear and water with a silky smooth feel, you'll love silk laminated tags. Printed on 16PT C2S stock with a 1.5 mil silk lamination added to each side, making the total thickness 19PT.
Silk With Spot UV
If you're looking for the luxury feel and protection of silk with details that pop, adding Spot UV gloss to elements of your tag will make it stand out among the masses.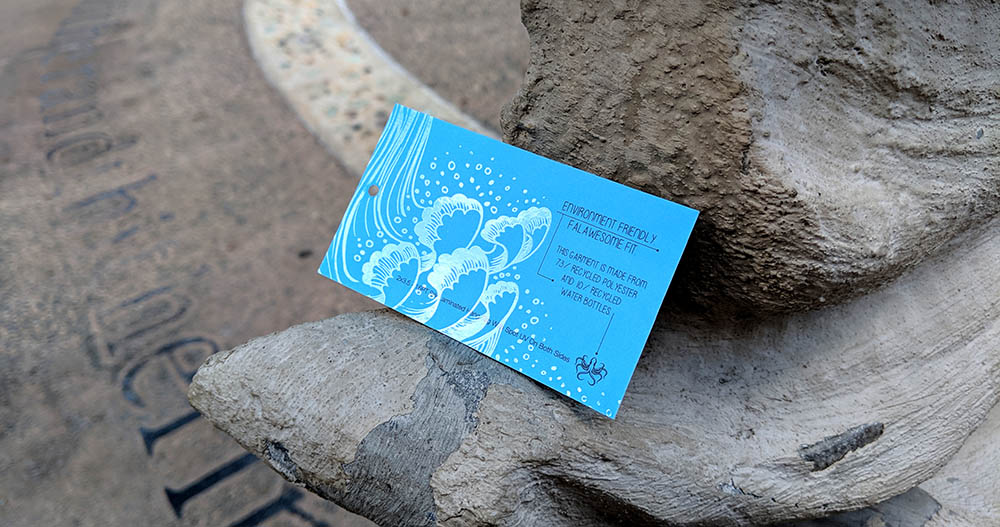 18PT C1S
For a shiny front with the ability to write on the back, 18PT C1S provides a sturdy tag that's glossy on the front and uncoated on the back.
14PT Uncoated
For a basic utilitarian tag, 14PT Uncoated is the way to go. Easy to write on. Works great for prices and barcodes.
Matte
If you're looking for protection without the glare of gloss, check out the Matte hang tag. Printed on 14 PT or 16PT C2S stock with a dull/matte finish. Matte finish provides extra protection without the harsh glare that often occurs on glossy tags.
Silk With Stamped Foil
Add some extra sparkle with stamped foil. Silk lamination provides the extra protection and smooth feel, while stamped foil gives it that extra shine that catches attention. Choose from one foil color on one or both sides. Foil colors available: soft pink, hot pink, silver, gold, red, blue, black, copper, and green.
Spot UV
Spot UV is an affordable option to make your design pop. Printed on 16PT C2S, UV coating is applied to areas you specify, creating a shine. Add it to your logo to make it stand out, or apply it in patterns to large areas of solid color to turn your product or custom hang tag into a conversation starter.
Velvet Laminated
Velvet laminated feel as good as they look. Our 19PT velvet laminated hang tags provide a velvety, smooth and rich texture.

Glossy UV Coated
For a coated tag on a budget, our glossy UV coated tags are printed on a 16PT C2S stock and flooded with a coating on the front only. Great for protecting your front design on a budget.
Inline Foil
Unlike stamped foil, where the color comes from the foil itself, inline foil uses ink to tint foil applied before printing. This creates seemingly unlimited metallic color combinations that add sparkle to your design.
18PT French Kraft
Our 22PT kraft paper stock is made from 30% recycled materials and has visible, subtle flecks which give them a natural feel and organic appearance. Definitely the stock of choice among hipsters and the crafty. White ink printing available. Colors may appear different on this stock; white base coat printing-recommended.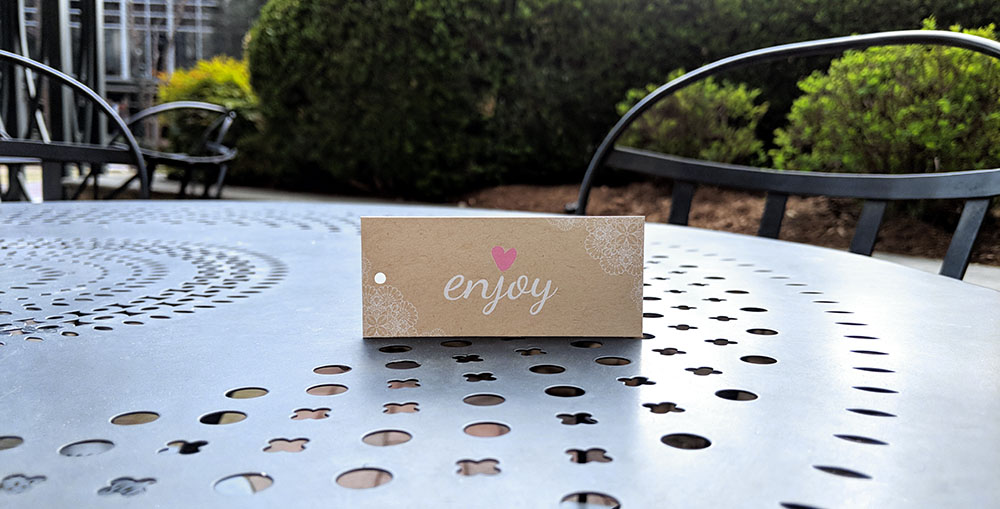 Pearl Metallic
Use pearl metallic stock to create just the right amount of shimmer. The result is a shimmery, slightly metallic print that gets noticed. These are great for wedding favors and events.
14PT Natural
Our 14PT natural offers a light, natural and cream color with a smooth natural surface making them great for writing on. This paper stock is eco-friendly because the paper stock contains 30% recycled materials.
Want some assistance getting started? Our support team is happy to help you pick the best option for your brand.
Make sure you request a free sample packet to see and feel them for yourself.