More than ever, it's important to practice social distancing, and businesses have taken it upon themselves to make sure their customers are safe. Many retail stores, such as grocery stores, restaurants, banks, and post offices, have included custom floor decals.
Whether your business is a grocery store, restaurant, retail establishment, or other essential business, a floor decal can highlight social distancing while creating a positive impact on your customer's health and safety. These social distancing floor decals can help create a personal space within high-traffic and social areas to limit the spread of Covid-19 and help customers get around your establishment safely.
If you are interested in learning more about our floor decals, prices, and options, please send us an email. We're here to help!
Learn More About Our Floor Decals
Types of Floor Decals
For maximum exposure, Primoprint offers two different types, including 4mil vinyl and our 20mil aluminum decal.
Vinyl Floor Decals
They can be used as social distancing floor decals that are easy to peel and stick! Floor decals are suitable for short-term interior applications that can adhere to a variety of surfaces. We do not recommend they be placed on asphalt, cement, or carpet as it will not adhere properly. Each decal offers a protective overlay that can withstand most cleaning chemicals and cleaning methods.
Prices and Options
You have the option to choose from the following sizes.
Circle Sizes: 12″, 24″, 36″, and 48″
Square Size: 52″ x 120″
The price of our floor decals varies based on sizes and quantities.  For example, our 12″ x 12″ square or circle 4mil Flexible Vinyl Floor Decal is available starting at $5.

Aluminum Floor Graphics
Our aluminum floor decals are made of rugged aluminum foil material, making them anti-slip-resistant to improve stability. Whether you're using them indoors or outdoors, they can withstand hot and cold weather conditions. Indoor or outdoor uses. They provide a slip-resistant surface.
Sizes: Minimum size is 12″ x 12″ with a maximum size of 120″ x 50″.
Shapes: Circle, Oval, Octagon, etc.
Quantity Option: Can be ordered as low as one quantity.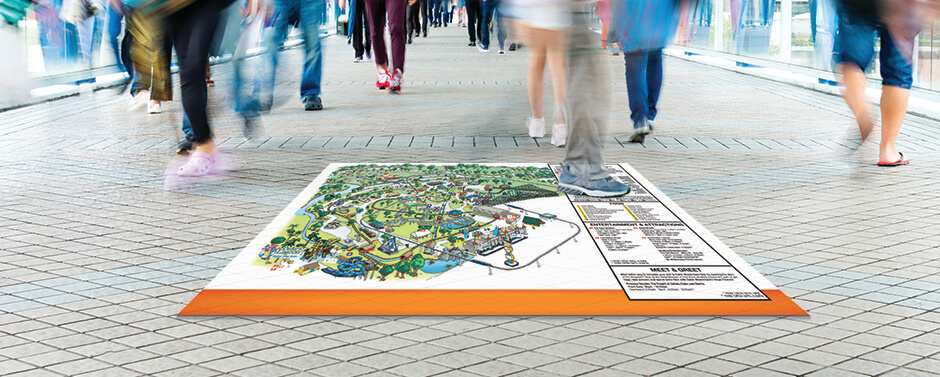 Benefits of Custom Floor Decals
Social-distancing graphics can remind employees, visitors, and customers of the importance of remaining 6 feet apart while interacting with each other, shopping, or working.
They can be located 6 feet apart to provide highly visible markers, eliminating guesswork when estimating the appropriate distances. You can place social-distancing graphics on sidewalks, storefronts, entryways, common areas, and more.
Other Uses For Decals
Along with using it for reminding customers of social distancing, they offer other uses for your business. For example, if your company offers a special promotion or sale, applying a floor decal can be a great marketing strategy. They can be used as floor directional signage. Let your customers know where to. These directional signs can lead them to promotional stands or products.
This different strategy is much more likely to get someone's awareness than other forms of marketing. Plus, when using, you don't lose the valuable space with traditional signage and product displays.
Applying Your Floor Decals
It's recommended that the surface be prepared before properly installing your custom floor decals. The surfaces should be non-porous and smooth.
Before installing, you'll want to make sure that the floor is prepared properly.
Take time and sweep the floor surface free from dust, dirt, and any debris.
If the surface has oil or grease, you'll want to use a mop with mild soap or detergent to remove any debris.
Allow plenty of time for the surface to dry completely.
Avoid applying on top of any loose or unwanted substances that may affect them from adhering properly to the surface. Examples can include dirt, oil, loose gravel, and more.
With the following three simple steps, you'll be ready in no time!
Once the surface is clean, it's time to place it on the floor.
Use two hands and carefully peel it from the backing and put it on the surface.
Once applied to the floor, smooth out any air bubbles with a squeegee.
The decal will immediately adhere to the surface and ready for foot traffic!
Make sure you don't clean the surface of the decal for at least 24-hours after applying.
Compatible Surfaces for Floor Decals
Our floor decals are compatible with most indoor surfaces. We don't recommend using them on non-compatible or porous surfaces, including carpet, unsealed concrete, or surfaces that are often oily, dirty, or wet. Below are compatible surfaces.
Tile
Hardwood
Laminate
Smooth Sealed Concrete
You can remove them, but we do not recommend reusing them. There are a few steps to follow when wanting to remove the vinyl decals. List it from the floor from one end, pulling it up in quick strokes at an angle no less than 45 degrees. Continue to pull up until the sticker is removed. It should be easy to remove from the smooth surface up to 6-12 months. For anything longer than 12 months, the removal process can be challenging.
Whether using them for your business or school, social distancing floor decals can benefit you and your customers.
Currently, they are available by custom order. Please complete our online custom order form, and one of our customer service representatives will be in touch.
Need help with a custom design? Our in-house graphic designers can help bring your vision to life. Complete our online form to get started!