Our in-house graphic design Kelly created a custom EDDM® postcard for StoriArts.
About StoriArts: Storiarts exists to spread the love of great literature, bringing you tangible reminders of your favorite books, poems, and stories. They create beautiful literary scarves, writing gloves, literary tees, and totes with your favorite authors and their works.
Background
StoriArts was looking to create Valentine's Day-themed promotional mailers. They provided their logo in several formats and had a database of professional photographs to select from. The written content was minimal, instead, they chose to focus on the excellent product photography and the call to action.
Design Process
Understanding that they already have strong branding in place, I visited their website and social media pages to understand their design tendencies better. I selected similar fonts and colors (with a Valentine's Day spin) and chose photographs that worked with the holiday theme, either in color or in content.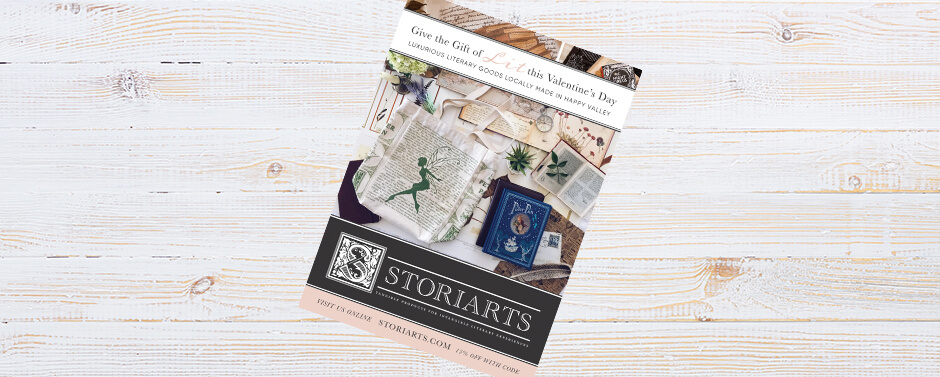 The layout for the back came together pretty quickly. I chose a sizeable asymmetrical grid to showcase their products and included their call to action as well as a coupon code.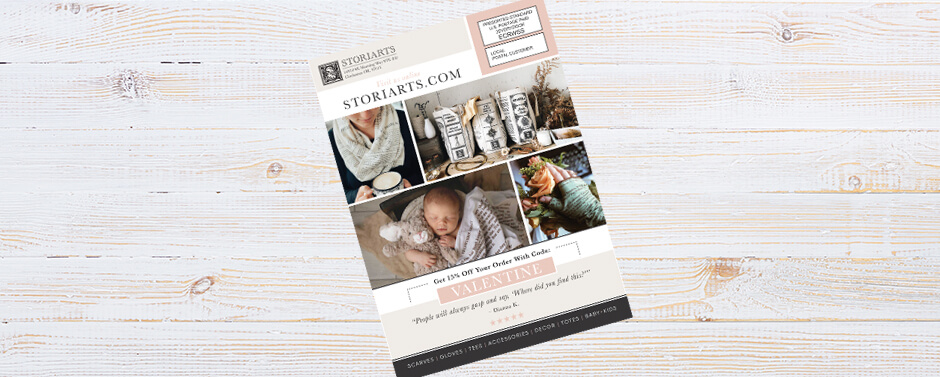 This is relatively large, as the mailer's goal is to drive recipients to the website to take advantage of the limited time offer. Initially, I incorporated a lot of white space, thinking the photos brought enough visual interest to the page.
As I worked through it, the addition of color blocks made the whole design feel more cohesive and "cozy," which I thought seemed appropriate for both the product and the overall mood. We opted to use one central image for the front, including a large logo, their slogan, and an abbreviated call to action.
We were sure to have their contact info and some information about what they offer, but the heart of this piece is their product photography. Their photos' ability to tell a story make this piece jump out at you without the addition of a ton of text.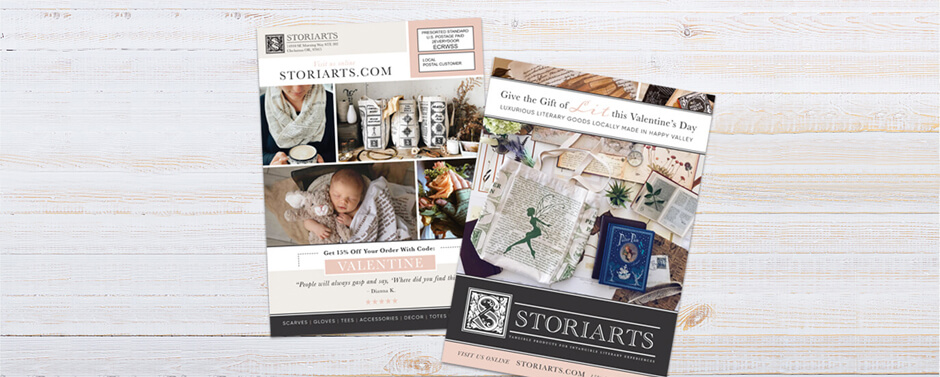 If you need help with a custom design or rebranding, our design is ready to help you and your business. Get started by completing our design online form.
What is Every Door Direct Mail®?
It's an easy, and affordable postcard marketing campaign that lets you send target advertisements to specific neighborhoods or zip codes. If you are interested in Every Door Direct Mail®, please take a look at the following blogs:
Helpful EDDM® Resources:
Free EDDM® User Guide:
Everything you need to ensure a successful Every Door Direct Mail® Marketing Campaign is packed into a Free 15-page PDF.
The Complete EDDM® Marketing Checklist:
We'll discuss everything from designing the EDDM® postcard, official guidelines, marketing tips, and measuring and tracking the results.
EDDM® Mapping Tool Tutorial:
Our EDDM® Mapping Tutorial walks you through the entire process of choosing certified USPS® mailing routes and zip codes.