Technology is ever-changing and continues to improve year after year. Keeping up with the latest and greatest can be a full-time job. In the realm of computer monitors, resolutions and refresh rates seem to increase constantly. But what exactly does that mean when buying one for design and creative work?
Generally, when purchasing a monitor, you get what you pay for but, spending top dollar on a new monitor may not always be the best idea. If you aren't looking at the right specifications, you may buy a beautiful display for watching movies, but it may not be suitable for design work.
We'll break down all of the information that a designer/creative needs to know when buying a new monitor in 2022.
Do I need to buy a high-resolution display?
Resolution isn't everything but it can help you out in a few areas. What you will need to ask yourself is if you plan on using the monitor for other things like gaming or watching movies? When looking at a 4K or 5K display for graphic design, being able to zoom in without losing any detail in an image or video is helpful. 1080p is the cheapest option and looks good but we would recommend going for a 1440p display at the very least. 1440p will double the resolution of 1080p and help with intricate designs. 4K & 5K will push the envelope even further but may stretch your budget.
Resolution comes down to personal preference. If you are a designer or content creator, having a high-resolution display is important to create the best content possible. But that isn't to say a 1080p couldn't get the job done.
Color and Panel Technology
There are three types of panels that you will see when researching monitors; TN, VA, and IPS.
IPS panels are ideal for designers/creatives due to their bright displays and color accuracy. What you will also want to look for is if a monitor that has a wide color gamut or high sRGB rating. sRGB is very important for color accuracy; just as much as the IPS technology itself. If the sRGB rating on a monitor exceeds or comes very close to 100% sRGB, then you're in great shape.
You may also see HDR (high-dynamic range) on some monitors; it isn't a selling point for a graphic designer but it's important to know about. HDR is a standard used to preserve highlights and provides deeper blacks and brighter images. Most monitors that have HDR will accept the HDR signal but won't get bright enough to take full advantage of the technology. If you will be gaming or watching movies on your monitor as well, it might be worth looking at HDR monitors. The brightness of a monitor is measured in nits so anything over 400 nits should be easily achieved with an IPS display.
If you are a video editor or photographer, having HDR might help you with your workflow if your current film/camera equipment takes advantage of that high-dynamic range. Brighter displays will also increase the price so you may want to focus on color accuracy with a high sRGB percentage if you're a designer before considering HDR.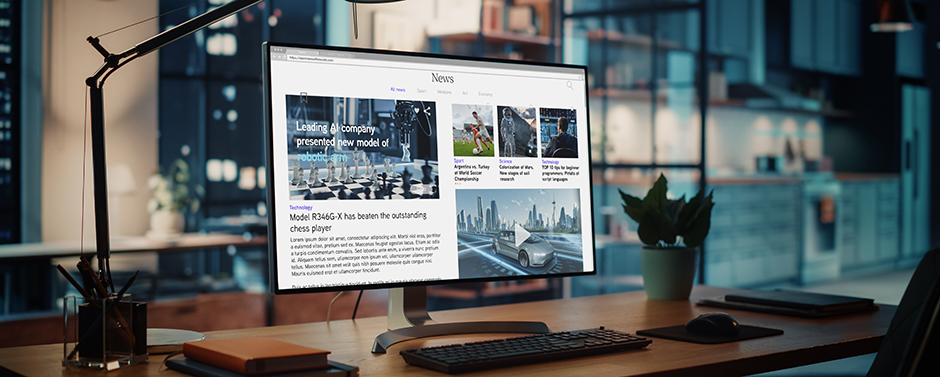 What is Refresh Rate?
Refresh rate is how many times a monitor will refresh in a second. Monitors will start at 60Hz, which has been standard for years, but there are newer high refresh rate displays coming to the market. If you don't have any issues with your mouse skipping across the screen, 60Hz is plenty.
Future-proofing is also a consideration. 120Hz is a great option if you want to upgrade. 120Hz will give you a silky smooth feeling when you log onto work in the morning!
Keep in mind that 120Hz can only be achieved on monitors that support it and should be achievable through any HDMI/Displayport cable. 4K monitors with 120Hz will have an HDMI 2.1 port that will allow for those higher refresh rates.
So what should I buy?
After some research, we have come up with a few recommendations for 4k monitors. For Content Creation, these specifications are some of the same things to look for if buying a 1440p display. Keep in mind that a high refresh rate is not necessary for design/creative work. In that case, we recommend a high-resolution IPS monitor.
We hope that this article was helpful in your search for a new monitor. It's an exciting time to pick up a new display and these tips should help narrow the decision down.