Spring is coming, and you know what that means…Trade Show Season! Whether that is dreaded or anticipated, Primoprint is here to help.
Over the years, we have had the opportunity to work with many businesses preparing for trade shows. We've seen what these companies are doing to prepare and what tools they are using to get the most out of their experience.
Trade shows can be very expensive to participate in. That is why it's so important to make sure you take advantage of every opportunity and think beyond your normal business card and brochure printing needs.
Prepare For Your Trade Show With The Following:
Business Cards
Everyone knows that you need to stock up on business cards for each upcoming show. It's everyone's goal to hand out as many cards as you possibly can. But, have you thought about a business card design specific to each event?
Think about it… everyone attending these shows will receive a stack of business cards. How are they going to remember you specifically out of everyone else they meet? We recommend a card that says "It was great to meet you at the (Insert trade show name here) event." Perhaps you put your photo on it so they can put a face with the card. Additionally, you can include an event hashtag.
The printed business cards should still match your everyday card branding, but this way, it's easier to separate you from the crowd.  We offer a large selection of custom business cards, including Silk Laminated business cards, Stamped Foil business cards, Matte business cards, Spot UV business cards, and others to meet your needs.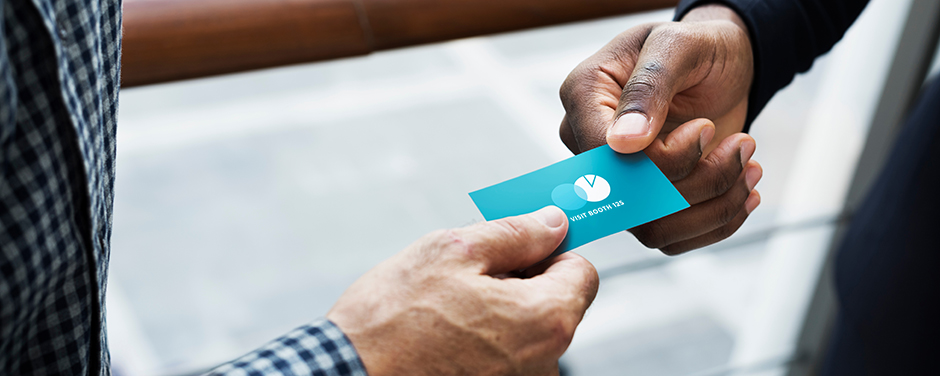 Pre-Trade Show Postcards
Many of your current and potential customers will be attending similar shows. Do you have new products for them to check out? A great way to inform them can be by printing postcards/flyers, pre-show, and letting them know that you will have a booth at the show. Include your booth number, perhaps show them a photo or two of your new products, and include your social media information. Doing so can help them gather additional information about you and your products.
Also, make sure you tell them to stop by and say "hello!" This will create excitement and you'll have people seeking you out before the show even begins. People are more likely to engage with a booth they are familiar with rather than with one they've never heard of.
Social Media:
Push your social media like crazy before and during your event. You'd be amazed at how many leads you can receive before the event through social. And during the event, make sure you send out live tweets/posts from the event. Attach photos, announce live giveaways, and tell people you have candy or treats waiting for them at your booth.
Sponsorship
Every event has opportunities to sponsor speakers, exhibits, etc. Ask your event coordinator what those opportunities include. Yes, sponsorship is an added cost, but it's also a great way to get your name and brand out there. With sponsorship, your logo may be printed in the program and you might be able to hang a banner in different areas of the convention space. (At Primoprint, we can always print these banners for you!)
Goodie-Bags
Most trade shows distribute a "goodie bag" to each attendee as they enter the show. These handouts are traditionally full of coupons, flyers, vinyl stickers, and additional goodies – all provided by booths at the event. Ask your coordinator about submitting items for these bags. Even if the individuals are unable to make it around to your display booth, you were still able to get something into their hands! View our large selection of printing options for our printed flyers and stickers ideal for your next trade show or event.
Lead Cards
As people flow in and out of your booth, ask them for their business cards and ask them to fill out a lead card. These cards usually include their name, phone number, email address, and a question or two about their needs. It's always important to follow up with these leads 2-3 days after receiving them. Once you've missed this window, you may be missing out on their business.
Booth Space
Don't forget to decorate your booth fully. Sometimes less is more, but most importantly your booth needs to be visually appealing, and your products need to be the primary focus. Primoprint can help with vinyl banners, pop-up banner stands, and full-color printed posters. Please contact us if you have questions regarding custom projects. We are happy to help!
Collateral
Give your potential customers collateral options. If you offer a variety of products or services, think about having collateral on each one, rather than one sheet on your overall company. You should have many different lookbooks, line sheets, sell sheets, and other printed materials ready for attendees to choose from. Also, we recommend putting your booth number on your business materials. If someone has questions or would like additional information, they may want to come back!
Giveaways
Again, less is more. People don't want to carry around large items. They need to be small, making it easier to fit into their event bag, but useful at the same time. We've seen companies hand out large stuffed animals and other complicated items. Many walk to the nearest garbage can and throw them away because they didn't have a use for it or couldn't carry it.  Primoprint can help with some of these small items such as business magnets, roll labels, crack-n-peel stickers, and bumper stickers.

Trade show season can be a crazy time, but it doesn't have to be. Stay organized, practice your pitches and make sure you don't wait until the last minute to order collateral. The more work you do in advance, the more you'll be able to focus on capturing your new customers!
Lastly, don't be afraid to ask for help. We offer full design services and can print just about anything you may need. Contact us today to find out how we can make this season a bit less stressful! (And a bit more profitable too!)