Sure, there are a lot of printing companies out there, whether online or around your city. So how do you decide which company to print with? The cheapest? Fastest? A nice site that's easy to use? Customer service and file checking? Lots of reasons!
Sometimes it can be so overwhelming that you might just use Moo or Vistaprint because you've heard of them and seen all the commercials. Kind of like getting a coffee from Starbucks, we all know the name, but local shops like Summit and Waterbean down the street make great coffee too.
We'll be going over a few reasons that set Primoprint apart from the other printing companies. Today we are focusing on the different stocks we offer.
So you're totally stoked, your graphic designer finally gave you the finished files for your business card, and you are ready to get them printed! And then it hits you, what stock do you choose?
Here at Primoprint, we have about 18 stocks to choose from just for business cards alone, and a lot of these stocks have options like Stamped Foil, Spot UV, rounded corners, even different sizes.
Card Stock Videos:
Glossy UV and Matte Card Stock
Let's start with the basics, the entry-level stocks. That will be a shiny Glossy UV coated stock and Matte (not shiny, but still with a slight sheen). These popular stocks are great in pricing without compromising quality. Both have an option for rush turn around with printing at 2 business days plus shipping. These come in many different sizes and options for rounding the corners. (Round 2 or 4 corners)  Matte also has the ability for Spot UV.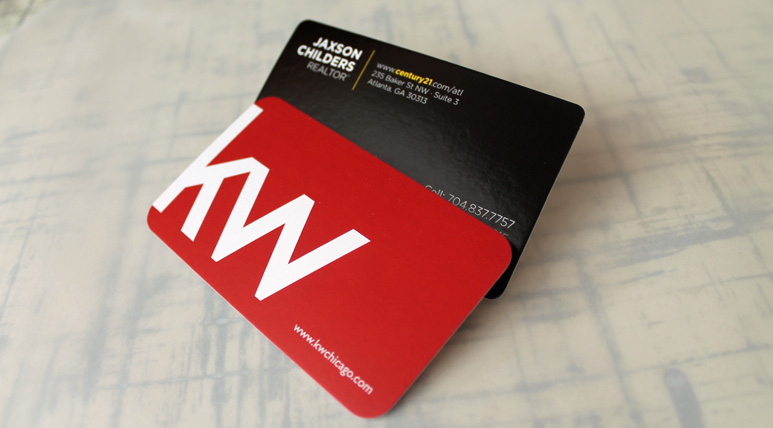 Laminated Card Stock
Next up is our laminates. What is a laminate? It's a clear film that's applied to the card, often plastic or copolymer, to both sides of a printed sheet. Lamination adds a gloss or silk finish to a printed product and provides strength, durability, and is water and tear resistance to help protect the stock from moisture and stains.
We offer Silk Lamination with a silky touch, Velvet Lamination for more of a soft touch and Glossy Lamination with its high shine and thickness (22PT). Silk and Velvet also have many additional options to help customize your order.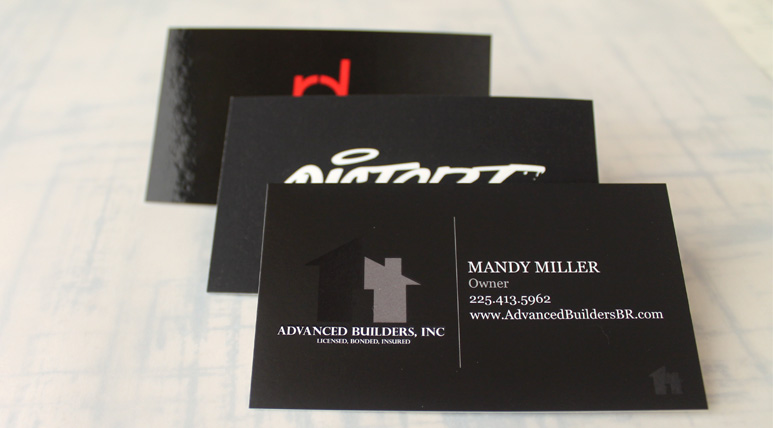 Silk: Spot UV, Stamped Foil (currently in 10 colors) and Stamped Foil with Spot UV
Velvet:  Spot UV, Raised Spot UV and Raised Foil (in silver, gold and holographic)
Specialty Card Stock
Then we have our specialty stocks. These are stocks that kind of stand out on their own. If you're looking for something that has a more natural feel or need something very easy to write on we have 14PT Uncoated and Linen.
For more eco-friendly stocks, we offer creamy Natural, and Kraft (with the option for White Ink). Both cards contain 30% recycled materials. There's also our shimmery Pearl and Inline Foil to add that extra light-catching look.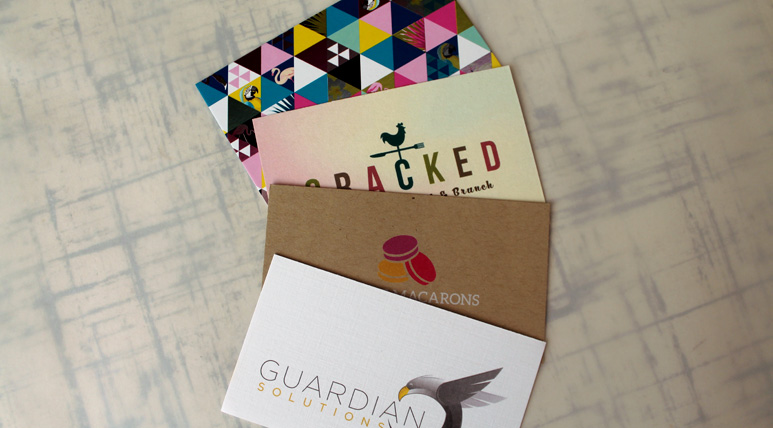 Thick Card Stock
Are you wanting that thick letterpress looking card without paying the letterpress cost? We offer 32PT Painted Edge cards with the option to choose from 17 colors including red, gold, black, and more. We also offer a 32PT triple-layered card called the ModCard. This card contains three layers of uncoated card stock with a black center layer that provides a distinctive edge.
Other Stock Options
And those are just our business card and postcard options. We have various options for brochures such as a thinner 100lb Gloss Book (available with an AQ, Glossy or smooth Satin coating) or a thicker 100 lb Gloss Cover. Book is more of your traditional brochure stock, while cover is great for when you need something a little more robust. We also have banners for outdoors and indoors, flags, NCR forms, stickers, and stationery.
While all this might seem like a lot, what better way to see and feel what best suits you by getting a free Sample Pack?
We're always adding new card stocks and options. What would you like us to add next? Let us know!