At Primoprint, we offer a large variety of ways for you to stand out from the crowd. When it comes to business cards or handout cards, the options almost seem endless. And Plastic Cards are no exception to this.
What are Plastic Cards?
Our Plastic Cards come in three different options: Clear, Frosted, and solid White. All are 20pt, which means they are slightly thinner than a credit card. They are 100% plastic and contain a rigid PVC film with a matte surface. They are water-resistant and tear-proof.
The Clear Plastic Cards are 100% transparent. They come with a thin protective film that is to be removed before handing it out. This protects the ink from scratching off prior to being used. While you are welcome to print QR codes on the Clear Plastic, we don't normally recommend it. Since you can see objects through the card, the QR codes can be hard to scan at times.
The Frosted Plastic Cards are semi-transparent and provide a unique, slightly textured, and cloudy look to them. This is a great option when you have lighter colors or photos. Since they are not 100% transparent, softer objects may appear more visible.
When designing your clear and frosted card, we highly recommend that you keep your design simple. Use bold blocks of color with large contrast between printed objects and the plastic material. Remember, what appears white in your design will be the transparent plastic material. Larger text is also recommended. Clean, simple designs tend to produce the best results.
The White Plastic Cards allow for printing on both sides. They are 100% opaque and print well with QR codes, photos, and text. One thing to keep in mind, however, is that highly saturated cards can scratch.
Why Print on Plastic Cards?
If you want to show off your uniqueness the Plastic Cards are a great option. They offer a unique look and feel, as they are not as common as paper cards. Plus, they are very durable and will withstand everyday bumps and bruises.
Plastic cards are also a great way to emphasize your brand. For example, a dentist may use Clear Plastic and put an x-ray on the card. A window or blind company may use the Clear Plastic card to give customers a view of what they sell. Or a finance company may use the White Plastic to give a feeling of protected credit. There are many instances where a brand can take advantage of this plastic material and drive home the message of who they are.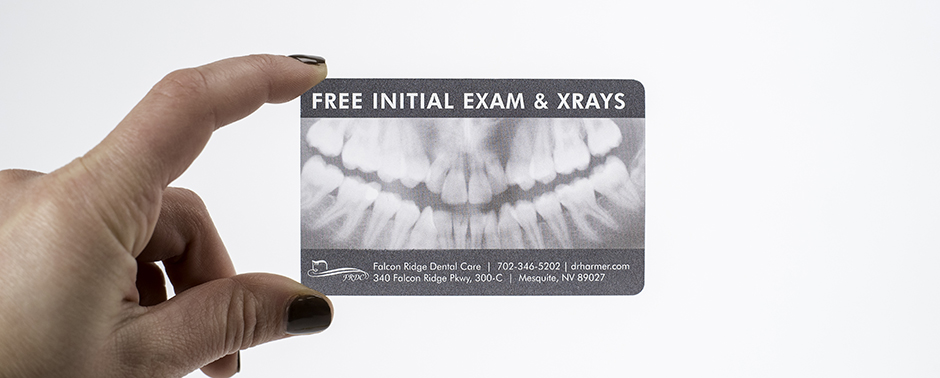 What sizes can you order?
At this time, the plastic cards are available in 5 different sizes.
2″x3.5″
2″x8″
2.12″x3.375″
2.5″x2.5″
4.25″x6″
Recommended Uses:
Beyond business cards, this stock is highly recommended for rewards cards, VIP cards, bookmarks, ID Cards, and even announcement cards.
Can you write on the Plastic Cards?
Normal pens and pencils will not write on the Plastic Cards. Sharpies or paint pens, however, will hold up if you let them dry for a few seconds.
Folds:
Due to the nature of this product, we are not able to fold the plastic cards.
Corners:
When ordering any of the three Plastic Card options, you will have the choice of ¼ or ⅛ rounded corners. If you would like to have square corners or only 2 rounded corners, we can accommodate that too. Simply fill out our custom request form and the Primoprint team can create a custom listing for you.
Drill holes can also be added to the Frosted and White Plastic Cards as a custom order. Unfortunately, we do not offer drill holes on the Clear Plastic due to it causing visible damage to the stock.
Turnaround times:
During a normal production time, the Plastic Card takes 2-4 business days to produce.
For a full Primoprint business card paper comparison, click HERE.
Want to see and feel the Plastic Cards for yourself? Request a FREE sample pack!
Ready to see more?
Take a look at some additional Plastic printed pieces HERE. And as always, if you need help creating your artwork, don't hesitate to reach out. One of our Graphic Designers would love to work with you. Say hello today!