Every Door Direct Mail® (EDDM®) is an excellent way for businesses to reach potential customers. For real estate agents specifically, this could be the second best thing besides word of mouth!
I have worked with countless agents over the years, from all over the country, who comes back to us month after month, placing new EDDM® orders. Why do they do it? Because it works!
EDDM® is a fast and affordable way to physically reach every resident within your target area. Want to be the go-to realtor within a particular neighborhood? Introduce yourself to them through EDDM®. Want to show off what you are doing for similar clients? Send them an EDDM® postcard.
If you are thinking about starting an EDDM® campaign, there are a few approaches that may prove to be profitable.
Send a postcard that shows homes that have sold in the neighborhood. Show photos of the homes and include brief details about each of them, and mention the price they sold for. You can be creative. For example, you can add "I just sold this house in your neighborhood – I can do the same for you."
Create a postcard that features a current home(s) that you have for sale. You may receive calls about the featured house, and pique their interest and have them ask what else you have available.
I've seen a variety of postcards that are more of an introduction of themselves to the neighborhood. These usually list out who they are and what they can do for them.
While this may be an excellent debut, postcards that show a product, gives vital information regarding the housing market, or issues a sense of urgency, may make potential clients pick up the phone faster. So I would recommend combining this approach with one of the others above.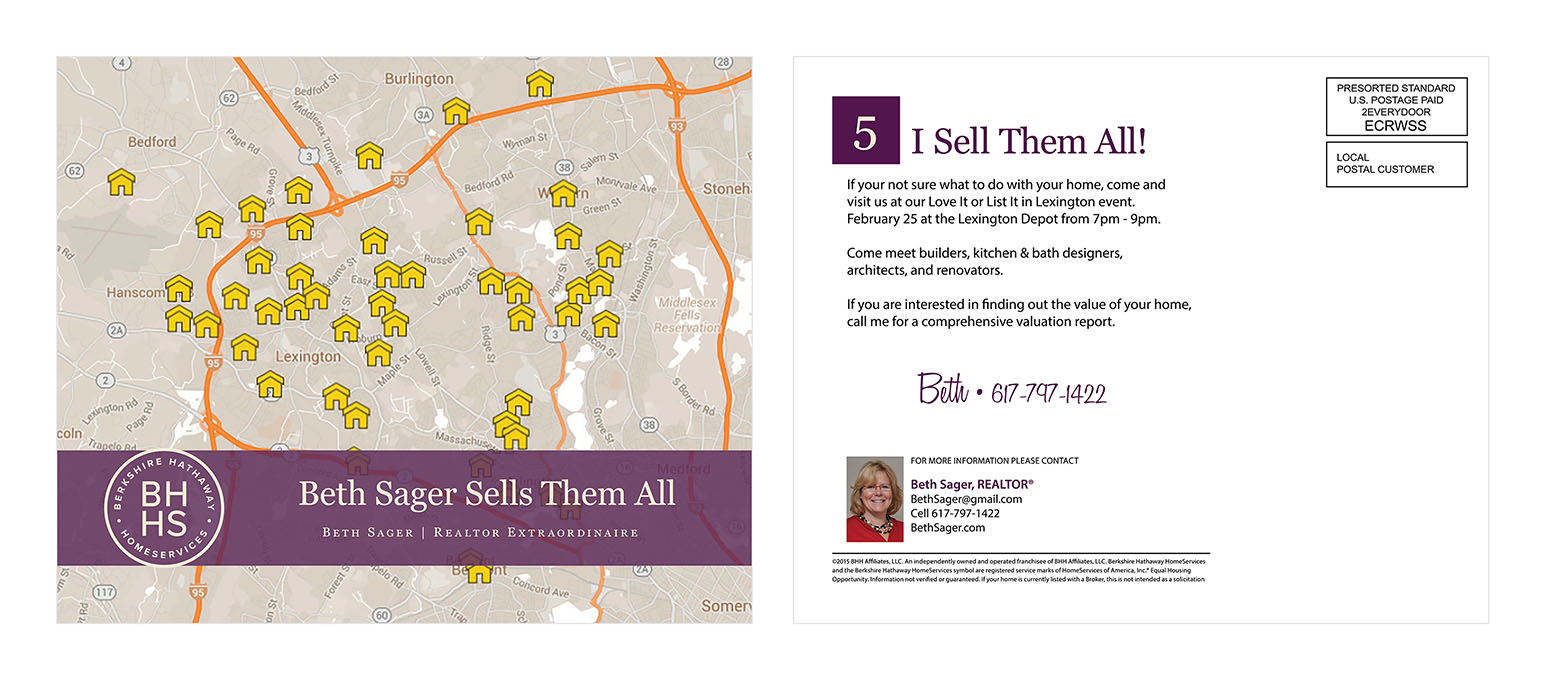 Give them something they can hang on to. At the beginning of the school year, I received a postcard from a local agent. It included a school calendar for our assigned district. I thought that was such a helpful tool and tacked it up on our bulletin board. Because it gave me a reason to hold on to it, I'm much more likely to remember her and give her a call (because I've been staring at her postcard for the last six months!)
Partner with local businesses. While EDDM® is extremely cost-efficient in comparison to other forms of advertising, one way to cut the cost is to partner with other related companies.
Examples could be cleaning companies, mortgage agents, painters, handymen, movers, and companies that you recommend and that may come in handy when buying and selling a home. This way you can split the cost of the mailing and share the advertising space on the postcard. It's a win, win!
Once you know what you want to say, here are some design tips to keep in mind:
Keep the postcard design clean and simple.
Make your message short and to the point.
Make sure to include a call-to-action and give clear instructions on how to contact you. This can include your website, email address, and phone number.
Use high-resolution photos. If your budget allows, hiring a photographer is always best.
Including a testimonial is a great way to establish trust.
Consider including some of your track records. IE: "Over XXX homes sold" or "Winner of XX Award."
Download our Free EDDM® Success Guide
I also recommend that you don't just send an EDDM® postcard once and expect significant results. Hiring a real estate agent can be scary. People need to get to know you and your brand, so send postcards regularly.
Sending once a month, or even every other month, will help build brand recognition and will allow potential clients to see that you are serious, hard-working, and will take good care of them!
Lastly, if you need help with your EDDM® design, the graphic designers at Primoprint can help. Our design program is simple and extremely cost effective. The design fee is $150 and includes the initial design and up to three rounds of revisions. You will receive your first proof in about two business days.
And the best part, if you choose to send out regular postcards, we will use your design as a template. For each mailing, you would send us the new home photos and details. We would insert the new info and send you a proof. There's no additional design fee as long as the template stays intact.
So what are you waiting for?! Give EDDM® a shot and be sure to share your results with us! You can learn more by reading our complete EDDM® Marketing Checklist.