It seems like everyone is starting to ditch the traditional office setting and opting instead to work from their own home office. This is mostly due to the advancements we've made in technology that allows workers to connect from anywhere in the world.
Companies are able to source talent from more than just the employee pool available in their city, as well as cut down office space costs by employing remote teams.
Studies have shown that remote employees report a better overall experience and opinion of their company when they're able to spend time working from their home office. In fact, in this 2014 PGi Report remote employees agreed that telecommuting reduced their stress and improved morale. 
A resounding 70% also reported that working from home improved their productivity, while 69% agreed that they used fewer sick days.
With so many advantages to working from home, it's easy to get lost in where to start and how to make it a successful change for yourself. How are you going to stay on task?  Is it really binging when you're supposed to be working if there's no one there to see? How do you avoid the temptation of staying in your PJs all day long? It all sounds too good to be true. So, we'll focus on how to work from home effectively.
Resource: The Practical Guide to Working from Home as a Team
The Pros and Cons of Telecommuting
It's no surprise that working from home comes with a separate set of pros and cons from a more traditional job. In fact, it brings about an entirely new set of benefits and disadvantages that many people may not consider before making the swap.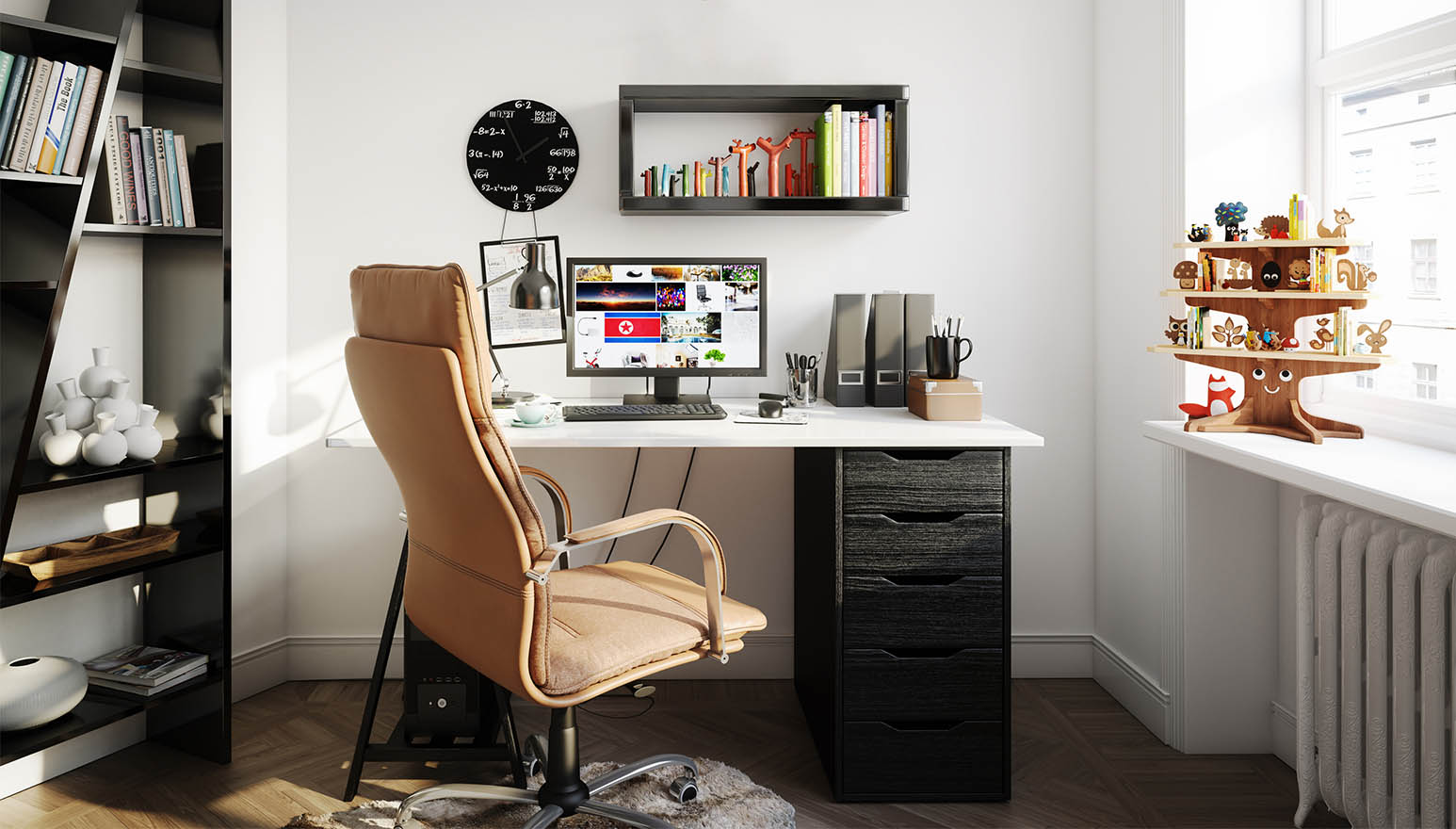 Pro: Ditching your Commute
Whether you're getting to work by car, train, bus, or bike, the morning commute and rush hour shuffle home are decidedly the worst part of having to go into the office. In fact, this study conducted by researchers at the University of Waterloo determined that your morning commute actually has a negative impact on both your mental and physical health.
The average amount of time spent traveling to and from work was 53.2 minutes per day. – Association for Psychological Science 
Con: Your Home is Also Your Office
It can be hard to stay motivated to get your work done when all of your creature comforts are a few steps away. It takes a lot of discipline and self-motivation to keep to your normal office hours. The key is to learn how to work effectively.
"Get fully ready for the day and pretend you're actually going to work. Otherwise, you might find yourself back in bed." – Anna Faber-Hammond
Pro: Having a Quieter, More Productive Workspace
The office environment, full of different people all working on different projects at any given moment, isn't always the easiest to focus in. Working from home means you can control how much, or how little, distractions there are in your day.
Con: It Can Get a Little Lonely
When you're working out of a home office, it can feel a bit lonely. There's no watercooler to catch up with coworkers or cubicle buddy to chat with throughout the day. It can feel isolating and quite lonely if you're used to working in a traditional office environment. But, with today's technology, video call and video chat can help keep you in contact with coworkers. 
Pro: You'll Have a Better Work-life Balance
Isn't that what everyone looks for in their career? Telecommuters tend to have a bit more flexibility in their workday. This leaves more time to spend on themselves, their friends, and their families. Having this sort of balance has been proven to boost morale with employees and drive productivity as a result.
Con: Overwhelmed by Flexibility in Your Schedule
This might be the biggest downside to working from home. What do you do now that your boss is tucked away at the office while you're living comfortably at home? How will you stay on task? How will you avoid the temptations of your environment? Luckily for you, we've come up with a comprehensive list for how to stay productive while telecommuting.
Tips for Productivity
Sticking to a Schedule
Now, this might sound like a no-brainer, but we don't just mean keeping to your work schedule. It can be easy to get comfortable in a home office environment. In order to keep productivity up, you're going to need to stick to a daily routine.
Waking up and going to bed at the same time every day, taking breaks at the same time, and saving errands until after your workday will help to keep you on task during work hours. We also recommend showering and getting dressed in the morning like you would for a regular job. This will help your mind transition from home mode to work mode.
Keep Business Hours
This means no one stopping by to say hello during your workday, staying off social media, and turning off Netflix. It can be hard at first to set these boundaries for yourself, but keeping regular business hours is going to ensure that you're staying on task with your projects in addition to keeping yourself in the work mindset.
Create a Designated Office Area
It's important that even though you're working from home that you're keeping your living space and working space separate. A study conducted in 2011 by Notre Dame Psychology Professor Gabriel Radvansky found that entering or exiting through a doorway creates an "event boundary" in your mind. This is what's responsible for forgetting what you went into the kitchen for, and it's also how we create a separation between work and home when they are in the same place.
Having a designated office is going to help you keep work at work and not bring the stress of your job into your home time.
Check-in with Co-workers
Checking in with your team throughout the day has several benefits. The first being that it can negate some of the isolated feelings that are common when you start working from home. The second benefit of keeping in touch is making sure that your productivity is recognized and that every member of your team is kept in the loop as you move forward in your project.
Using these working from home tips and tricks as the starting point for your foray into working from your home office is going to help you seamlessly transition without sparing any productivity. Once you fall into your new routine you'll wonder why you didn't make the switch sooner. 
Do you work from home? Let us know if you have a tip that we didn't list above on how you effectively work from home. Let us know by leaving a comment.