First impressions matter a lot, especially in business. Before you launch your business officially, you need a detailed plan that can only be met with the right execution to make it a success.
This means that you need a well-organized grand opening to drive traffic to your business and hopefully convert the visitors into return customers.
In their book, 'Customers for Life: How to Turn that one time Buyer into a Lifetime Customer', Sewell and Brown mention the importance of getting things right from the beginning.
The grand opening is supposed to introduce people to your business by telling them what you have to offer and how you are going to give them a unique experience. Don't be over-excited and say things that you know you are not going to deliver. Be honest throughout, and you will have lifetime customers even after the event.
How to Prepare for the Day
The first thing you need to do is to confirm the date. The day has to be ideal for your target market. If you are targeting working-class citizens, you should hold the event on a weekend or a public holiday since that's when most of these people are free.
You should also prepare your staff for the big day. Give them different roles and responsibilities so that they know what you expect from them. According to Rudy Rosen, the tasks given to each worker should make sense so as to avoid conflicts that can be caused by the duplication of roles. When members of your staff know what you expect from each one of them, you increase the chances of success.
Here are other plans that you can get underway for the big day:
Print Marketing
Despite living in a digital era, creating a well thought out print marketing strategies can be beneficial and useful. Whether you are handing out flyers on the corner of the street to passers-by or selecting mailing routes to send out EDDM® postcards, print can be an effective way to market your grand opening.
Resource: EDDM® Marketing Checklist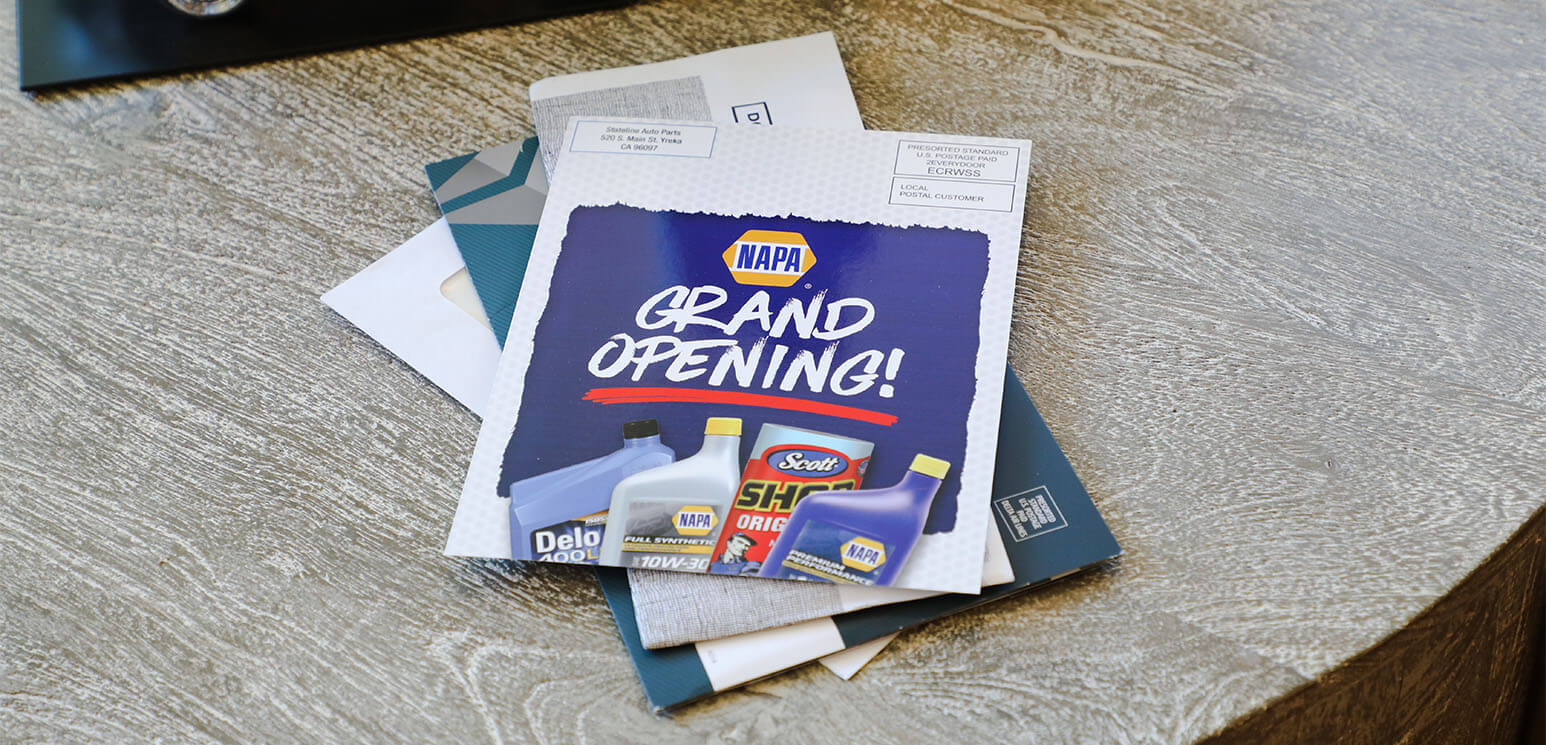 Permit Applications
Before going any further, you need to be sure that you have every legal document in place. The paperwork mainly consists of permits and licenses. There are various laws and regulations that govern the way you conduct business and hold grand opening events.
Go Social
The internet is everything these days. Therefore, you need to make sure that your online presence is felt prior to the grand opening as well as beyond that.
With over 79% of Americans having a social media account, it's important to go on your pages and post the upcoming event.
Let your followers know what to expect from the ceremony. Engage them and ask them if there's anything they'd like to see during the event. Just remember that the request has to be related to what your business.
Below is a great example of how to create a buzz about your grand opening on social media. The Clothes Tree, included a special giveaway and added hashtags that were relevant to their business and location.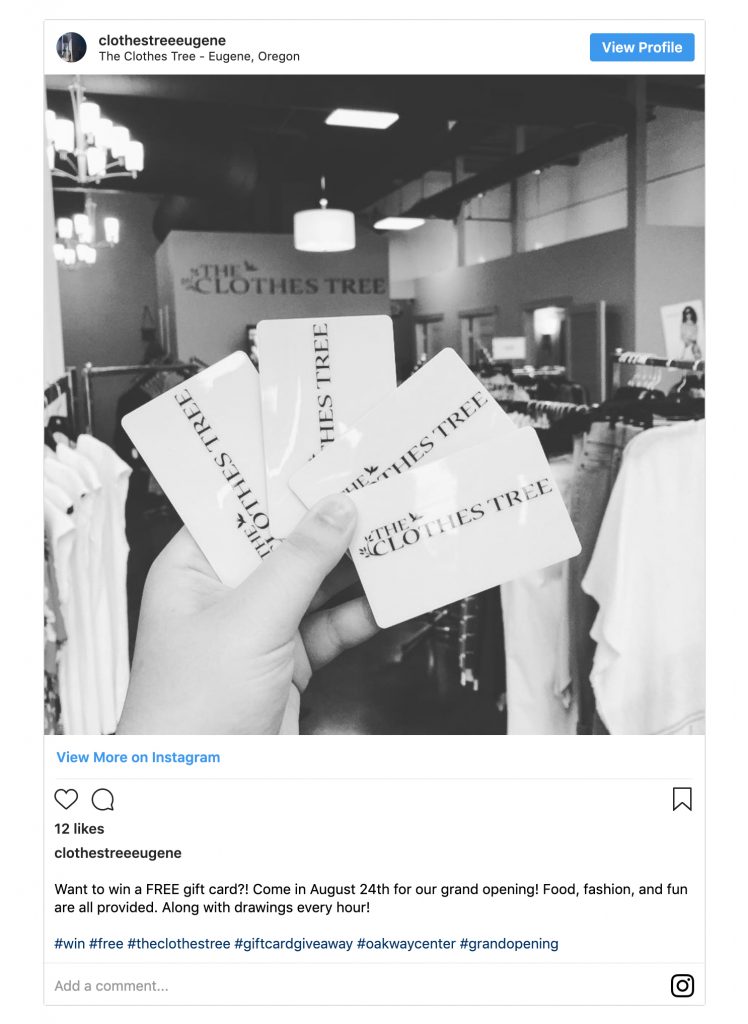 Traditional Media
Radio, local newspapers, television, and magazines continue to be an effective way to reach consumers. They are the roots of advertising for decades and one of the more conventional methods for businesses to reach an audience. You can learn more by reading  – US Online and Traditional Media Advertising Outlook, 2018 – 2022.
Work with Influencers
What is an influencer? They are individuals who have the skill to influence purchase decisions based on their knowledge, authority, and connections with their audience. They may have a large following in a distinct niche.
According to a study conducted by the Global Digital Statshot, 3 billion people are active on social media, and they turn to influencers to help them with their decision making. When reaching out to them, you're likely to attract more people from their fan base. This strategy can help you to boost your business's social media presence and hopefully lead to more conversions.
Grand Opening Ideas
A grand opening is the first time that prospective customers and guests get to have a real feel of your business and what it has to offer. This means that you need to make it as interesting as possible if you want it to have an impact. To  make the most of it, we've listed a few creative ideas that you can use for the event:
Fundraiser
Coming up with a fundraiser theme for your grand opening is a good idea to create a positive feel for your business. All you need to do is team up with your chosen charity and work together to raise money for a noble cause.
Team up with a Nonprofit Organization
Is there a nonprofit that's closely aligned with your business's theme or goals? Is there a local cause you could support? Having a fundraiser theme is a great idea that can create a positive impact on your business. You can help collect donations helping them raise additional money for a noble cause.
Grand Opening Theme
This is a great way to make your opening day fun and exciting. By choosing an ideal date such as Halloween, you can ask patrons to dress up in their favorite costumes based on your theme. By doing so, this likely will attract a variety of people.
Entertainment
Selecting the entertainment can make or break your grand opening. Allow your storefront to be lively and get customers excited about your new business. Whether you hire a local band, a popular deejay, or clowns, having some form of entertainment is a bonus.
The good news about hiring local, they are always looking to accumulate support and will more likely promote their performances at your store marketing to their followers.
Mistakes to Avoid
With every business opportunity, there's always the risk of something going wrong that may produce problems or issues. A common mistake that can occur involves not allocating the right budget to the respective areas. This doesn't mean you have to go all out; however, pumping in the right amount of money will always make a big difference when it comes to presentation.
Depending on the location and size of your business, a large crowd can be a recipe for trouble. It might make your event look overcrowded which can deter people from visiting your establishment.
Your grand opening will be one of the more exciting days for you and your business. Make sure you're available and have fun while being realistic with your outcome and goals.
Have a tip that we didn't mention? Leave it in the comments below!