When you want to be an expert or a leading force in the real estate industry, you need an effective realtor marketing strategy. The use of print materials can draw the attention of buyers and also provide customer leads, which can turn into sales.
We offer a variety of real estate marketing products including business cards, brochures, flyers, and EDDM postcards to assist your marketing plan. But before selecting the products, make sure you have created a thorough real estate marketing strategy. Below are some recommendations when starting the process.
Establish goals that your marketing plan intends to achieve
Create a detailed real estate market analysis
Compile a complete competitor analysis
Come up with a budget for marketing material
Research and get an understanding of your target audience
Realtor Print Products
Branding and visibility are crucial in the world of real estate, and at Primoprint, we can help you reach potential customers. We recommend you incorporate a few or all of the following real estate marketing materials to ensure you'll have an effective marketing plan.
Resource: Tips for a Successful Open House
Brochures
The buyers and sellers will take notice if you have beautiful, well-designed brochures that target a particular market segment. It's equally important to make sure that each printed piece is of the highest print quality. Read a previous blog on what it takes to create an effective brochure.
Realty Cards and Business Cards:
Realty cards are often referred to as business cards. They allow you to make a first and lasting impression for you and your real estate agency. It's important to always keep them on hand. We offer a large selection of premium business cards. Choose from the following thickness; 14PT, 16PT, 22PT, and even 32PT. Additionally, you can select from the following finishes to make your card "pop" including Spot UV, Inline Foil, Stamped Foil, Matte, Uncoated and more.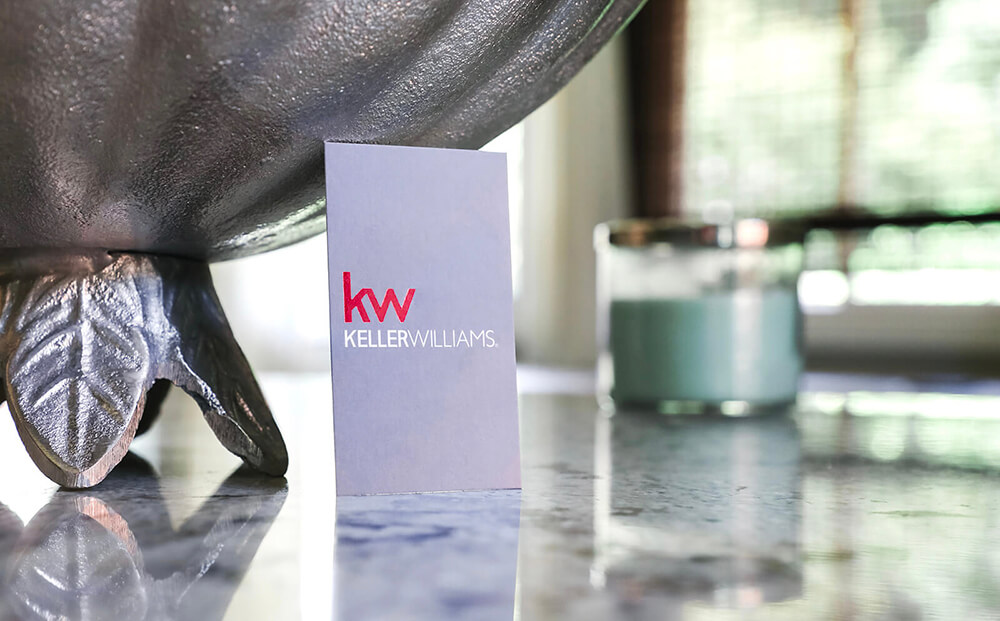 We understand that you're in the business of closing deals, not design business cards. We get it and have created a resource that offers Free Real Estate business card templates for the following: Berkshire Hathaway, Century 21, Keller Williams, Re/Max, Coldwell Bankers, Allen Tate, and Prudential.
Flyers:
Place real estate flyers at the places where the passers-by are most likely to pick up promotional and advertisement materials. Flyers are great for displaying property images, information, and realtor contact information.
Real Estate Yard Signs:
Brand the signs with your company name for maximum advertisement effect. Our signs are affordable and printed full color on either 4mm or a thicker 10mm coroplast. H-stake stands are available.
Resource: The Ultimate Guide for Realtor Signs
Real Estate Postcard Printing:
Distribute real estate postcards in neighborhoods to inform potential buyers about current property listings and your agency. We also offer Every Door Direct Mail Postcards®. They are an easy and cost-effective way for realtors to target buyers and sellers through the mail. Postcard marketing is an effective way to focus on what you offer your customers, the properties you've sold in the area, or properties that you currently have for sale in their neighborhood.
Download our free 15-page EDDM® Success Guide! It provides everything you need to know to ensure a successful EDDM® postcard marketing campaign.
Door Hangers:
These are great marketing tools. Real Estate door hangers offer enough space to include business information, property details, and images. Bring your message to their front door with full-color door hangers.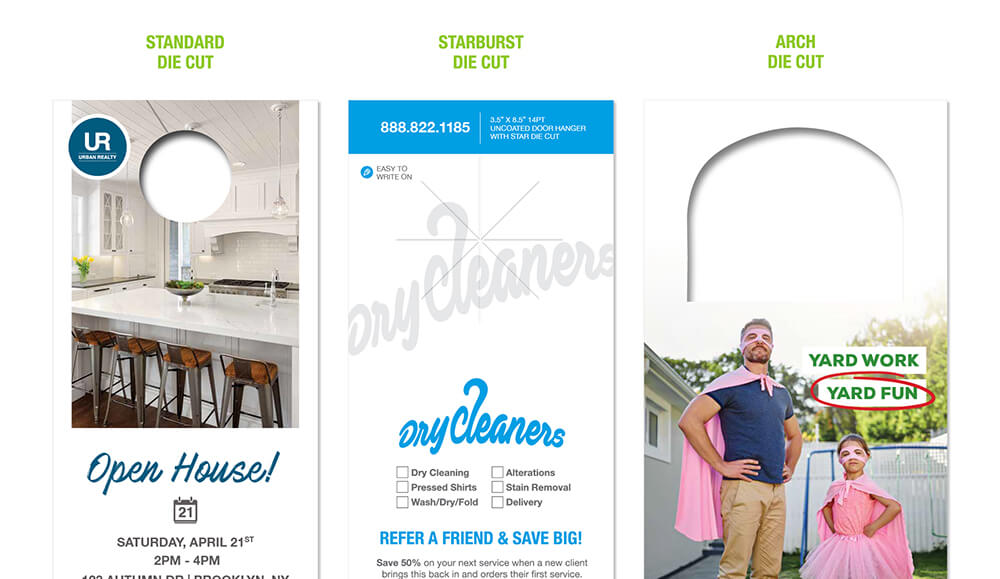 Sell Sheets:
Promote and build awareness with our full-color sell sheets. We offer fast turnarounds, with no minimums. Prices are as low as .15¢ each. You can utilize both sides of the sheet with property information or why someone should choose you to represent them.
Presentation Folders:
They are an excellent marketing tool as a leave behind a reminder of your business and property listing. Or, after meeting with customers/potential customers, they will have something to store all of the information you give them, ie: copies of contracts, flyers, vendor recommendations, etc. All are available with your choice of 1 or 2 pockets as well as business card slits. Keep all your marketing materials in one place with custom presentation folders.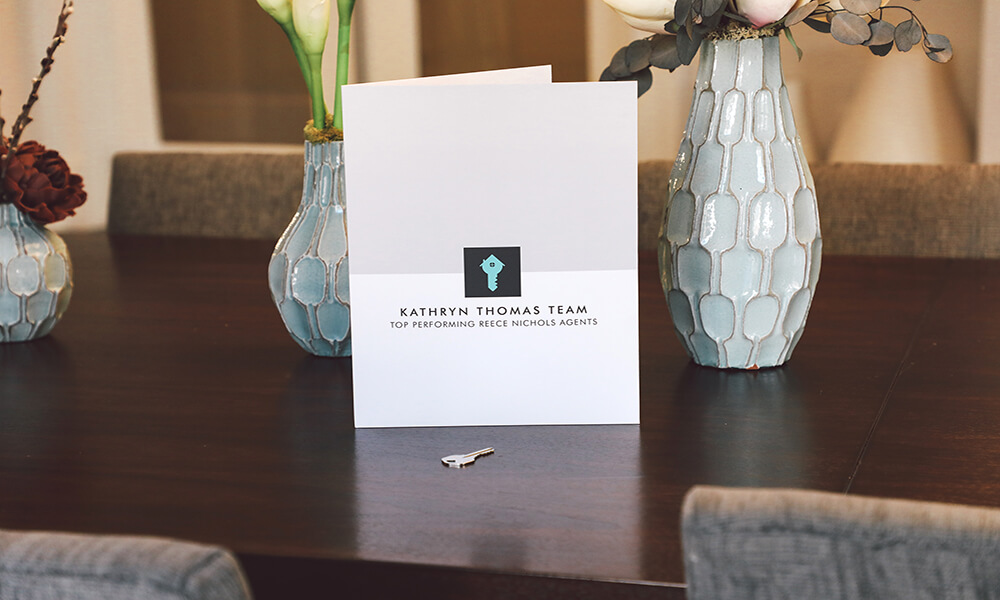 Realtor Non-Print Products
Well Designed Website
Having the right realtor website not only will bring leads; it will create a brand for you and your business. To optimize your website, you should make sure you focus on including the following:
IDX Property Search
Contact Forms and CTA's (Call-to-Action)
Bio Page
Resource Page
Community Information
Blog
Make sure your content stands out; a website can be a powerful marketing tool. Make sure you create blog content that is relevant to the area you represent. New buyers are always doing research and your blog can be beneficial.
Be Active on Social Media
According to Statista, 79% of people had a social media profile. Whether it's Facebook, Instagram, Twitter, or Linkedin, individuals spend an average of 142 minutes on a variety of social media platforms. Social media is a significant lead generator and a way to maximize your efficiency online.
Resource: Best Times to Post on Social Media
Hashtags: Research the best hashtags to get your content noticed.
Realtor Quotes: It can be challenging to generate engaging content. Focus on a favorite quote or customer testimonial.
Stock Photos: Generating original photography can be time-consuming. There are plenty of websites that you can get free stock photos.
Infographics: These visual images are a great way to display information visually. Easily create an infographic to highlight statistics, industry best practices, property information, the mortgage process, and more.
Graphic Design:
One of the best things a real estate agent can do when putting together their marketing material makes sure all pieces are well branded. Every piece you produce should all tie together and work cohesively together. This will help get you known by your community and establish you as a household name.
This can be a difficult task, but know that we are always available to assist. Our team of US-based graphic designers can work with you to create all of the above pieces and more. Contact us today to get started.
Are there any real estate marketing ideas or best marketing materials for real estate agents? Let us know by commenting below.