It's October, and that means the Holiday season is upon us! Now is the time to decide if you'll send out business holiday cards. Sure, you can take the easy road and send an email holiday message, but sending a printed card has a higher chance of getting attention.
For many companies, this is an age-old tradition, and for others, this may be something new or first-year to send them out. In both instances, it is important to start with a clear plan of action for your company holiday cards.
There is no reason to procrastinate or dread the task of mailing the cards now. Below are some helpful tips to get you in the right mind-set.
Don't Wait, Start Now!
The task of sending holiday cards to customers can be overwhelming, but it doesn't have to be. The best way to help eliminate that feeling is to start now! Sure, it may be the last thing you want to do, but it's best to begin as early as possible.
You'll want to make sure you have your design, message, and print files ready. It's recommended to purchase and send them out by mid-November.
Staying ahead of the game will assure that your cards are received before all the hustle and bustle of the beginning of the holiday season.
Primoprint Tip: It's best to have them sent out no later than the second week in December.
Don't Procrastinate – Shop Holiday Cards
Define Your Goal
The primary goal of sending out greeting cards is to show appreciation and that you care. In a world of technology, sending an actual holiday card is a wonderful gesture. Sure, you can send an email, but who really wants to receive another email in their inbox?
Report shows that the mail response rate is 5.1% compared to .6% for email – The Data & Marketing Association.
Not only will your customers appreciate you, but they will also appreciate the effort and, most importantly, the personal touch. Go above and beyond standard copy. We'll touch more on your message below.
Crafting the Holiday Card Message
Before you get started, It's best not to assume that your audience is or is not religious. Create a message that's warm and engaging that your entire audience will appreciate. You can do this in the form of seasonal greetings, gratitude, or a personalized message.
Is there such a thing as holiday card etiquette? There sure is, keep the following in mind:
Message Should be Short:
Sure, you may have a lot to say, but keep it short and sweet. But, make sure it's long enough to let them know how thankful and appreciative you are for their business, partnership, etc.
Generic is Better:
This allows you to hit any audience rather than centering around or isolating a particular audience.
But, You Can Keep it Personal:
The message is what makes the card personal. This can easily be done by addressing them by name, signing each card individually, including a short personal message, or mentioning something specific to the recipient.
Uses phrases such as "Warmest thoughts and best wishes," "Wishing you a happy holiday season," "So grateful to have customers like you," "It's been a pleasure working with you," and so forth. As you can see, we can go on and on.
Don't be Salesy:
This is easier said than done. It can be easy to plug your business, services, promotions, etc. But DON'T! A holiday card is the one-time you can focus on the customer, vendor, partner, or employee that's not focused on promoting or making a sale.
A simple message can help strengthen your business relationships, increase brand awareness, and build team morale. Always sign the card in your handwriting. No matter the message, remember to make it your own.
Card Stock & Features
Choosing the card stock and features is the fun part! Before you get started, keep in mind, the card stock is a reflection of you and your business. Ok, that was our PSA. So, make it count! Choose a card stock that resonates with your business.
For example, if you or your business is environmentally conscience, (all business should be!), you're more than likely to select Natural greeting cards. They contain 30% recycled materials.
Other eye-catching card stocks include Pearl Metallic, Silk, Uncoated, Glossy, or Velvet. They all offer a unique feel to them, making them stand out.
Some card stocks offer features such as Spot UV, Raised Spot UV, Stamped Foil, Raised Foil, Holographic Foil, and more. You can incorporate the following in the design; text, images, photos, patterns, and more. It can add a subtle enhancement.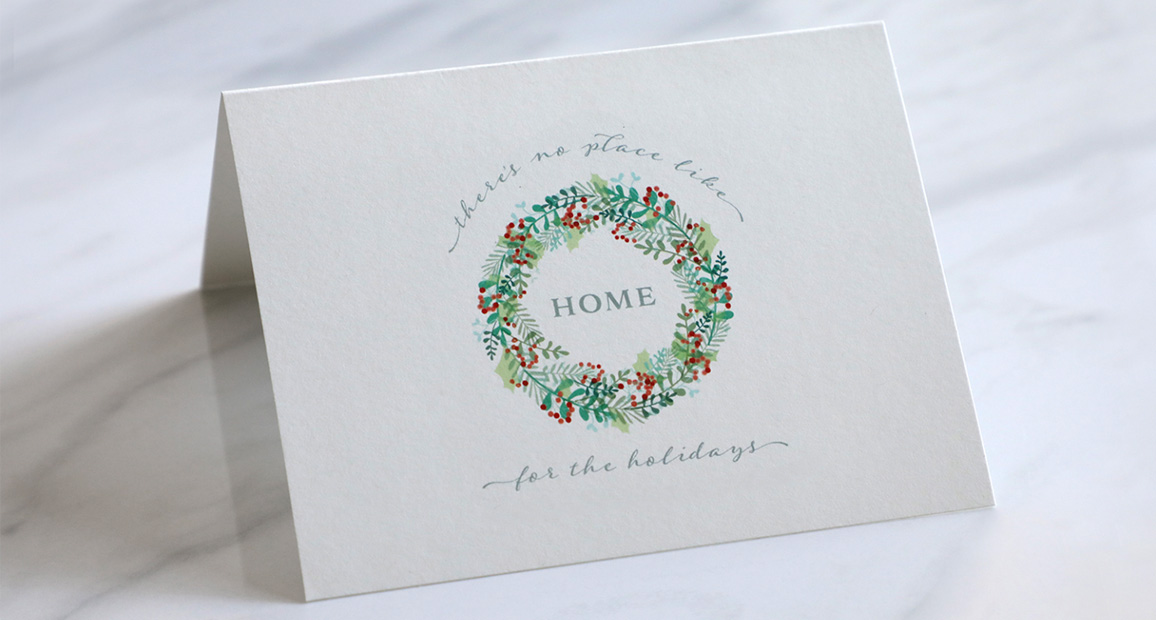 The above image is a holiday card printed on Natural card stock. It's an eco-friendly option as it consists of 30% recycled materials.
Envelopes
When you order your cards in advance, you'll have plenty of time to print your name and business on the envelope. By doing so adds another layer of professionalism. Also, it may be difficult, but try to limit the use of pre-printed address labels. You can always hire someone or ask someone within your company to help address your business envelopes.
Tip: Have fun and purchase holiday stamps. By-pass the postage meter and make your envelope more festive with holiday stamps. It adds a personal touch. It's the little things that can go a long way.
Other Holidays
Another great way to separate yourself from others is to send cards during different times of the year. For example, pass along your thanks during Thanksgiving, and wishing a great year with a Happy New Year card. It just doesn't have to be December to show appreciation and thanks.
Design Services
Take a look at some creative holiday cards for inspiration. If you need help in creating your business or corporate holiday card, our experienced in-house design team would love to work with you.
Use the above tips can help you get started and keep on track. Do you have any suggestions for businesses on sending holiday cards? Let us know by posting a comment below; we would love to hear.