Ready to impress your trivia partners with your business card etiquette acumen? In the 15th century, China invented the calling card, but it didn't catch on in western society until the 17th century. Back in those days, these cards had a specific purpose. They were sent in advance to notify a host that an aristocrat was on the way for a visit. This gave the host time enough to brew tea and tidy up!
Most often designed vertically and lavished with fanciful artwork, it wasn't until the 19th century that cards featured horizontal designs. By this time, calling cards were highly prized introductory tools presented on ornate silver trays at residences, as well as used by businessmen at shops, offices, and stores.
In the late 19th century, "Acquaintance" or "Dating Cards" were also very popular. Male suitors would present ladies with a card asking to escort them home or for a dance. (For more information, check out this great article put out by the Smithsonian.)

What's the status of today's business card? They remain a universally-recognized way to introduce oneself in the U.S., yet there may be additional protocols and traditions associated with handing out business cards abroad. Whether you travel abroad or you're a trivia fan, you will likely find the following information fascinating!
By the Numbers
How important are business cards to folks doing business domestically or abroad? Even in the world of smartphones, tablets, and laptops, 27 million business cards are printed daily. They still are an essential tool in the business world, no matter how advanced we get.
You don't need a math degree to stand in awe of the numbers.
That number may impress you, but this one could make your jaw drop: the world's most expensive business card is the Black Astrum Signature Card featuring 30 carats worth of diamonds embedded in metal and sold in lots of 25 at $1,500 per card.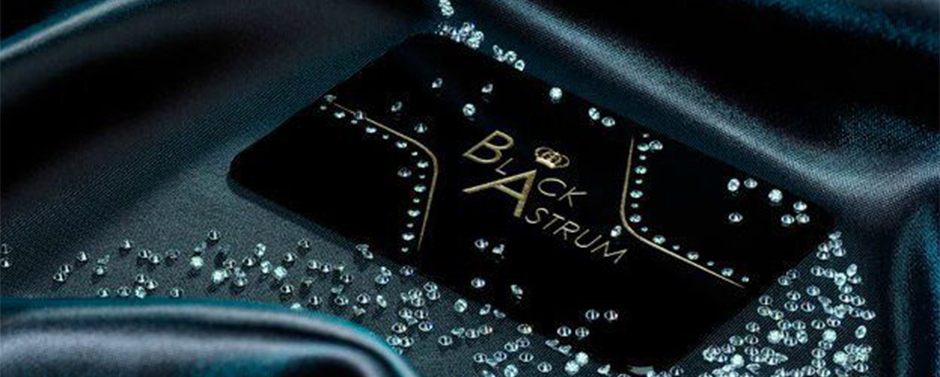 Recipients of your business cards are ten times more likely to save them if you print in multiple colors. If you add a photo, 88-percent of the cards you hand out will be retained. Keep that in mind next time you design your business card.
Your International Business Card Etiquette Primer
Arabic Nations
Business people in this part of the world prefer cards at the end of meetings, but they must be exchanged with your right hand. Earn respect by providing cards printed in both English and Arabic, and make sure you present it with the Arabic side facing up. Are you doing business in Islamic nations like the United Arab Emirates? It's okay to offer the card before the meeting as long as you use your right hand.
China
When meeting contemporaries to do business in China, it's wise to present your card first to make the best impression. Dialect can make or break your relationship. Do your research to determine if you should print in either Mandarin (Beijing) or Cantonese (Shanghai).
Follow these steps when presenting your business card in China:
Present the card with Chinese characters facing up
Bow slightly at the exchange point
Ask a pertinent question related to the card if you like
Never put the card away or write on it until you are alone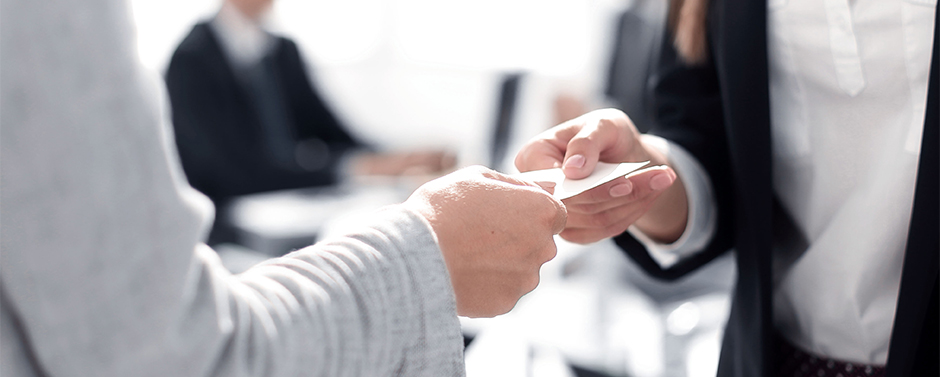 Europe
There are very few formal rules associated with the exchange of business cards in Western Europe.
Make sure you have a business card on you. Otherwise, you will not be remembered
When presenting your card, make sure you hold it in the upper corner so the text is still readable, at the beginning of the meeting
Unlike the US, the standard European business card is 3.375×2.125
And you may want to avoid these common blunders:
Taking a stack of business cards out of a box, pocket, or briefcase and handing them out like playing cards is a no-no
Placing a stack of your cards on a reception table without permission – nope
Putting the card in your pocket or bag without reading it – don't even think about it
India
Indian businesspeople observe a few rules that come with the ritual of exchanging business cards.
Always use your right hand to present your card.
If you want to make the best impression, include certifications, academic credentials, and achievements when you create your card's text.
Israel
There's little fanfare required of business card etiquette exchanges in this relaxed society. While it's always a good idea to double print business cards in English and Hebrew in Isreal, English will do in a pinch. Pay particular attention to titles printed on cards since management terms differ from American standards.
Japan
Proper protocols when giving or receiving business cards in Japan include handing the card over with both hands, undertaking a cursory glance at the text, followed by a short comment ("I see you're an undertaker"). Never scribble on the backs of Japanese business cards as they are considered symbols of respect, honor and an extension of the giver. It's also considered impolite to put a card into a pocket while in the presence of the person giving it to you.
Korea
Business card etiquette is similar to rules in China and Japan. Upon handing over your card, the Korean language side up, and with both hands, nod your head respectfully and thank the recipient, but here's where the similarity ends. In Korea, it's perfectly okay to put the card into a pocket or wallet immediately, because, unlike other Asian cultures, staring too long at what's written on a business card sends a signal that you're ignorant, impolite, or both!
Russia
Be particular about text printed on your business cards if you're doing business in Russia. Every business card is considered a status symbol by Russians, so while we may consider printing the year your company started, or leave out multiple titles because it is irrelevant, both are considered important to Russians. "Eastern Europeans are very into a hierarchy," explains Neil Payne, founder of the London communications firm Kwintessential.
Australia
Down under it's important to only give your card to those who seem genuinely interested. Otherwise, it's like live-action spam. Keep your card to the point. Emotions are not important, they appreciate facts and figures. And present your card at the end of your conversation. But before you do, it's good to write a personal note or list something you talked about the keep your conversation top of mind.
Overview
Being respectful and following a country's culture will only help you seal the deal. Some companies may be more forgiving of foreigners, but others may feel disrespected due to your lack of knowledge. These simple, small gestures will help ensure a great first impression.