Did you know trading cards date back to the 1860s? Trading cards were originally used in cigarette packs to help make the pack "harder". Fast forward to when baseball became a professional sport, you could head to the candy store and your favorite candy may be packaged with a trading card featuring your favorite player. Since the 1860s trading cards have evolved in a way no one could have imagined. Now every youth athlete can have their own card, companies are using trading cards to promote a positive employee culture, gamers are creating their own characters using trading cards, and so much more.

Below are our top 10 unique ways you can start using trading cards! 
1. Fandom
Are you a Marvel, Star Wars, Disney, Lord of the Rings, Legos, etc. fan? If you are a dedicated fan, Fandom cards are perfect for you to head to the next Comic Con, local watch parties, and game nights to share your love with fellow fans.
2. Sports 
Who says trading cards are just for major league baseball? From the little league to the race track and every sport in between, trading cards are still a huge hit. Feature your stats and sign your card for the die-hard fans.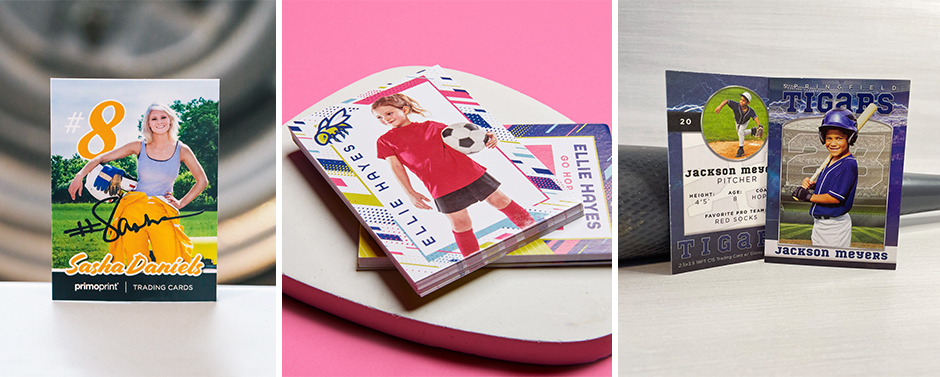 3. Pets
Make an impact at your next visit with custom therapy trading cards, and feature your furry teammate with stats such as weight, unique tricks, nicknames, and more! Or, use your pet trading cards to hand out at events and to follow animal loves you meet during your afternoon stroll in the park. 
Holding a pet adoption event? Trading cards are perfect for finding a fur-ever home. Display the pet's best attributes from favorite activities, food, snacks, and more.

4. Care Cards 
Care cards are perfect for any product. Whether it's a ceramic pot, candle, wool blanket, wedding dress, or Halloween costume. Trading cards are a great way to provide valuable care instructions for the products you make and they love!
5. Memorial Cards 
Losing a loved one is hard. Cherish their memory with a custom memorial card. You can feature their best photo, favorite color, number of grandchildren, favorite sport, recipe and so much more.

6. Pin Backs 
Who says you can't collect pins and a trading card all at the same time? Attach your pins to back stock and feature the design used, the symbol of the pin, the history of the pin, the character, and more.
7. Flight Cards
Calling all breweries, ice cream, and coffee shops. Do you offer flights? Create custom cards featuring the flavor, hop, fruits, herbs, and creams. This is a great way for customers to keep track of the items they want to purchase and come back for later!
8. Staff Cards 
Have a stellar staff? Feature your staff with fun facts, years of experience, and more! If you are all on-site, you can make it a game to see who can collect everyone's cards first. This is a great way to get your staff moving around the office and meeting new people. If your team is fully remote, send each employee a full set of cards to help people feel more connected and get to know each other better. 

9. Family Reunion
Have fun at your next family reunion. Feature your best attributes, hobbies, job, and more!
10. Game & Educational Tools
Create roll play or instructional games with trading cards. Or teach others about your product or business. Example: A botanical garden creates trading cards to feature different flowers planted throughout. Or a museum uses the cards to teach kids about important artifacts.
Read more here. 
We offer a large variety of papers and quantities, so once you decide what your next trading card is going to be, make sure to check out our stocks and finishes. 

Have questions or need help with a design? Our customer support team is available Monday-Friday, 9am-5pm EST via a live chat on our website. And our design team is on standby waiting to help create your perfect trading card design! For design inspiration, check out our Dribbble page!