When you think of trading cards, baseball cards or game cards may come to mind. There are more uses to trading cards than you may think. They make the perfect canvas for promoting your business. It's a creative way to make your business stand out and attract your customers.
1. Educational Tools
Trading cards are perfect to use as educational tools. This is a great way to make your conference more interactive or to provide the right amount of information for your presentation.
Kids love to use trading cards because of their high-quality features and collectible attributes. They love showing them off to their friends and families. Adults love using trading cards because of their nostalgic appeal. It brings them back to their childhood.
Resource: How Customers Use Trading Cards
The National Wildlife Federation sells trading cards to educate the public on the endangerment of The LA Cougars. Proceeds from sales go toward their cause, and they can inform the public in a fun and interactive way. Learn more about these fun and educational trading cards.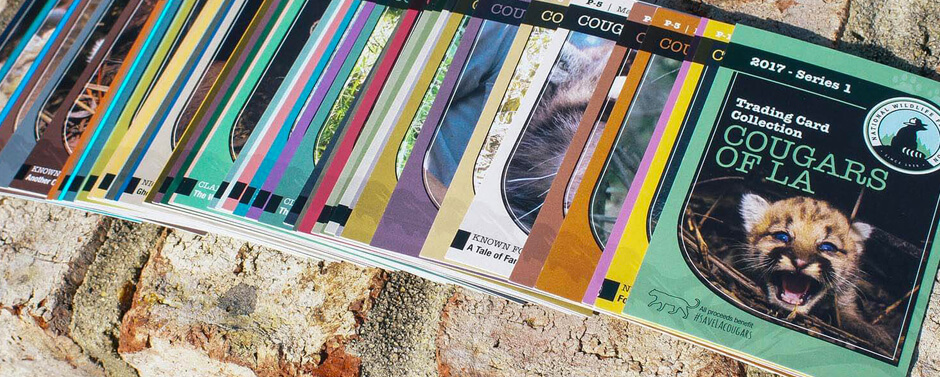 One of the best things about trading cards is that their convenient size allows them to be stored and presented. Not only are trading cards attractive, but they're a great way to captivate your audience's attention.
2. Event Promotion
Most people associate trading cards with baseball cards and Magic: The Gathering Cards. But, there are more to trading cards than sports events or game conventions. They're a great way to drive attendance to your shows and events. Break up the set and hand them out to expand your network at conventions, conferences, and sporting events.
Trading cards are one of the best ways to draw an audience to your event. Attendees will be receptive to the cards and will be drawn to your event.
3. Trade Show Goodies
Trading cards can make your business stand out among the others at trades shows. They're the perfect canvas to effectively marketing your company's products and services in little bits of information. You don't want to overwhelm potential customers with so much information that they walk away from your booth. Effective use of trading cards can drive more traffic to your booth because they want to know what your brand is all about.
Delivering information in little chunks is the best way to give information about your business. Trading cards have a space that's large enough to feature a photo and showcase important details about your products or services on the back. Information can include statistics, graphs, and even popular or motivational quotes.
4. Outside Sales Tools
Trading cards also make a great sales tool. It allows you to get your clients' attention during sales presentations and meetings. They can help you get your information across in a simple format. You can deliver fun facts and important information in a beautiful format.
Think of how children use flashcards to learn mathematics and vocabulary. This is the same technique used by companies who are using trading cards to educate potential customers about your company's mission, product lines, and services. Remember, the fewer words, the better. Think of trading cards as the real-life version of Twitter for communicating with your audience.
5. Promotional and Marketing Tools
Does your merchandise drive sales and deliver results? Use trading cards to promote your brand, product, or services. It's an effective way to get attention and drive sales. Not only are trading cards a unique marketing technique, but they have collectible value.
Are you looking to grow your fan base or have a meet and greet autograph session? From race car drivers to baseball players, custom trading cards the perfect way to connect with fans, commemorate a season, or promote your sponsors and stats.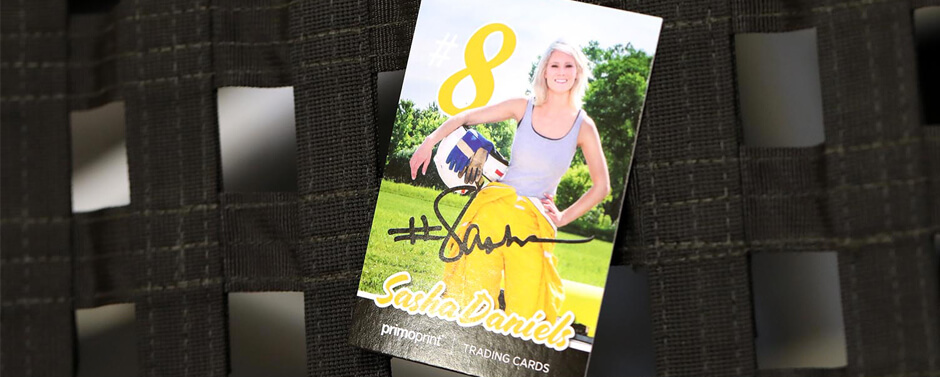 6. Drives Traffic to Your Website
Use trading cards to advertise your website or online business. Many businesses engage their clients by adding QR codes to the back of their cards so they can instantly reach their website, promotion, product, or service. This reduces the need for typing the domain name or remembering the name of your business.
When visitors come to your website be sure to capture your lead's name and email address. This is a great way to keep your audience engaged and informed about your business.
7. Conference Interaction Tools
Use trading cards as an interactive tool at conferences. Engage with your clients during your event by including questions or facts on the cards. Include a relevant but unique hashtag on the cards so attendees can include them in their social posts and raise awareness about your brand.
Encourage your team to trade cards at the event. Trading cards are a great icebreaker as they get employees to interact with people they normally wouldn't talk to. Your team may even want to collect as many trading cards as possible in order to gain points or win a prize. They'll quickly become a huge hit at any type of business event.
8. Highlight Products and Services
Using trading cards is a creative way to highlight or introduce a new product or service. Include details on the back of the card with product details. Be creative and list the features similar to a sports card by listing statistics. This can be a fun way to grab the attention of your customers.
9. Fundraisers
Trading cards can be a great marketing tool to show support for a nonprofit or fundraiser. They can be used as a creative thank you card. Plus, they can highlight different areas of the nonprofit's mission, cause, employees, and donors.
Resource: Primoprint Nonprofit Printing
There are so many things you can do with trading cards. Whether you're trying to attract more customers or more clients, trading cards allow you to be creative and deliver the information you need to close the deal. As long as you keep your goal in mind, you can use trading cards to effectively promote your business.
Have you printed trading cards? Let us know how you used them by commenting below.