As an online printing company, we offer an extensive selection of custom business cards with various printing options and finishes. We understand how important it is to make a great first impression.
All of our cards and other marketing materials such as brochures, letterheads, and flyers are all printed in the U.S.A. to ensure the best print quality and a fast turnaround.
Whether you are looking to purchase a budget-friendly Matte business card or a high-end personalized business card, we've got you covered. Feel free to contact us for general questions or fill out our custom order form to inquire about products not available on our website.
If you're searching for unique business cards to stand out among your competitors, we've listed a few options. Let us know which is your favorite option.
Painted Edge Business Cards
Are you looking for a conversation stopper? Check out our 32PT thick Painted Edge Cards. Choose from the following color options:
Pearlescent Colors:
Gold
Green
Blue
Pink
Orange
Purple
and Yellow
Standard Colors:
Red
Yellow
Blue
Brown
Black
Purple
Turquoise
Orange
and Pink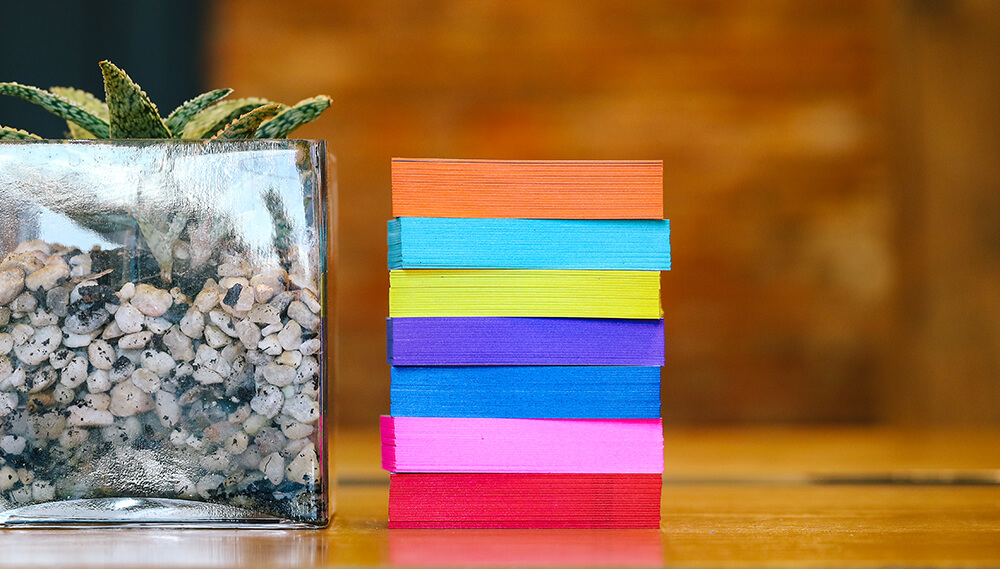 Raised Spot UV and Raised Foil
Stand out with luxurious and elegant Raised Spot UV or Raised Foil business cards. Literally, take your cards to new heights with raised foil printing. Select from gold, silver, or holographic raised foil. Not only are they an excellent option for your business cards, but they are also available in postcards and greeting cards.
Below, the video highlights Raised Foil and Holographic Foil business cards. You can clearly see the difference.
Resource:
Setup Your Raised Foil Business Card Files
Raised Spot UV provides a "raised" glossy texture that genuinely elevates your design, a perfect contrast to the 19PT velvet laminated stock. Raised Spot UV can be used to create highlights, dimensions, and contrast.
The video below focuses on Raised Spot UV.
Silk Laminated Cards
These simple business cards are laminated with a thin film, making them durable, tear-resistant, and water-resistant. Silk cards are ideal for all businesses. They are printed on 19PT card stock and available in different sizes with various options, including Spot UV coating, Foil Stamping, and rounded corners. They are one of the most luxurious and highest qualities of cards.
When holding these cards, you'll notice a unique feel because of the lamination. As you hand them out to your customers and potential clients, they will quickly understand that you care about your business and your brand.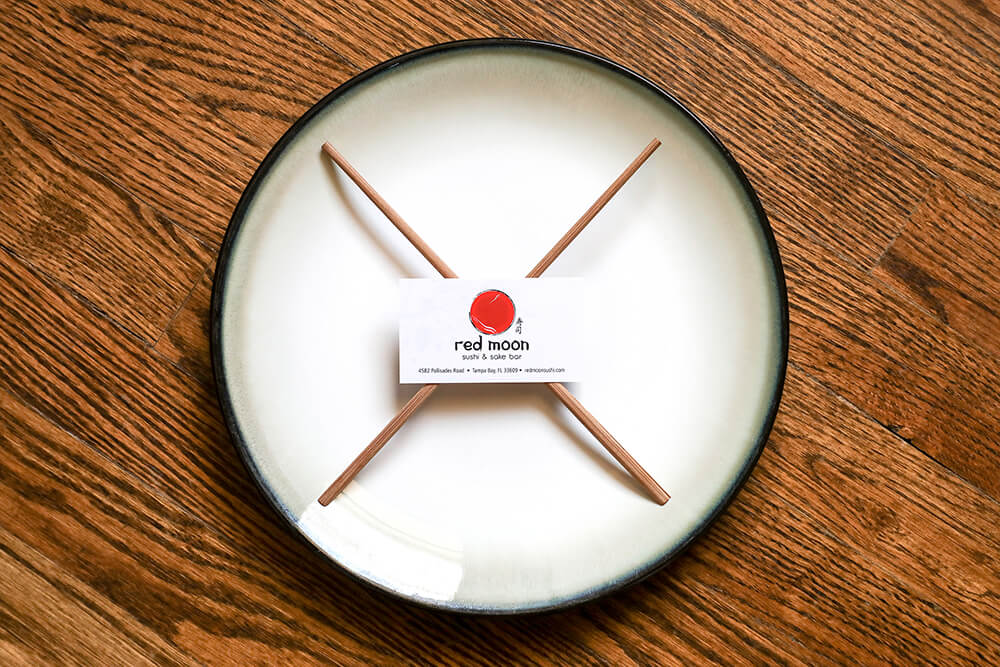 Premium Foil Business Cards
Foil adds great depth and dimension to your card. We offer two variations of foil products, including Inline Foil (Image Below)  and traditional Hot Foil Stamping, also called Stamped Foil.
Foil Stamping is the application of color or metallic foil to stock paper using a heated die. The die then presses the foil onto the surface under high pressure. This leaves the design of the die on the card stock. Select from a variety of foil colors to truly make a one-of-a-kind card.
There are advantages to printing foil-stamped cards. By adding foil to your cards or other printed business materials, potential customers may place a higher value on your business and products. These cards will also grab potential clients' attention as they are simple, affordable, and eye-catching.
Traditional foil stamping is available on your choice of 16PT silk laminated card stock or 14PT uncoated card stock. The inline foil is printed on 16PT C2S card stock and is available with Flood UV coating, Spot UV, or no coating.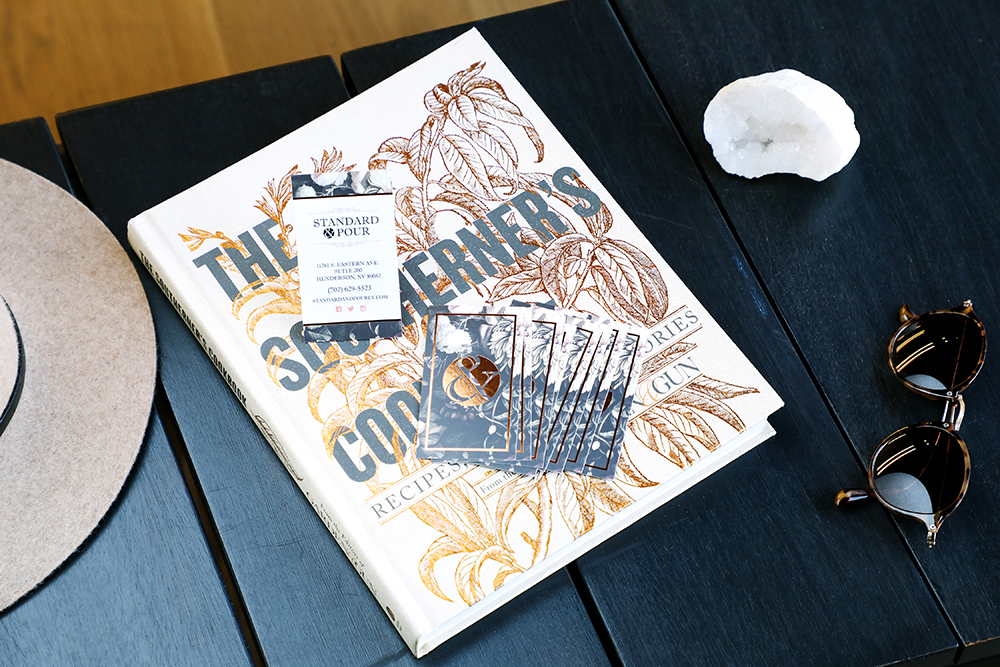 Plastic Cards
Along with the paper standard business card, we offer plastic business card printing too. Plastic cards have become an alternative to the standard card because of how durable they are, making them less likely to deteriorate over time. Plus, the cards are waterproof and tear-proof.
You can select from our 20PT Clear, Frosted, or White plastic cards. These plastic cards are ideal for loyalty cards, gift cards, VIP cards, and membership cards. Below is an example of our white plastic business cards.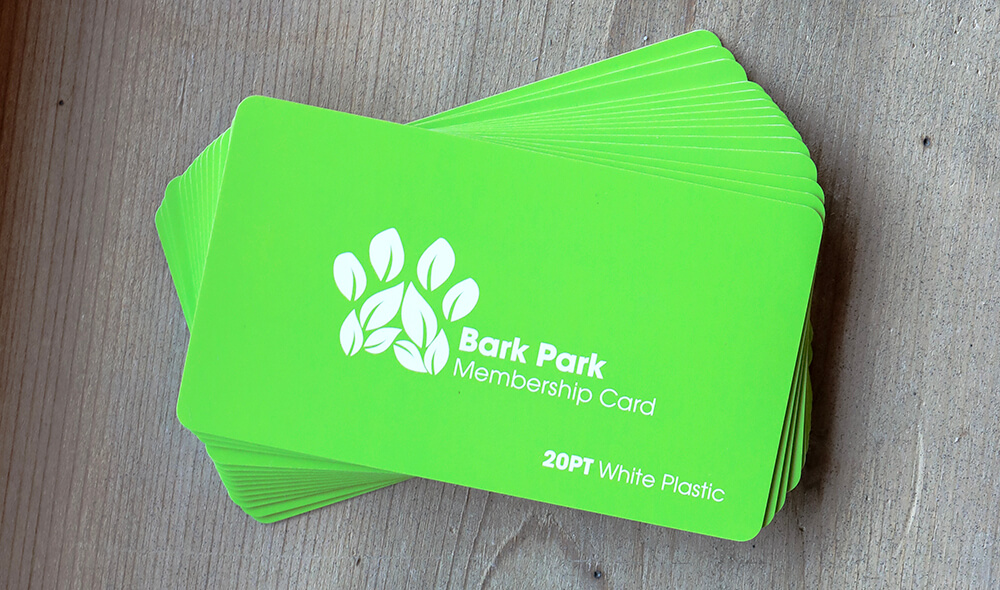 Folded Business Cards
If you are looking for a creative alternative to a standard card, folded business cards may work well. These unique cards are also known as tent cards. One of the advantages of creating them, they offer double the space than a standard business card.
You can easily include more information such as products, services, location map, and coupons to potential customers by having more space. They can be placed into a wallet similar to the standard cards.
Recycled Paper Business Cards
We offer two different recycled business cards. You can choose from our Natural or Kraft paper business cards. They both contain 30% recycled materials, making them a great eco-friendly card option. Make an impression and demand attention with recycled business cards.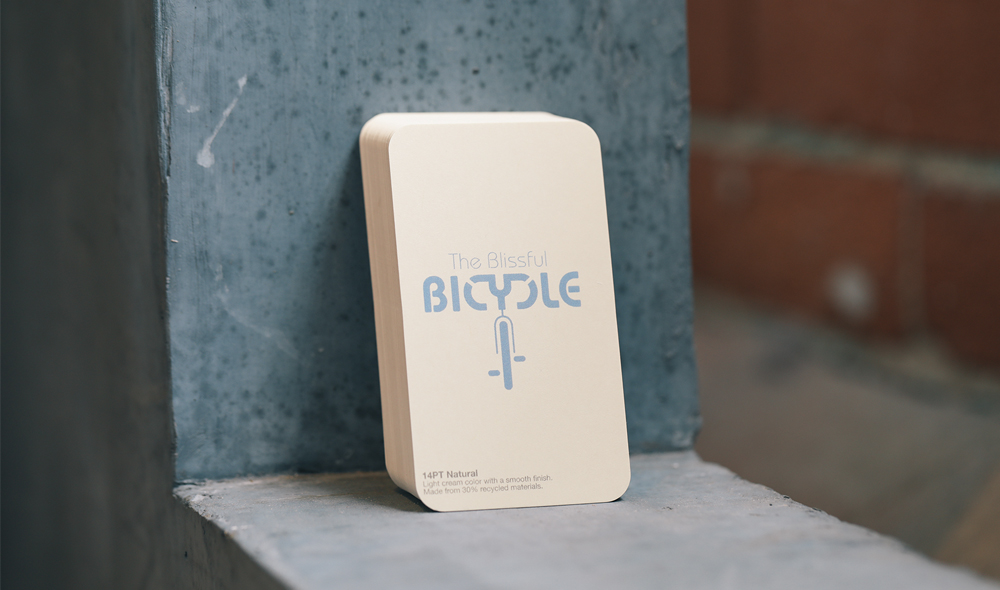 At Primoprint, we can help with a custom design to truly make your card stand out by contacting our design team.
We also offer a free sample packet; that way, you can see and feel the products in person.