Artificial intelligence (AI) often provokes images of evil robots like The Terminator or Auto from WALL-E.
You're probably not aware that AI is the driving force behind many things you use every day including Facebook Messenger and Netflix.
As a small business owner or marketer, one of your biggest battles is finding enough time to get everything done. That's where AI comes in.
Learning to utilize AI is easier than it sounds. Once you get the hang of it, AI can help you be more efficient and help make your marketing efforts more effective.
Machine Learning: The Driving Force Behind AI
Most AI software is based on machine learning. Without getting too geeky on you, machine learning bases its responses on data input by users, such as likes on a Facebook post or hearts on Instagram.
With machine learning, the software adapts its responses to real-time data. This is how Pandora always knows what song to play next, or how Netflix provides personalized suggestions for new shows and movies.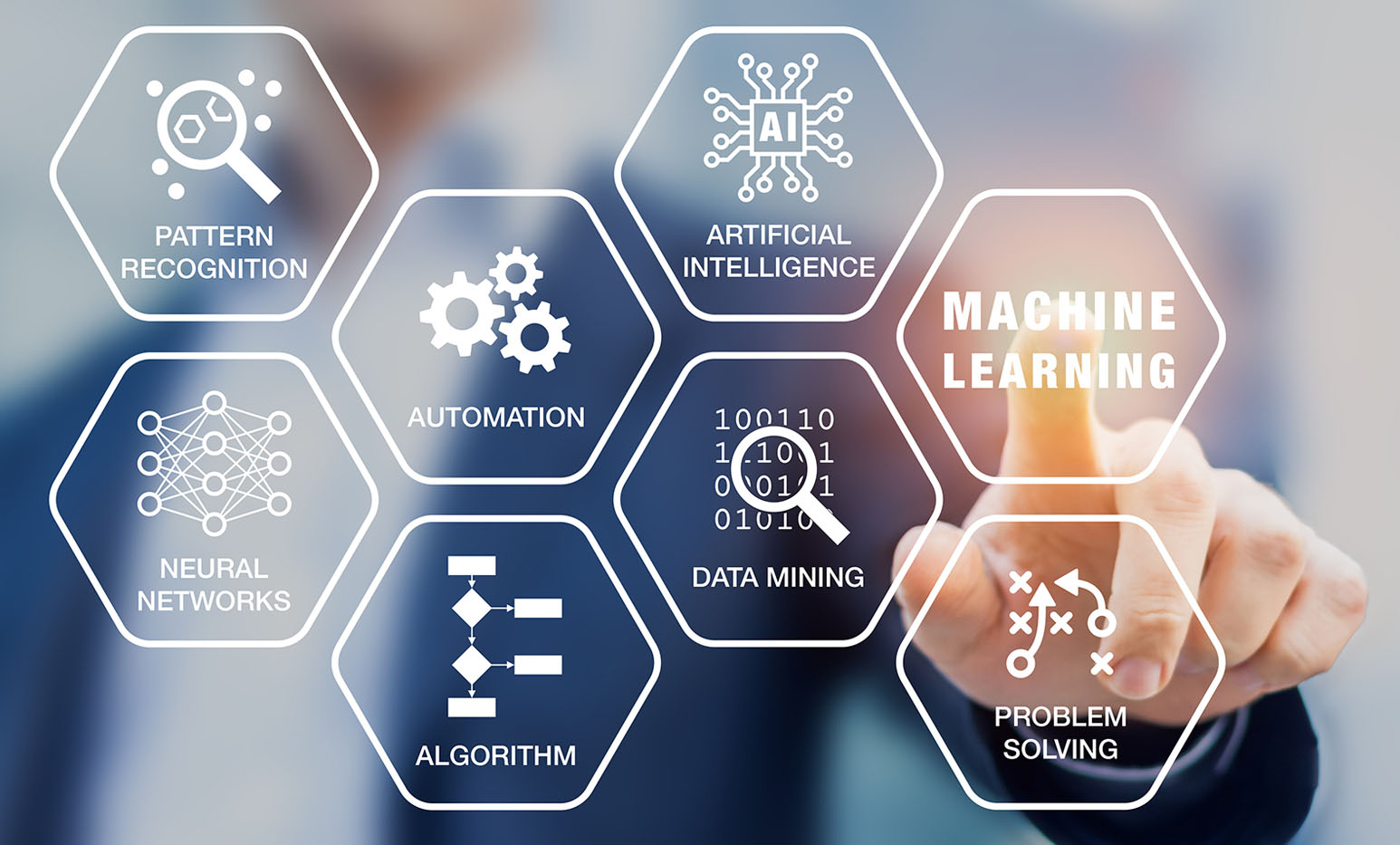 How Is Artificial Intelligence Used in Marketing?
While AI marketing is changing every day, the three best use cases according to Marketing AI Institute are:
Improving content marketing
Reducing reporting time and data processing
Improving ad performance
There are infinite ways to use artificial intelligence to develop content marketing, depending on the tools you use. Tools like Atomic Reach and Scoop.it help businesses determine what kind of content their audience wants.
Businesses both large and small often collect massive amounts of data on their customers but don't have time to analyze it. This is where AI-based data processing solutions come in. The software analyzes the data and prepares reports, saving hundreds of hours of time.
Automating repetitive tasks isn't marketing per se, but it sure frees up a lot of time marketers spend doing tedious tasks. AI software can do everything from managing email to scheduling to invoicing.
Businesses can use AI software to come up with more efficient marketing strategies across print and digital channels, as well as calculate the results of past campaigns. The sky really is the limit.
Glossary of AI Terms
Here's a handy infographic from Capterra that shows what all those AI-related acronyms you come across mean in English.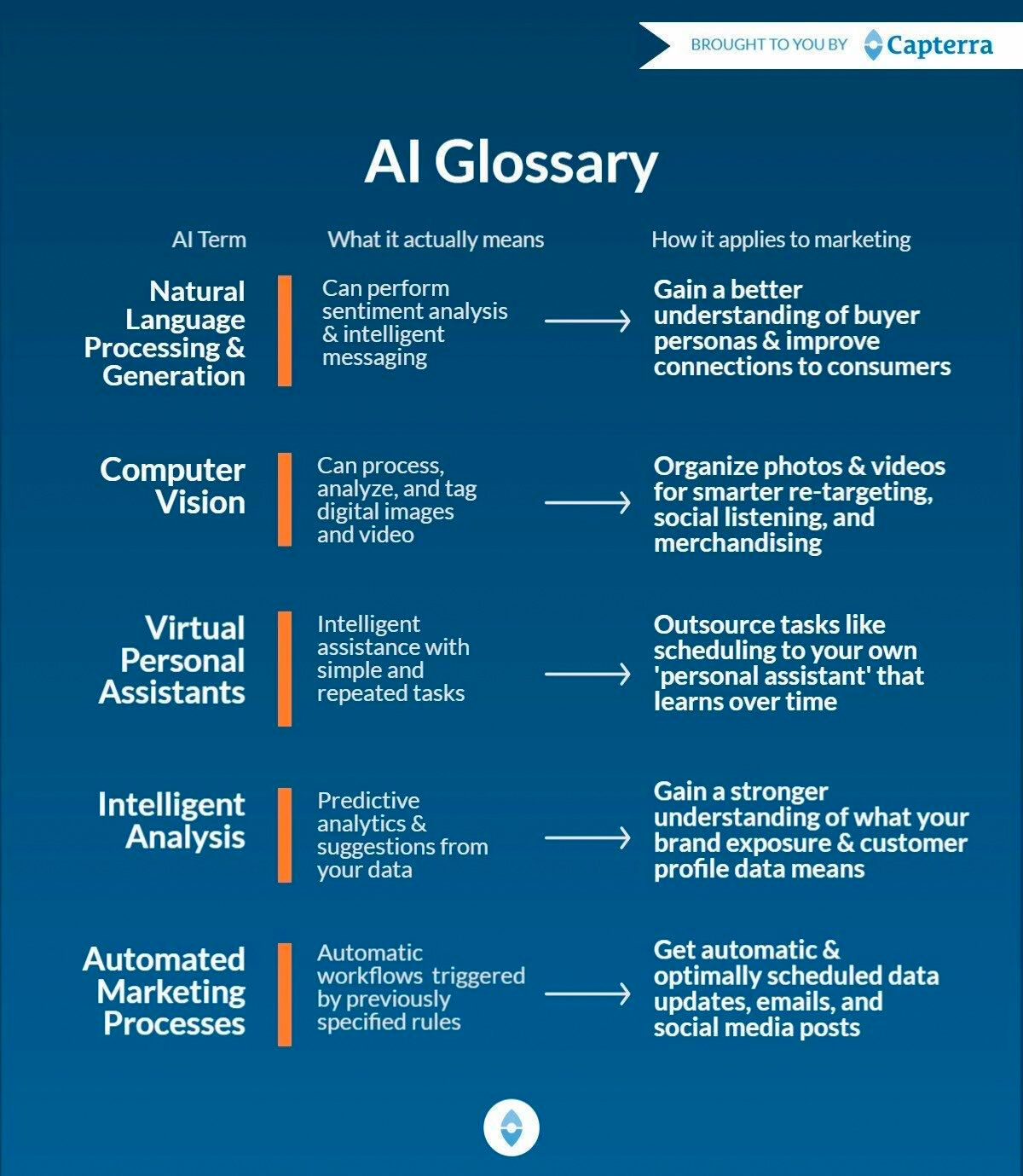 Free & Affordable AI Tools for Small Businesses
Ready to get started using AI in your business? Here are some free and low-cost tools that are easy for beginners to figure out and start working with right away.
Facebook Messenger:
Cost: Free
Messenger now has some great built-in bots for your business page to help with marketing and customer service.
Atomic Reach:
Cost: $150+ per month
Software that helps businesses create captivating content through proprietary algorithms.
Scoop.it:
Cost: $14.99+ per month
Scoop.it helps you figure out what content works best for your audience by comparing it against a database of over 85 million web pages.
Hubspot Marketing Hub:
Cost: $50+ per month
Marketing automation system that allows you to build websites, landing pages and drip campaigns for web visitors. Similar to Marketo but created for small businesses.
Clara:
Cost: $99+ per month
Going back and forth with people to schedule meetings can be a hassle. Clara is a scheduling tool that integrates with Google Calendar, iCal, Amazon Alexa, and Slack. Simply cc: your personal Clara email address and it will handle the back and forth for you.
Wrapping It Up
We hope you found these tips and tools helpful for getting started with AI for your marketing needs.
We are here to help with your offline marketing efforts. Click the chat icon in the lower right-hand corner, and we'll be happy to answer any questions you have.
Have an AI-related experience you'd like to share? We'd love to hear about it in the comments!