Part of what makes Primoprint so great is the amazing designers who work tirelessly to turn our customer's ideas into printed products.
Without further ado, today's featured designer is Kelly Alexander. Read on to learn more about who she is and what she loves about design.
Fun Facts
Name: Kelly Alexander
Favorite Colors: Orange and Grey
Favorite Food: Pizza!
Favorite Fonts: It changes all the time. Right now I'm digging Avenir and Arvo.
Tell Us About Your Background
When I graduated high school, I wasn't sure what my next steps would be. A love of art has been a constant in my life, so I pursued painting and illustration in college. I earned a Bachelor's degree in Studio Arts from UNC Charlotte, but being a fine artist wasn't in the cards.
I spent 5 years working odd jobs and earning money from the occasional commissioned painting before I was finally ready to get serious about my career in visual arts. I went back to school and got an Associate's degree in Advertising and Graphic Design in 2007 to gain the software skills I needed to monetize my talent.
As it turned out, I loved it and have spent the last 11 years working to make the world a more beautifully designed place.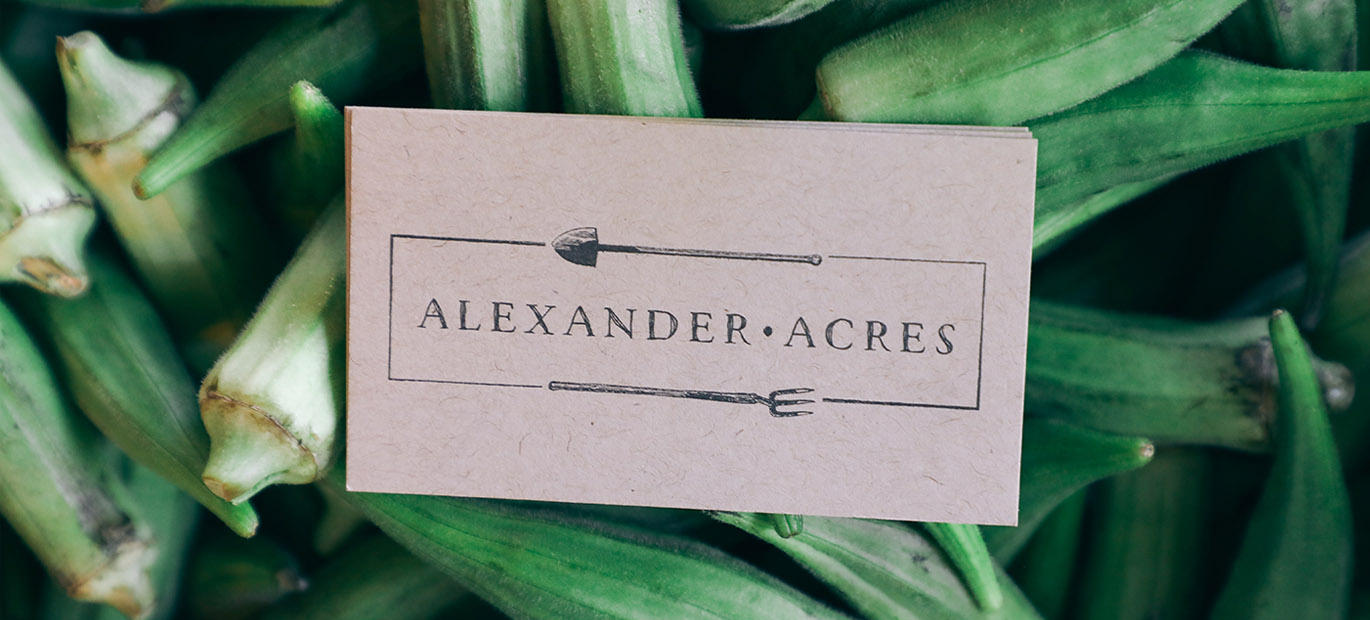 What's Your Design Style Like?
I'm very much a minimalist. I love clean lines and lots of white space. I believe in keeping things simple. Sometimes a design calls for a little more, though, and I enjoy pushing myself to meet the needs of those clients. Some of my favorite projects have been ones that started way outside of my comfort zone.
Where Do You Get Your Inspiration?
Instagram is one of my favorite places to find other designers. My favorite accounts to follow are @learnlogodesign; they feature logos designed by other Instagrammers. Designer @made.by.james does fantastic work, and I love how he visually explains his process.
I use Pinterest a lot to find design trends outside of the print industry, like what's going on in the interior design or fashion worlds.
Dribbble is another good place to look for inspiration.
What's Been Your Favorite Project So Far?
I love creating branding packages. I enjoyed the stamped foil hangtag I created for Dharma Charms Kharma Beads. The client was open to a really fun, hand-drawn approach that fits with the brushiness of her logo. The line work in the design turned out great and I think is a unique approach to using our stamped foil products.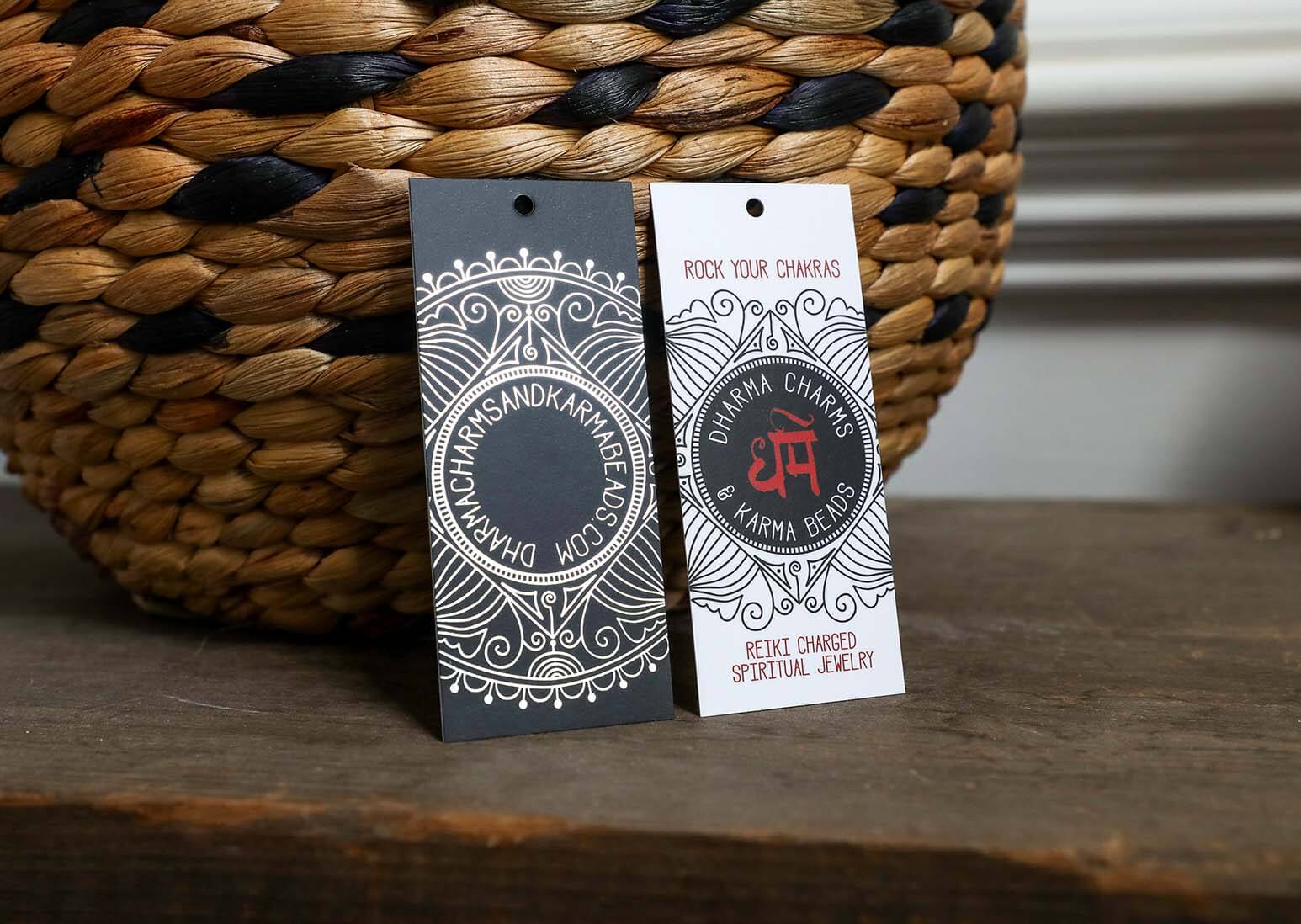 I love getting the opportunity to design pieces for the sample packs we send out to customers. In general, we are really encouraged to push the limits of design and find unexpected ways to show off the product.
My most recent design was for our 14pt pearlescent stock. We commonly see this used for wedding invitations, bridal showers, that kind of thing. I thought it would be fun to take it another direction and came up with a dark, funky, colorful way to showcase what this paper could do.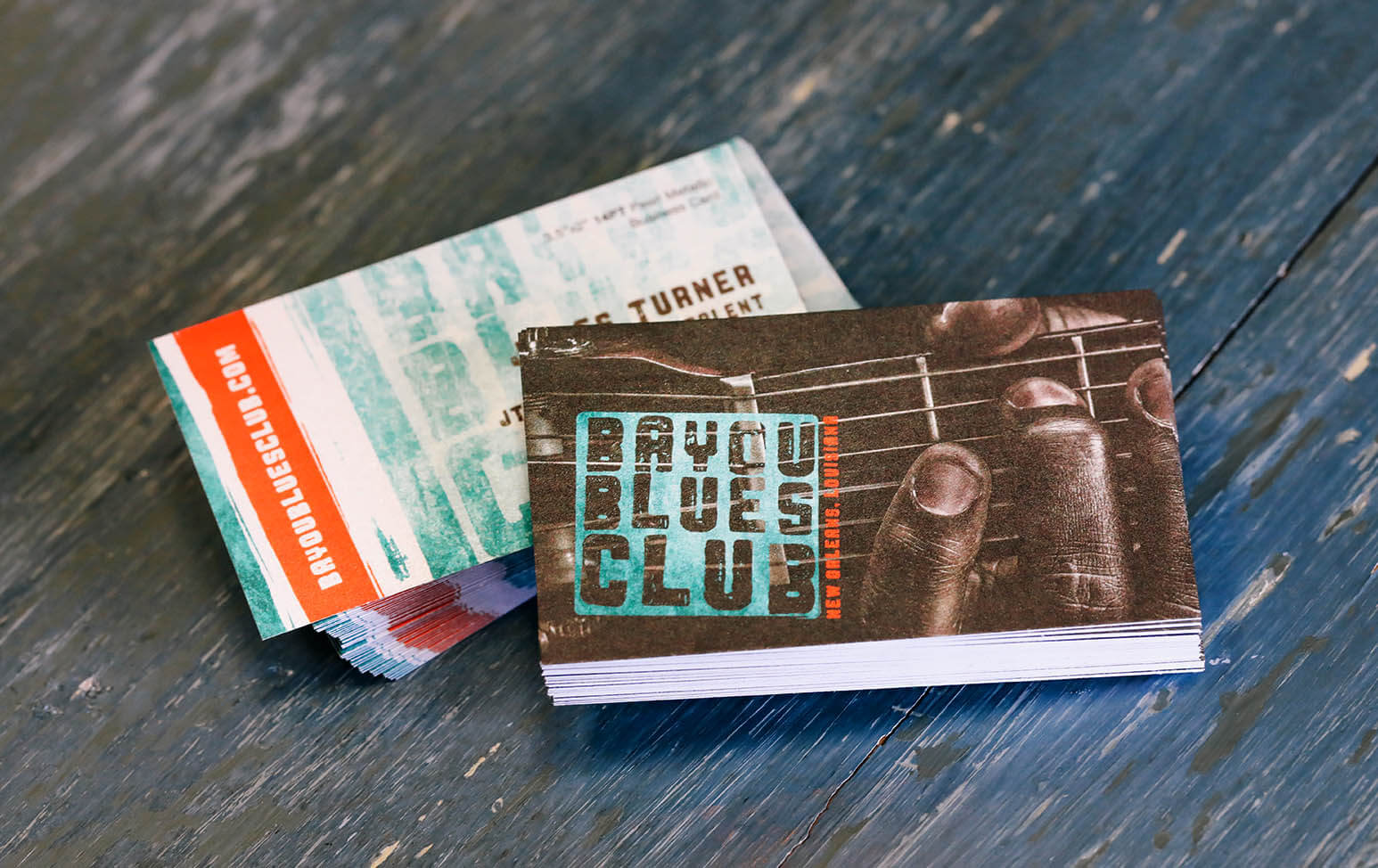 I also loved creating the materials for our family farm business Alexander Acres.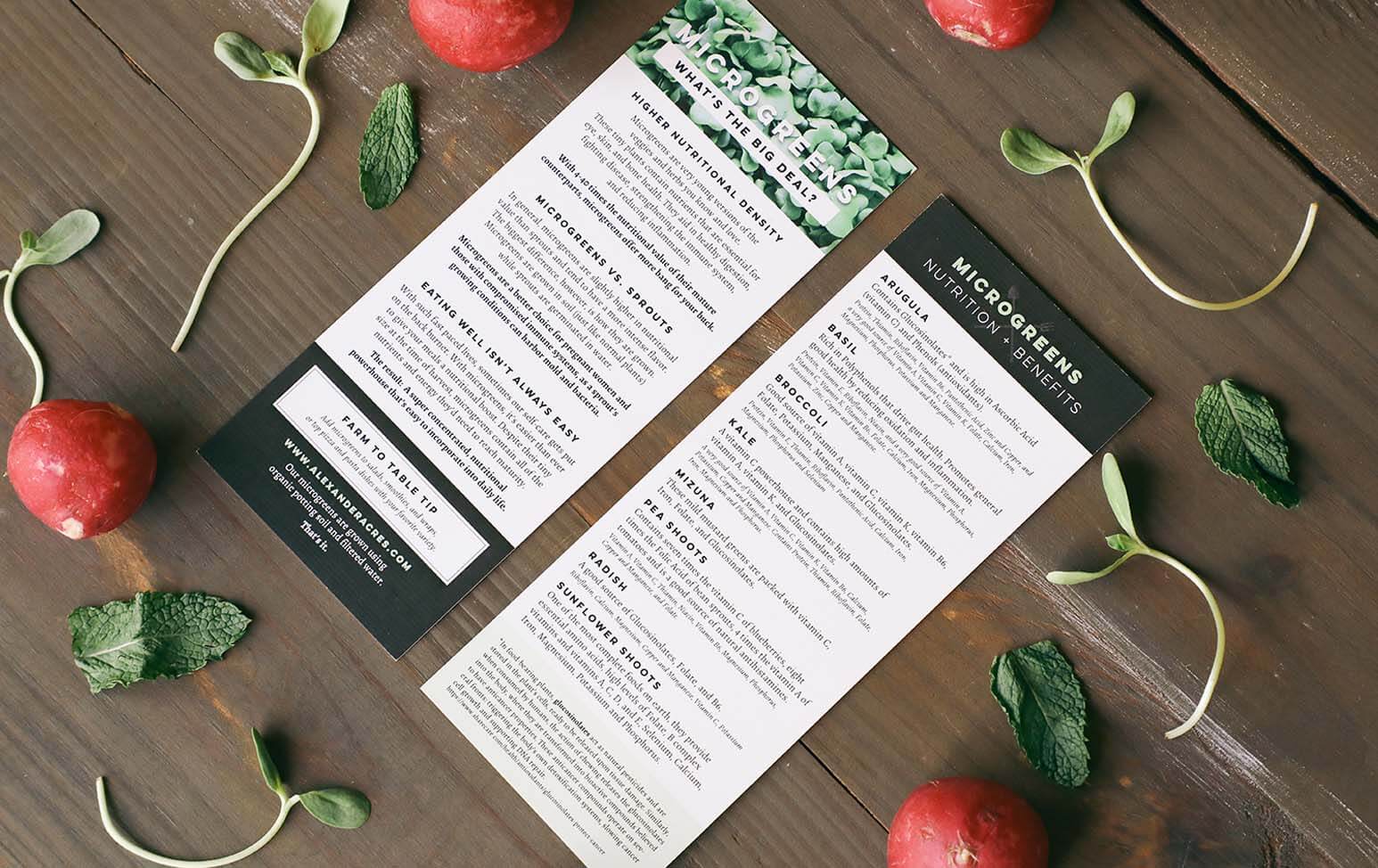 What do you enjoy most about print design?
I love the feel of physical objects: paintings with texture, sculptures that you can hold in your hand, art that makes you an active participant. Designing printed pieces (versus digital art) is kind of like that. From the different papers, we offer to the special processes like Spot UV or foil; all these things make a printed piece interactive and tactile. It opens up a whole new dimension to the artistic process that has been super fun to explore.
What Do You Like About Working at Primoprint?
Definitely the people. The Primoprint team is good at what they do, genuine, and provides excellent customer service. We work hard, treat each other with respect, and have fun while we're doing it, too!
What Advice Do You Have For Primoprint Customers Working With A Member Of The Design Team?
Give your designer the freedom to be creative and think outside the box. The more flexibility you give them, the happier you'll be with the finished product
What advice do you have for designers?
If you are ever unsure about how a job should be set up, go ahead and reach out to our customer service team or to our design department. We are all more than happy to make sure you've got your files set up in a way that will give you the best results.
Thanks so much to Kelly for taking time out of her hectic schedule to talk to us. If you'd like to learn more about working with a designer for your next print project, feel free to contact us. We'd be happy to help!