What's the difference between Roll Labels and Stickers? And which is better suited for your project?
Overall, both products are very similar and depending on your project, it may not really matter if you choose a roll label or a sticker. Both have a nice finish, both have good adhesive, both offer a good overall finished product. Although, depending on how the product will be used, you may find that one works better for you than the other. Below is a breakdown of everything you need to know about both roll labels and stickers to help guide your decision.
---
Presentation
Stickers all come individually cut. This works well if you are handing them out and want the back to stay attached to the sticker for placement at a later time. Designed stickers are really trendy right now. People are covering their water bottles, cars, laptops, etc with stickers. So being able to hand someone a sticker that they can hang on to and apply later can be helpful. 

Roll Labels come on a roll (obviously) for ease of use. So if you want to hand them out individually for a later placement, they'll just need to be torn or cut. Another distinction is that roll labels offer a custom die-cut option. This means that you can create a uniquely shaped die-line, rather than your standard circle, square, or rectangle. All rectangular and square roll labels come with 1/8" rounded corners.

---
Backing
Stickers have a crack and peel backing. So if you want to quickly remove the backing for easy application, this may slow you down a little.
Roll Labels easily peel off the back in a very quick way. This is perfect for people placing labels on multiple products at one time or in the same fashion repeatedly.
---
Storage
Because Stickers come loose, you'll need some sort of storage container – so as to not have them running free in your workspace.
Where Roll Labels are nicely contained on the roll. You have the option to choose which direction they come off the roll as well. This helps if you are using a label dispenser.

---
Roll Label Specifics
The Semi-Gloss Roll Labels
Semi-Gloss labels print best with low ink coverage. If your design has heavy ink coverage you may want to consider the BOPP labels or contact us prior to placing your order for review. We also do not recommend using this product on items that get wet or are in high-moisture areas. 
BOPP Roll Labels
BOPP stands for Biaxially Oriented Polypropylene, which is durable plastic film material.
They can stick to a variety of smooth surfaces as they have a strong permanent adhesive and are also water and oil-resistant. This makes the labels a great option for beauty products, food packaging, shopping bags, and more. 
Egg Shell Roll Labels
This label has a creamy-colored base and contains 30% recycled materials making it an environmentally friendly option. They offer an elegant and distinctive cotton texture, unlike any other roll label.
70lb Eggshell Felt labels print best with low ink coverage. If your design has heavy ink coverage you may want to consider the BOPP labels or contact us prior to placing your order for review.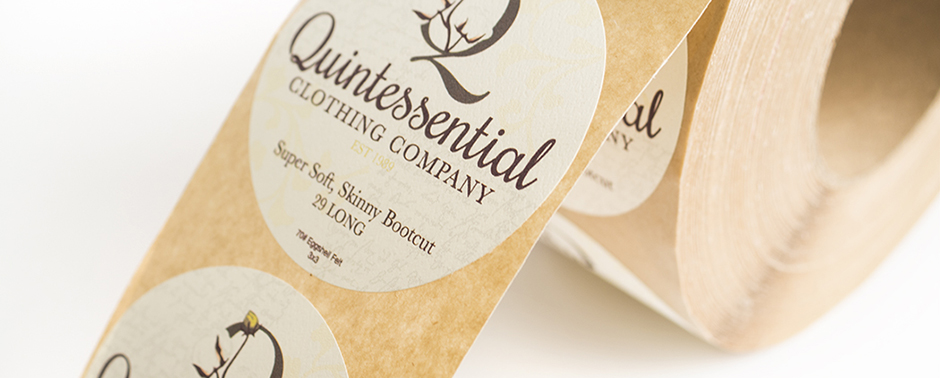 Bright Silver Metallic Roll Labels
This label is heat and chemical-resistant. It starts out as a solid silver material and the ink is applied over the top, which makes the silver take on the color that is put over it. Don't want the entire label metallic? No problem. Just create a white ink mask. This would create a barrier between the metallic material and the ink. Wherever the white ink is applied, the ink would appear solid. This provides a nice contrast between the metallic shine and the opaque ink. 
Take a look:
Silver Metallic Roll Labels | Primoprint
---
Sticker Specifics
Short Run Stickers
Only need a small amount? Short Run Stickers have a minimum of 100 stickers per set. They are produced on 70lb with no additional coating and are recommended for indoor use only.
Glossy UV Sticker
Our Glossy stickers are also produced on 70lb material. They have a glossy UV coating with a permanent adhesive that can stick to a variety of surfaces. This product is recommended for indoor use only. Stickers should be used only when moisture, humidity, water, and condensation are NOT a concern.
Take a look:
Glossy UV Stickers vs. Short-Run Stickers | Primoprint
Inline foil Sticker
Also referred to as cold foil, our metallic inline foil stickers enable you can select from a broad range of colors, including silver and gold foil. A silver metallic foil is applied to the 70lb stock first and then the ink is applied over the top. This allows the silver to take on whatever color you place over the top of it – giving you an endless choice of foil colors. And why choose just one?! Turn multiple shades of color and even gradients into a metallic foil array.
These stickers are durable, versatile, and can stick on a variety of surfaces. Inline foil stickers are intended for indoor use only and include a glossy uv coating over the top.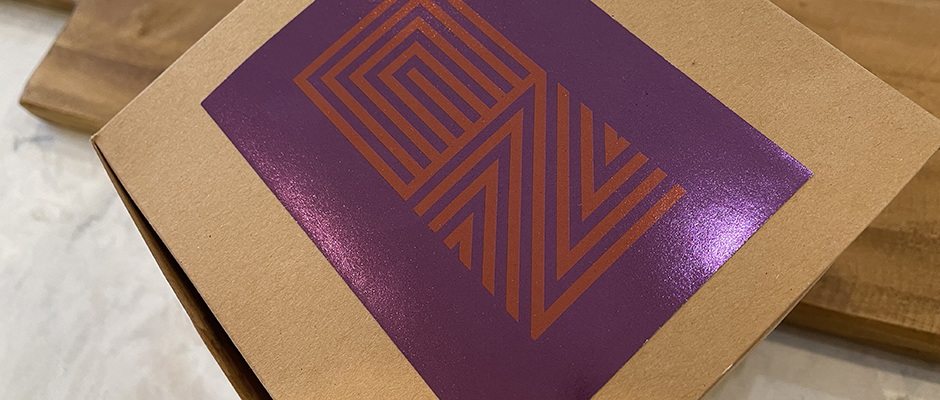 Bumper Stickers
Bumper stickers help your message go anywhere! This material is safe for indoor and outdoor use. They are printed on durable and weatherproof 4mil vinyl, making it easy to apply on your car, truck, window, or any other smooth surface. Our bumper stickers use a strong permanent adhesive and are not recommended to be removed once they have been applied.
One design tip to keep in mind… extra bleed is required for bumper stickers. Make sure you have 0.5 inches on all four sides of your artwork, with no crop marks.
Have more questions? Don't hesitate to reach out. Our customer service team would be happy to help!
Additional Resources
Viral Marketing Is Easier With Stickers
Helpful Tips on How to Market With Custom Stickers