Are you a large company looking for a solution to easily order print? Do you have multiple locations that need access to your branded templates? If you answered yes to either of these questions, we are excited to introduce you to the Business Automated Platform – also known as the BAP.
The BAP is an online portal that is attached to your personal account where we can load your branded templates. Each time you need a new order, you'd log in to your account, choose the template you want to use, enter the personalized information, and send it to print. All of your paper selections are saved to each template, which ensures that you get the correct order every time. And since you determine the formatting and editable fields, your brand standards are always upheld.
No more waiting on a designer to manually update information on a design, send you a proof, and go back and forth with revisions. You can do it all yourself and see a digital preview of your product before it goes to print.
The editor also allows for images such as; headshots, logos, and QR codes to be uploaded onto a template. You can even resize and reposition as needed. Each template is custom built based around your design and needs.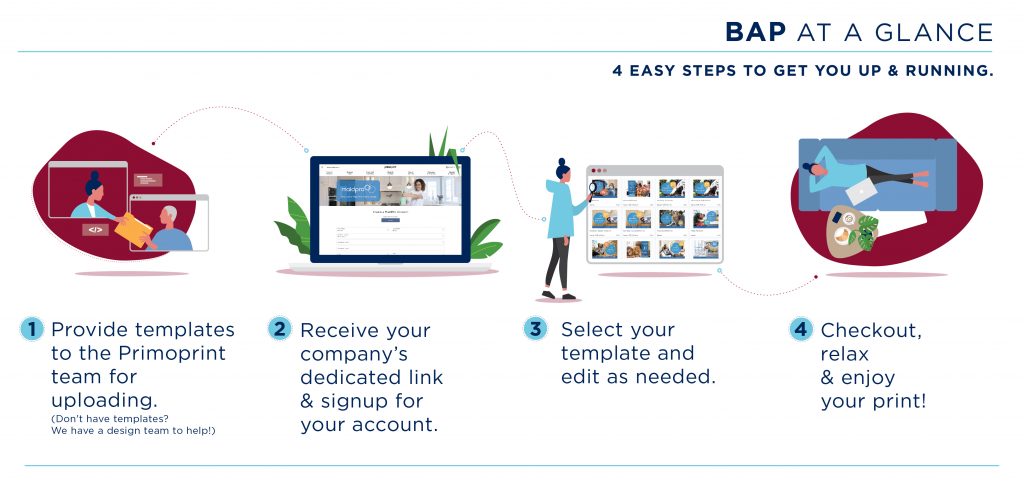 BAP for Franchises
The BAP is a perfect solution for franchises! The automated platform can load business cards, direct mail, letterhead, envelopes… any of our standard products into your portal. We then issue you a direct link that can be given to all of your franchise owners. If the owners all share the same email domain, once they sign up for an account, they will automatically be granted access to your branded designs. If they do not have the same domain, we can attach them manually.
Once owners start ordering through the portal you have full control over the representation of your franchise and the quality of your brand. You as the franchise corporate also can see analytics of what each of your owners purchase and which templates they are utilizing.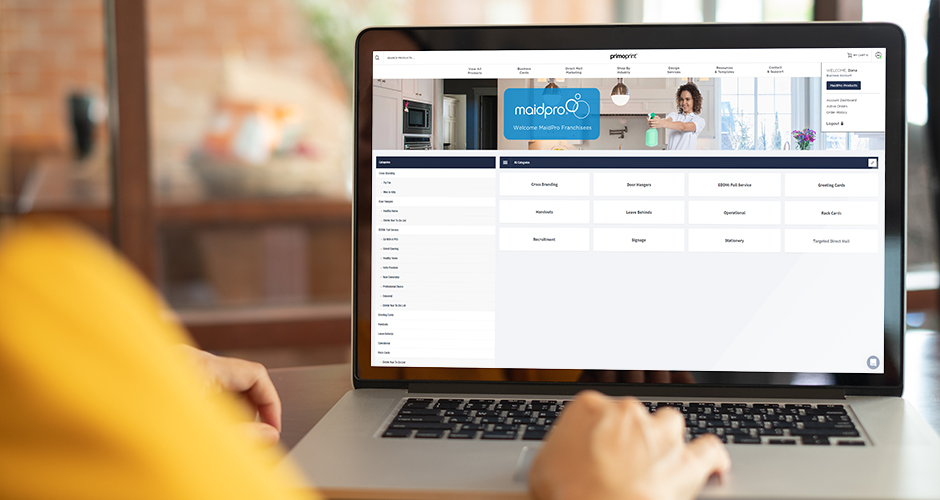 BAP for Real Estate Agents & Offices
Keeping your team or realty office feeling branded can be difficult sometimes. With the Business Automated Platform you can have all of your marketing material loaded into your portal, grant access to each of your agents, and rest easy knowing that everything they need can be ordered in one place. All of your designs are safely stored with your branding firmly intact. Allow your agents to choose from multiple paper options or set parameters on which papers and finishes can be purchased. Each agent can have their own individual account so they are responsible for their own ordering and purchasing.
And the icing on the cake… Do you have listing flyers or direct mail postcards that you reuse for each of your listings/sales? We can load your template into the portal and each time you list a new home or want to send out a postcard, you and your team can simply upload the new home photo, enter the specs, and send to print! This works for direct mail as well as EDDM mailings. This is a great way to provide the tools they need to get out there and sell!
BAP for Business
If you are a medium to large scale company or organization and plan to order the same products with us on a regular basis, our Business Account Platform may be a good option for you. For example, if you have a large number of employees who need business card updates, you can type their new information directly into your template(s). This eliminates the need for a designer to make the edits and go back and forth with revisions. Additionally, each employee can have access to the templates with their own login, or you can keep ordering to one account only. Plus, if you have multiple locations or if your employees work remotely, you can have the cards shipped directly to them. The ordering process is now faster and easier than ever before!
Interested in receiving more information or seeing if the BAP is a good fit for you and your business? Contact us today! Email Info@Primoprint.com and put BAP in the subject line. A member of our Business Team will reach out to you with a quick questionnaire to get a little more information about your needs.