What is Stamped Foil?
Stamped foil is a thin material that requires heat and pressure to stamp the foil into the paper. When applied, the foil layer permanently adheres to the material. This process adds an elegant appearance that is sure to captivate potential customers.
---
What papers can Stamped Foil be applied to?
Primoprint offers three different paper types that Stamped Foil can be applied to.
Silk: This is a 16pt, laminated paper. It's extra durable and has a smooth finish. Learn more about the Silk Laminated paper HERE.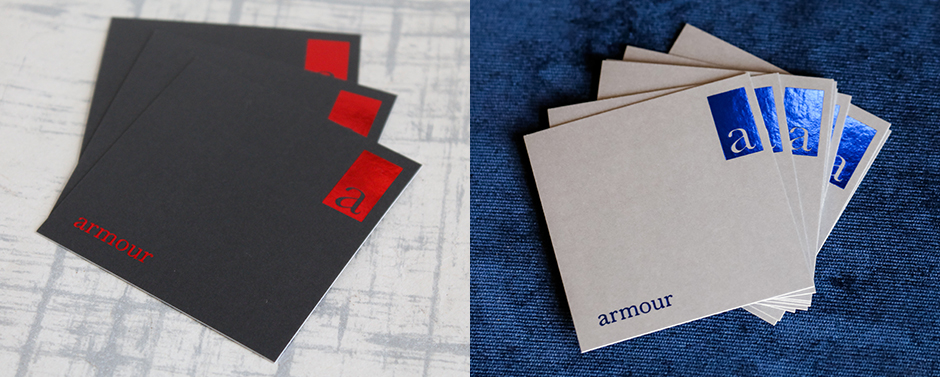 Uncoated: This 14pt paper offers a more subtle look. It's thinner and easy to write on.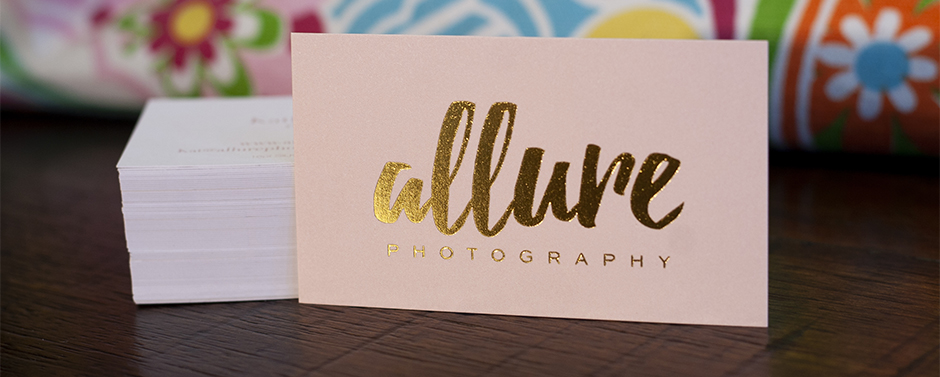 Edge Card: This paper is also uncoated, but sits at 32pt, making it our thickest paper option. It also offers a colored edge – 17 paint colors to choose from. Stamped foil, however, is not listed as a standard option on the Primoprint website. Fill out our custom request form for pricing.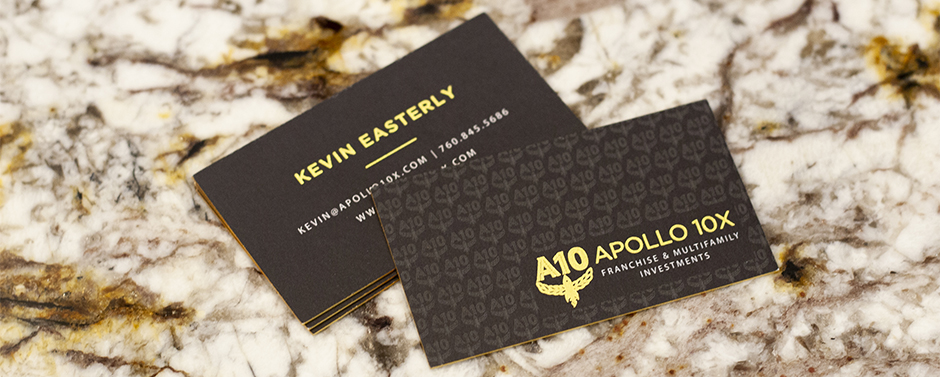 ---
What foil colors are available?
Stamped foil comes in 10 different colors. Silver, gold, copper, black, red, blue, green, hot pink, soft pink, and rose gold. All foils offer a shiny metallic effect to your design, with the exception of Black. This foil option has a more matte effect. Only one foil color can be used at a time within each set.

---
How much foil can I use?
Due to the nature of the material, foil coverage is recommended to not exceed 50% of the artwork area. Too much foil in one spot can cause the material to rub off and scratch easily. We also recommend that the foil does not have excessive bleed. This means that a large portion of the foil should not go off the side of the card. When the cards are cut, if the edge contains a large amount of foil, the material can crack and not appear to have a smooth edge.
Also, keep in mind that a little bit can go a long way. Using a large amount of foil can sometimes be overwhelming. Simply using the foil for your logo or small details adds just enough pop, without going overboard.
---
Can foil placement shift?
Yes. Stamped Foil can shift up to 1/16" in any direction during the stamping process. This is because the printed portion of the cards is produced first. The paper is then removed from the press and placed on a second press that applies the foil. While this process has been perfected over the years, there is still a chance that placement may shift slightly. Because of this, we do not recommend using borders or trying to align the foil perfectly with printed objects. Even though 1/16" is extremely small, if the shift occurs, the artwork will not appear correct.
To learn more about shift when printing, click HERE.
---
How do you set up print files for Stamped Foil?
When sending your files to print, we require two files. A print file and a foil mask file. The print file should only contain design elements that will be printed with ink. All areas that you want to be in Stamped Foil should be completely removed from the print file. The Mask file should contain only black (C0, M0, Y0, K100) to represent where the stamped foil will be placed. The below video shows how to create these two files when using Adobe Illustrator.
---
Stamped Foil Tips:
If you would like to use Stamped Foil on text, such as contact information, it's recommended that you use it on larger items only. Stamped foil on delicate fonts and small design elements may not be thick enough for the material to get a good grasp of the paper. Also, if the space in between the thin objects is too small, the foil can fill in. An "o" for example, may end up looking like a solid circle.
Stamped foil, when used on the Silk Laminated cards, can also include Spot UV. This combination can work beautifully together. One thing to keep in mind is that the Spot UV can not touch or overlap with the foil. The foil will melt during the Spot UV application. So be sure to keep at least a 1/16" gap between the two.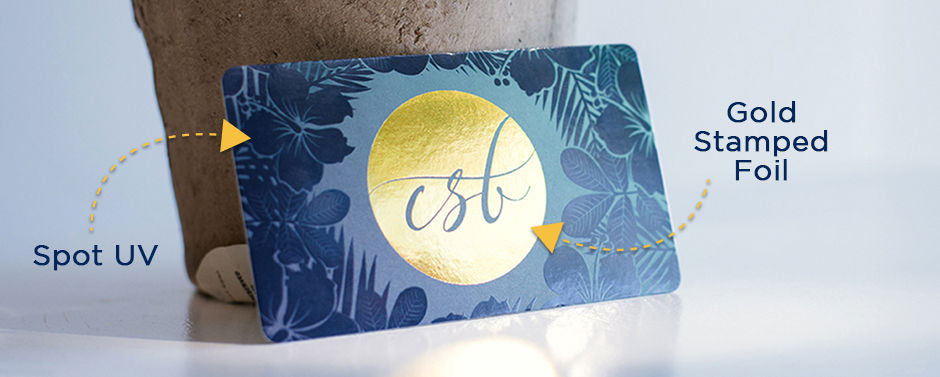 ---
For more information, check out this Primoprint Foil Setup article.
Suggested Videos: