As the leaves begin to turn a million shades of orange, the daylight hours get shorter, and the temperature takes us from shorts and sandals to jeans and warm boots, we also begin to crave family traditions and comfort food. Fall is the best time of year to bring out the cookbooks and track down grandma's old recipes. Every family has them… those favorite fall recipes that slow down time – even for just a moment – and bring the family to the table for a nice sit-down meal. Below are 10 recipes that come straight from the Primoprint family kitchen. We love them and hope you and your family do too.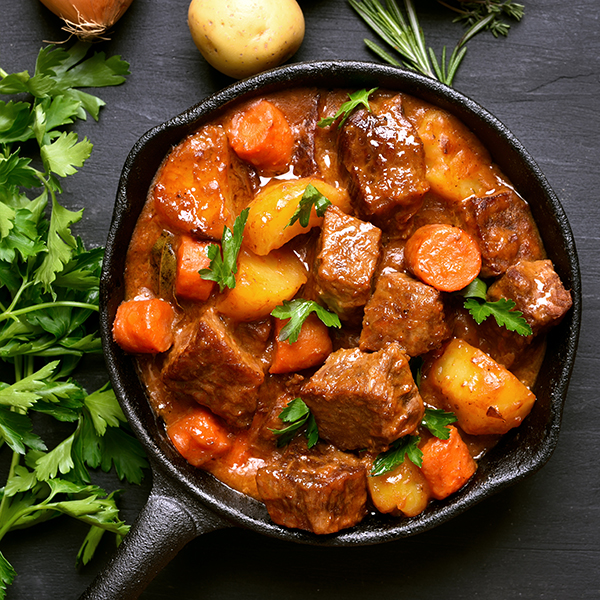 Beef Stew
"I found the recipe online and the addition of the tomato paste and balsamic vinegar is a really nice touch. It goes great with toasty bread and butter and a glass of red wine ❤"
-Kelly
Salt and sear 2lbs stew beef chunks and set aside.
Saute 1 medium white onion in same pan you cooked the meat in.
De-glaze the pan with 2TBSP balsamic vinegar.
Add 2 TBSP tomato paste.
Add a little water and mix everything up making sure to get all the good stuff off the bottom of the pan =).
Add meat and pan contents to Dutch oven and cover with beef broth.
Cook 325 degrees for 2 hours.
Add chunks of white potatoes and carrots (as much as you like!)
Cook for an additional hour or until veggies are tender and meat falls apart with a fork.
---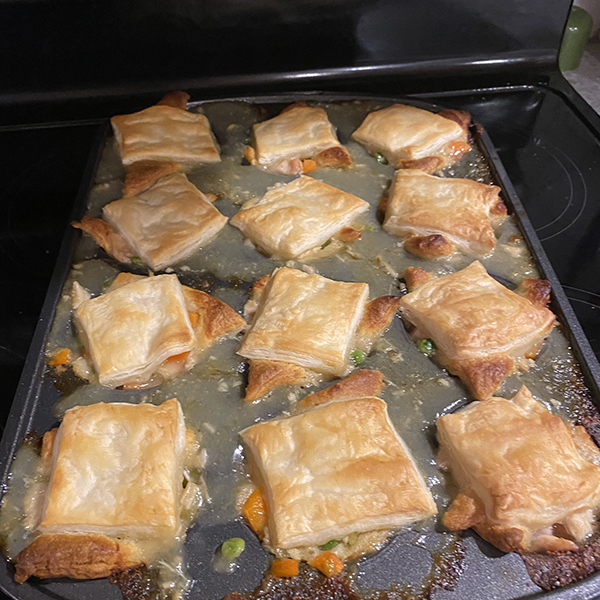 Phyllo Chicken Potpies
"A family favorite is my chicken potpies. I have played with the recipe some, but as long as the crust is made with phyllo dough it is always a winner. Enjoy!"
-Claudia
INGREDIENTS
I pound shredded chicken
1 bag of frozen peas and carrots
1 puff pastry
1 can of cream of celery soup
2 cans of cream of chicken soup
INSTRUCTIONS
Mix all soups together and add the remaining ingredients.
Put in a cupcake pan and top with the puff pastry dough.
Bake at 350º until the tops are golden brown.
---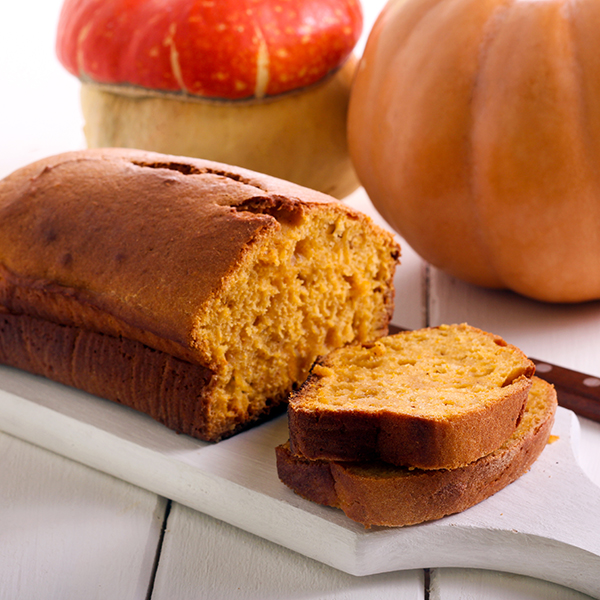 Pumpkin Spice Bread
"This is my favorite because it is our family tradition to have every fall/Thanksgiving. It is my aunt's recipe and so delicious!!!
-Natalie
INGREDIENTS
2 cups all-purpose flour, spooned into a measuring cup and leveled-off
½ teaspoon salt
1 teaspoon baking soda
½ teaspoon baking powder
1 teaspoon ground cloves
1 teaspoon ground cinnamon
1 teaspoon ground nutmeg
1½ sticks (¾ cup) unsalted butter, softened
2 cups sugar
2 large eggs
1 – 15-oz can 100% pure pumpkin
INSTRUCTIONS
Preheat the oven to 325°F and set an oven rack in the middle position. Generously grease two 8 x 4-inch loaf pans with butter and dust with flour (alternatively, use a baking spray with flour in it, such as Pam with Flour or Baker's Joy).
In a medium bowl, combine the flour, salt, baking soda, baking powder, cloves, cinnamon, and nutmeg. Whisk until well combined; set aside.
In a large bowl of an electric mixer, beat the butter and sugar on medium speed until just blended. Add the eggs one at a time, beating well after each addition. Continue beating until very light and fluffy, a few minutes. Beat in the pumpkin. The mixture might look grainy and curdled at this point — that's okay.
Add the flour mixture and mix on low speed until combined.
Turn the batter into the prepared pans, dividing evenly, and bake for 65 – 75 minutes, or until a cake tester inserted into the center comes out clean. Let the loaves cool in the pans for about 10 minutes, then turn out onto a wire rack to cool completely.
---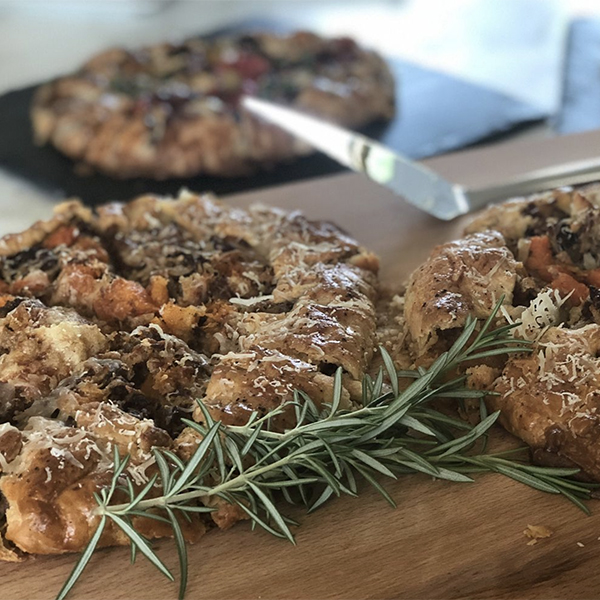 Butternut Squash & Caramelized Onion Galette
I like to make this a lot in the fall. I like to make it because it's easy and versatile. It can be eaten hot or cold. It is also a good base for adding other items to jazz it up. Sometimes I add sage sausage, bacon, parmesan, or shaved potato to give it a different twist.
It's from the Smitten Kitchen website, which I highly recommend following on Instagram.
I normally serve this as a brunch item with fruit.
-Jen
Find the reciepe HERE on Smitten Kichen.
---
Spinach Salad
I love making Spinach salad with a ham or lasagna dinner! It's straightforward and even little kiddos love it.

-Sam
Dressing:
3/4 Cup Sugar
1/4 Cup Red or White vinegar
1 Cup Vegetable Oil
3/4 Cup Ketchup
2 teaspoons Worcestershire sauce
Mix everything but the sugar into a medium size bowl, then slowly add the sugar.
Tip: store in a dressing container as it makes a lot!
Salad:
Spinach
3-4 Hard boil eggs
1-2 cans of water chestnuts
Small Purple onion
1 LB Bacon, cook to crumble
Dried Chow Mein noodles
Mix the salad together and toss in the desired amount of dressing.
Tip: if it seems like there will be a bunch of salad leftover or you want to take it to work for lunch the next day, reserve half the salad and dressing without mixing. Adding the dressing makes the salad soggy, if not eaten immediately.
---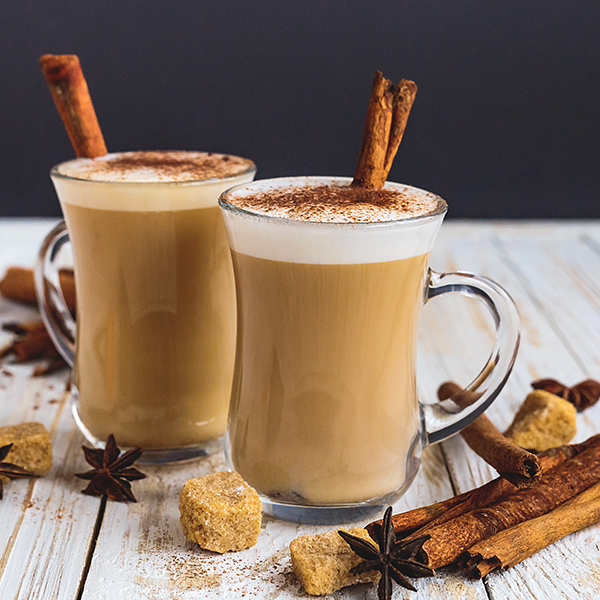 Cinnamon Bun Latte
"My favorite fall coffee to make would be a Cinnamon Bun Latte. It's perfect for cooler fall days!"
-Irene
Double Shot Espresso
1 pump Monin Cinnamon Bun syrup
Texturize diary of choice (mine is unsweetened OAT milk) to 145 degrees
Top the espresso and syrup with the hot oat milk and then lightly sprinkle cinnamon powder on top and enjoy!
---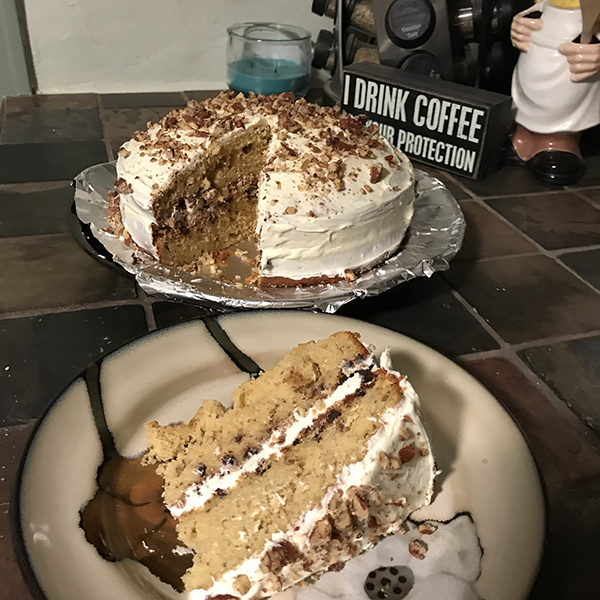 Banana Bread Cake with Dreamy Cream Cheese Frosting
I love to make this cake for special occasions. Although it sounds really rich, it's not too sweet and so moist and yummy. I may accidentally let the bananas go brown from time to time, so I "have" to make it 😉
-Julie
Banana Cake
1/2 cup (1 stick) softened butter
1 1/2 cups of sugar (granulated)
2 large eggs
1 cup sour cream
1 teaspoon vanilla extract
2 cups all-purpose flour
1 teaspoon baking soda
1/4 teaspoon salt
4 brown bananas mashed
1 cup candied walnuts, chopped
1 cup of triple chocolate chips
Cream Cheese Frosting
8 oz cream cheese, softened
1 stick of butter, softened
2 1/2 cups powdered sugar
1 teaspoon vanilla extract
2 tbs heavy whipping cream
Heat oven to 350 degrees. Prepare 2 round baking pans by spraying w/ cooking spray & set aside.
In a large bowl, cream the butter and sugar together with a mixer until light and fluffy.
Add eggs, sour cream, and vanilla and blend until combined and creamy.
Add flour, baking soda, and salt. Blend on low until it is just combined.
Add bananas, chocolate chips, & 1/2 of the candied walnuts. Gently stir together by hand.
Split the batter evenly between the two baking pans.
Bake for 25-30 minutes, or until a toothpick comes out clean or with moist crumbs. The top and edges should be brown.
Let the cakes cool completely before removing them from the pans & frosting.
In a large bowl, beat butter and cream chees together until combined
Add in vanilla extract, powdered sugar, and heavy cream. Beat together starting on low and increasing the speed as needed until frosting starts to form. You can add more sugar and/or milk, if needed, to reach your desired consistency. It should be creamy but not thin. Use the remaining walnuts to sprinkle between the layers and on top.
---
Beef Stew AKA: "Pirate Stew"
This is my favorite fall recipe because my late grandmother used to make it for us. When we were children, and would refuse to eat anything that wasn't in nugget form, she would serve this to us and tell us it was "Pirate Stew". That tall tale paired with her old wooden table was enough to convince us.

-Johnny
Ingredients
1/3 cup all-purpose flour
1 teaspoon salt
1/2 teaspoon pepper
3 pounds beef stew meat, cut into 1-inch cubes
2 medium carrots, chopped
1/4 cup chopped celery
1 tablespoon canola oil
4 garlic cloves, minced
1 tablespoon tomato paste
4 cups beef broth
2 bay leaves
1 teaspoon dried thyme
1 teaspoon dried parsley flakes
1 teaspoon dried rosemary, crushed
2 pounds potatoes, cut into 1-inch cubes
2 tablespoons cornstarch
2 tablespoons cold water
1 cup frozen peas
Directions
In a large pot, combine flour, salt, and pepper. Add beef, a few pieces at a time, and turn to coat. Remove and set aside.
In the same pot, saute the leeks, carrots, and celery in oil until tender. Add garlic; cook 1 minute longer. Stir in tomato paste until blended. Add the broth, bay leaves, thyme, parsley, and rosemary. Return beef to pot. Bring to a boil. Reduce heat; cover and simmer until beef is tender, about 2 hours.
Add potatoes. Return to a boil. Reduce heat; cover and simmer until potatoes are tender, about 1 hour longer. Combine cornstarch and water until smooth; stir into stew. Bring to a boil; cook and stir until thickened, about 2 minutes. Add peas; heat through. Discard bay leaves.
---
Fudge Chocolate Brownie Cookies
I just like sweets so this is why it's my favorite.

-Holly
INGREDIENTS
1/2 cup unsweetened cocoa powder
1 cup white granulated sugar
1/2 cup melted butter
3 tablespoons vegetable oil
1 egg
2 teaspoons pure vanilla extract
1 1/3 cups all-purpose flour (or plain flour)
1/2 teaspoon baking powder
1/2 teaspoon salt
1/3 cup semi-sweet chocolate chips, (add more if desired)
INSTRUCTIONS
Preheat oven to 350°F (175°C). Line 2 cookie sheets or baking trays with parchment paper (baking paper).
In a medium-sized bowl, mix together the cocoa powder, white sugar, butter and vegetable oil. Beat in egg and vanilla until fully incorporated.
Add the flour, baking powder, and salt; stir the dry ingredients first before mixing them through the wet ingredients until a dough forms (do not overbeat). Fold in the chocolate chips.
Scoop out 1-2 tablespoonfuls of dough with a cookie scoop (or small ice cream scoop), and place onto prepared baking sheets. Press them down as thick or thin as you want your cookies to come out.
Bake in a hot preheated oven for 10-12 minutes. The cookies will come out soft from the oven but will harden up as they cool. (Be careful not to overbake as they will dry out.)
Allow cooling on the cookie sheet for 10 minutes before transferring to wire racks to cool.
---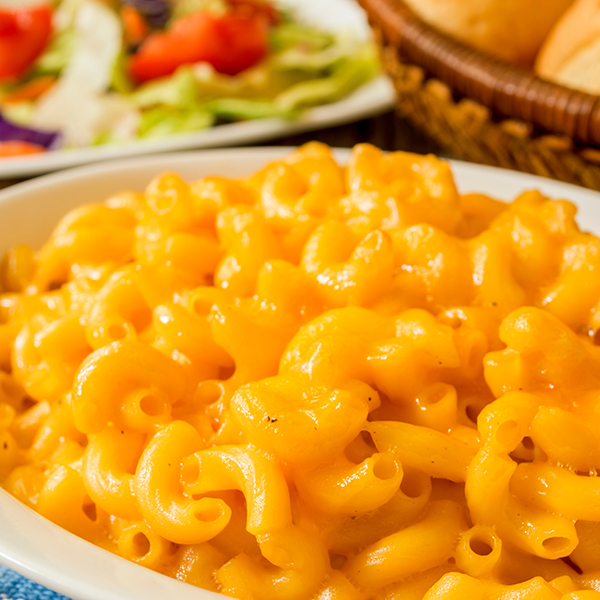 Extra Creamy Mac & Cheese
"Our family loves this recipe as you can set out separate toppings and create your own Mac and Cheese Bar!! Some of our toppings have included: Onions, Tomatoes, Green or Red Peppers, Pepperoni, Mushrooms, Plant-Based Meat, Meatballs, and Crushed Pringles or Breadcrumbs."
-Jenny
Ingredients:
1 – 16oz box of elbow noodles
1/2 stick of butter (4 Tsp) cut into pieces
16 oz Kraft shredded sharp cheddar cheese – important to get a good cheese so it melts properly
1 egg, beaten
1/2 C sour cream
1 (10 3/4 oz) Can condensed Cheddar Cheese soup
1/2 tsp salt
1 C whole milk
1/2 tsp black pepper
Directions:
Boil noodles in a 2-quart saucepan with plenty of water until tender, approx 7 mins. Drain. Set aside.
Using the same saucepan, add butter, milk, and cheese.
Stir until melted.
In a medium bowl, add egg, sour cream, soup, salt, and pepper, and stir well.
In a Medium to Large Crock Pot / Slow Cooker, combine and stir:
Cheese / Butter mixture
Soup Mixture
Noodles
Set on low for 3 hours, stirring occasionally.
---
Cheesy Potato Casserole
This is a favorite family receipe – always a stapel at holiday dinners and super easy to make. But it's also a nice addition to any cold night dinner. I like to pair with ham steaks or pork chops.

-Brooke
Ingredients
1 bag of frozen O'brian hashbrown potatoes
1 – 16oz container of Sour Cream
1 can Cream of Chicken Soup with Herbs
2+ cups shredded cheddar cheese
INSTRUCTIONS
Mix all ingredients together in a large mixing bowl. Spray glass dish with cooking spray and then empty mixture into dish.
Bake uncovered @ 375º for 45-60 minutes – until sides are bubbly, cheese is melted, and center is hot.