You've finalized your beautiful design for your custom thank you cards. What's next? What you write in your card can be just as impactful as the cards themselves. Here are our a few suggestions for showing your customers your appreciation.
What to Write in a Thank You Card
Make sure to thank the clients and customers sincerely. Some people opt not to write thank you cards for clients because they are under the impression it has to be lengthy. Just recognize that this customer visited your store or website and purchased an item, and personally thank them for their patronage.
Steer clear of turning your business thank you cards into a sales pitch. Personalized thank you cards are viewed as passive sales tools to build customer relationships; don't let it become a promotional ad. While you can highlight upcoming events you'll hope he or she will attend, avoid anything directly pointing to purchasing again.
Remind your customers that you are readily accessible to them. At the end of the thank you note, inform your customers that you are available for any questions.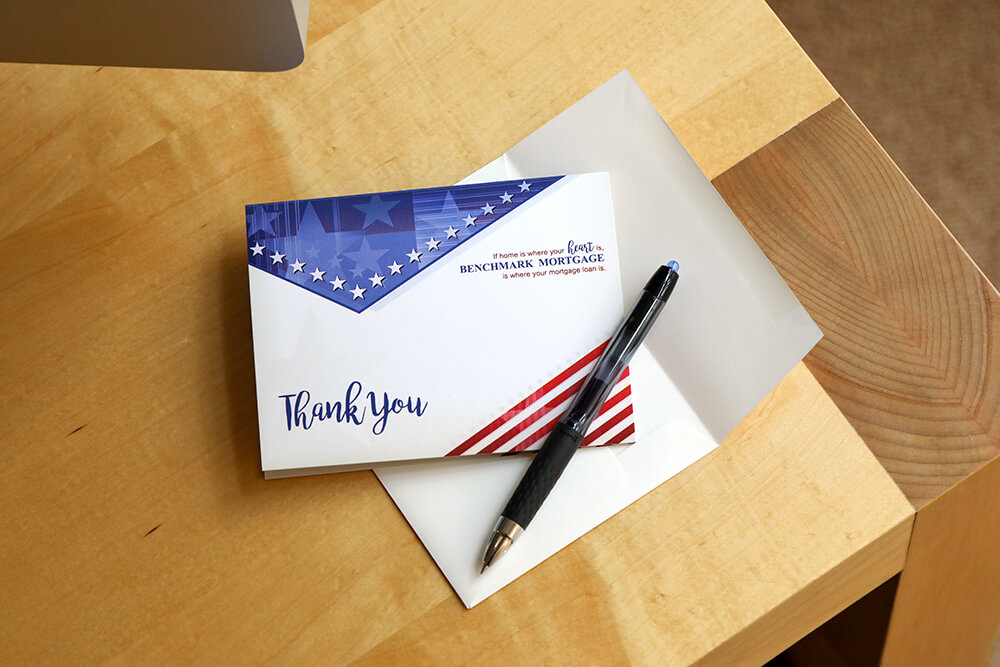 Best Practices
Do not use a red pen. It's ideal to use either black or blue ink. But, if you use a unique color, I'm sure it will make your customer receiving it smile.
Don't worry about your handwriting. If you think your handwriting is awful, it's ok. As long as your personal not is legible, that's what matters the most. Your handwriting makes the note more personal.
Make sure that you use custom stationery or note cards that reflect you and your business. For example, if you own a vegetarian clinic, you can include images of pets and paws which truly represents your business.
Owning a business keeps you busy. Make sure that you send our your cards in a timely manner. You'll want the customer to have you fresh on their mind. Don't wait too long as they may forget who you are and why you are sending them a thank you note.
Don't include any promotional offer or business content. Keep from sounding like you're wanting to sell something. The point of your Thank You card is to genuinely thank them and not try to upset them or promote your business.
Allow your message to showcase your business's personality. If including smiley faces or drawings and it's in line with your brand, go ahead and include it. Have fun expressing your business.
You can include something in the note if the situation allows it. This can include a t-shirt, baked cookies, and other goods or a book you think the recipient would appreciate.
Always Include the Following
Make sure you always greet the customer by name. That is an important aspect of your thank you note.
Take time and truly express your gratitude and emphasize why you are mailing them a note.
Highlight details about why you enjoyed the experience with them. It's not only thoughtful, but a great opportunity to be specific.
End the message with one of the following: Yours Truly, Best, Warm Regards, Kindest Regards, Cheers or anything else that would be appropriate for you and your business.
Make sure you sign your name!
Writing personalized thank you notes is a sure way to stand out from your competition and show gratitude to your customer base. If you don't have your thank you cards printed yet, we offer a variety of sizes and stocks as well as professional custom design services. For more information, visit click here.