Today, the one thing that will give you and your business the best odds of turning someone into a paying customer is leaving a lasting impression. Printing business cards have historically been one of the best ways to do this.
At Primoprint, we offer a variety of business cards printing option: different coatings (Spot UV, Painted Edge Cards, Stamped Foil, etc.), finishes on a large selection of paper stock (16PT, 22PT, 32PT, and more). There are times a company wants to be unique and different, and this can be done by selecting plastic business cards. Take a look at all our printing options for plastic cards. You can view our large selection of plastic business cards.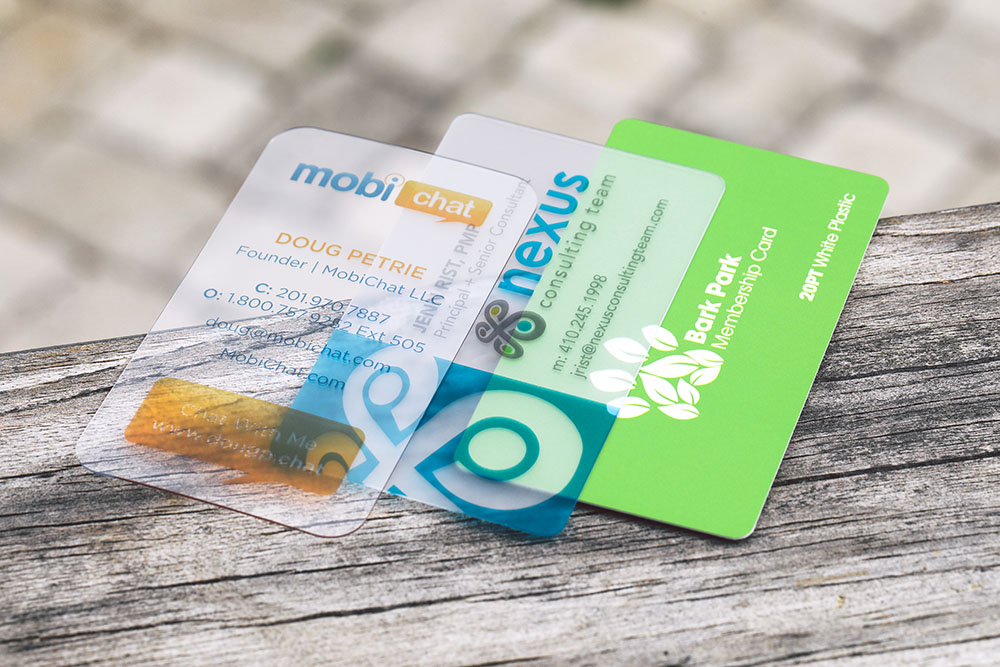 SEE ALSO: Details on How to Create a Business Card
We offer 20PT clear, 20PT Frosted and 20PT White plastic cards to fit your needs. They can leave a lasting impression on the people you interact with, which in turn can make your company the first one that comes to mind when they need your product or service.
To better understand how a business may benefit from using plastic business cards, below we have listed some characteristics that make them different from standard printed paper stock business cards.
Benefits of Plastic Cards
These cards are incredibly durable. The typical plastic business card has a longer life than a traditional paper stock card, which means that your customers will retain them longer, and your business's contact details on the card will last just as long.
Plastic business cards can leave a lasting impression. They can have unique designs, which in turn makes it easier for your customers to remember your business. Contact our graphic designers and let us help you design your plastic business card or your next print project.
They impress when you hand them out. Plastic business cards are more uncommon than paper stock cards, and that's something people notice as soon as you hand them out. This automatically makes people associate your company with one that's different from others.
They have a subtle perceived value. Plastic cards feel similar to credit cards, which means that customers will associate your company with a heightened worth when they touch or look at a plastic business card.
20PT Frosted Plastic Card
It's important to take the opportunity to stand out from all your competitors. Plastic business cards are one of the best ways to do that.