What is the Painted Edge Card?  The Painted Edge Card is a thick, custom-made paper created using layers of uncoated paper that are laminated together – making the paper 32pts think. The edges of each card are then painted one of 16 colors. (Also available in uncoated/white.) This paper offers an extremely unique, luxurious, and durable card.
Why print on the Painted Edge Card? The thickness and texture of the paper alone are sure to stand out in the crowd. And when you add one of our bright colors to the edge, you are sure to have a memorable card that your customers will hang on to!
What products come on the Painted Edge Card? As a standard item, Painted Edge Business Cards are the only products listed on the Primoprint site. But, this paper is also available as an invitation/announcement or postcard. All you'll need to do is fill out the custom request form and our estimating team will assist with pricing.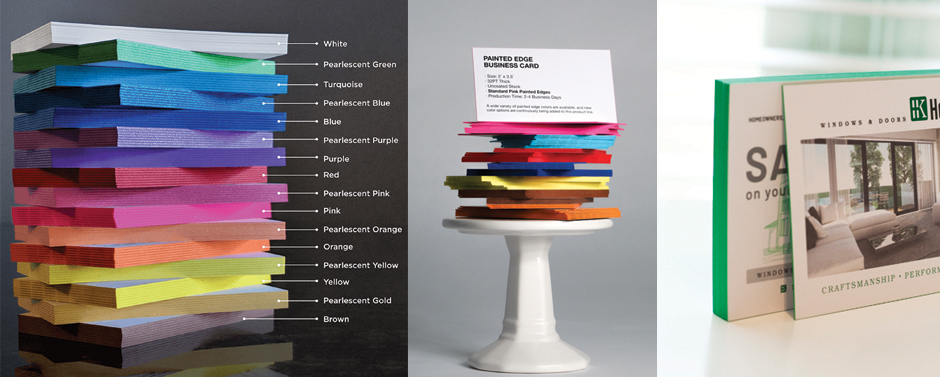 Recommended Uses: Beyond business cards, this paper is highly recommended for wedding invitations, notecards, and announcements.
Secret Tip: Contact our estimating department and request stamped foil on the Painted Edge Cards! This option is not available on our site, but can be ordered as a custom order. The stamped foil is a beautiful addition to any Edge Card project!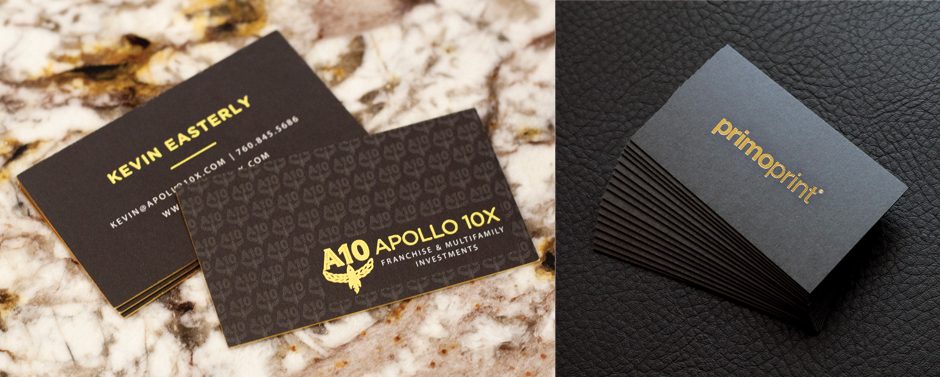 Can you write on the Painted Edge Cards? Yes! The uncoated stock is perfect for writing on. If the ink is really wet, it may bleed slightly into the paper (ex: paint pens) but otherwise, all writing utensils will work well – including pencils.
Folds: Due to the thickness of this paper, we are not able to fold the 32pt card.
The Specifics:
-Paper: 32PT Uncoated Card Stock
-Printing: 4-color process printing (CMYK), single or double-sided.
-Edge: Paint is created using a solid color, not a CMYK mixture, therefore we do not offer a CMYK breakdown to perfectly match the edge.
-Rounded corners are not available.
Turnaround times: During a normal production time, the Painted Edge card takes 2-4 business days to produce. If you add stamped foil, however, production time increases to 5-7 business days.
For a full Primoprint business card paper comparison, click here.
Want to see and feel the Edge Card for yourself? Request a FREE sample pack!
Want to see more? Take a look at some additional printed pieces here. And as always, if you need help creating your artwork, don't hesitate to reach out. One of our amazing Graphic Designers would love to work with you on your project. Get in touch today!