Nina's Boutique is a high energy women's clothing boutique based in North Carolina. Initially, the owner, Elizabeth, was interested in creating a new logo for her brand. After some research, she learned of the Primoprint design team, their years of industry experience and affordable brand packages, Elizabeth decided to expand her work to include a complete rebrand for her boutique. This included a new logo, new branding colors, business cards, hang tags, and stickers.
To get started, we needed to learn about the business and the owner's vision. We discovered that the retail concept of the store is a trendy, women's clothing boutique. With it's high energy, the goods and designs are simple and clean. The logo design needed to include light colors such as pink & blush with gold foil (s). One of the main focal points of the store is a grass wall throughout and its colors should also be reflected in the design. Overvall, the Primoprint design team was tasked with creating a simple, elegant logo that is not overly designed.
To start, Elizabeth provided a few samples of designs she liked, which is always helpful for designers to understand the desired aesthetic of the client. This enables Primoprint to understand style, font type and color palettes(s).

After designing several options, the Primoprint design team presented Elizabeth with three. In order to achieve the customer's request, a few different design styles were included.

Initially, Elizabeth really liked option two, but wanted to adjust the colors a bit. Below are a few of the updated designs for her final selection The bright pink and olive green ended up being the winner!

Once the logo was complete, the rest of the design pieces really fell into place. Once a brand look is established, it's important to carry that look across all pieces. This strengthens the brand equity and ensures a seamless brand presence. Every element of a brand whether digital or printed,should feel cohesive and seamless. If not, customers may, unknowingly, feel confused or overwhelmed with too much over design.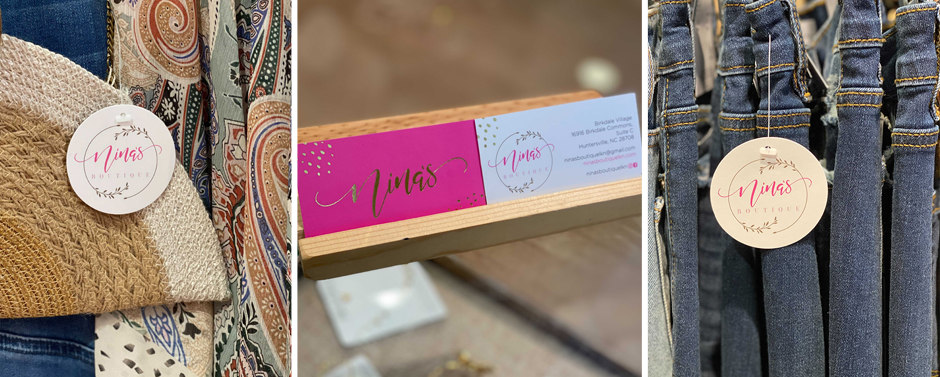 Nina's boutique is located in the Birkdale Village shopping center, in Huntersville, NC.
Follow them on Instagram: @ninasboutiquelkn