So you're ready to achieve your dream to get elected, be a leader and make a major contribution to your community. However, you have opponents aiming for the same goal, and you're going to need to promote yourself to beat your competition! It is a basic marketing principle that it takes approximately seven different touches of your brand to generate a sales lead. Fortunately, we have all of your political campaign printing needs to make it effective.
Campaign Materials
Campaign Signs
0Yard signs allow you to get your name and message out clearly in your local area. These campaign signs are generally placed in public areas and can be distributed easily to supporters and volunteers to display in their front yard. We offer full color, single or double sided 4mm, and 10mm coroplast signs.
Political Door Hanger
Bring your campaign message to voters front doors with full-color door hangers. They are one of the strongest recommendations for marketing a campaign. Political door hangers are an excellent promotional tool, as your campaign cannot be ignored or unseen. It is a great opportunity to promote you and your campaign slogan to potential voters. Choose from Glossy UV Coated, 100LB Gloss Cover, 100LB Gloss Book and Uncoated, with a variety of sizes and printing options.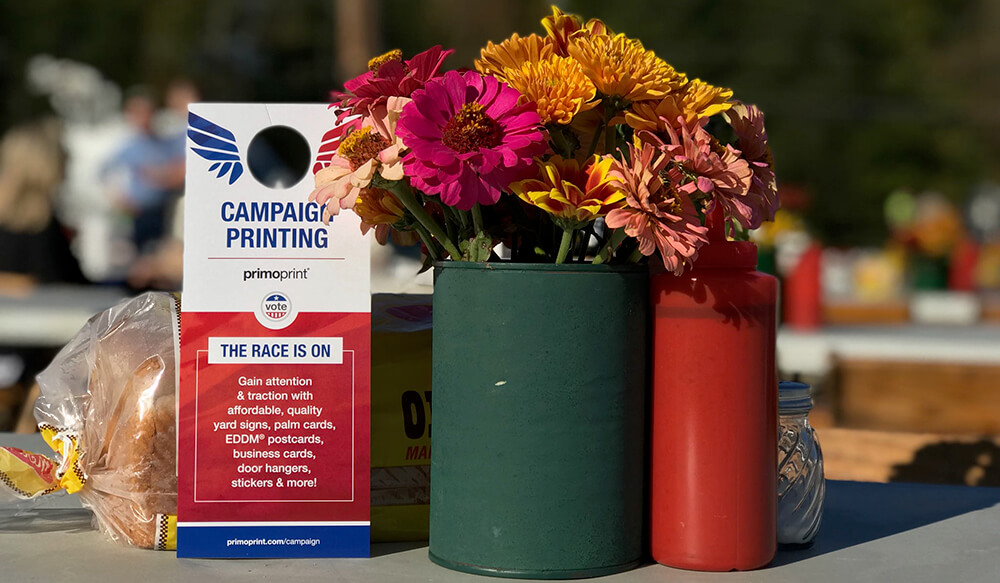 Postcards
Postcards are a marketing staple of many political campaigns because they are effective!  A well designed political postcard can be a powerful tool for promoting your campaign message and upcoming campaign events. Make an immediate impact and spread your message effectively with printed postcards. Select from a variety of sizes, finishes, (Spot UV, Matte, 22PT Gloss Laminated etc.) and quantities.
Campaign Mailers
Another option you may be interested in would be including Every Door Direct Mail® postcard campaign. They are cost effective and can help any political campaign easily reach potential voters. EDDM® is a program that is offered by the USPS®. Its design is ideal for reaching every home and address on a specific route or reach an entire area by choosing a zip code.
No matter the size of the district, incorporating campaign mailers ensures the political name and position is in front of the voters leading up to election day. Every Door Direct ® allows you to include much more information, such as details on your goals and your aspirations.
Download our Free EDDM® Success Guide
We now offer Full-Service EDDM® – Learn more by watching our instructional tutorial.
Political Business Cards
When running a campaign, you'll be going into meetings and greeting your supporters at numerous events, and political business cards designed specifically for your campaign will help show how committed you are to entering the political world. Select from a variety of printing options and finishes to create your custom business card.
Select from our styles and finishes, including Silk Laminated, Velvet Laminated, Matte, Spot UV, Glossy UV, and more. Our graphic designers will be happy to assist you in creating your campaign business card. Contact one of our experienced graphic designers by completing the online form to get started on your campaign project.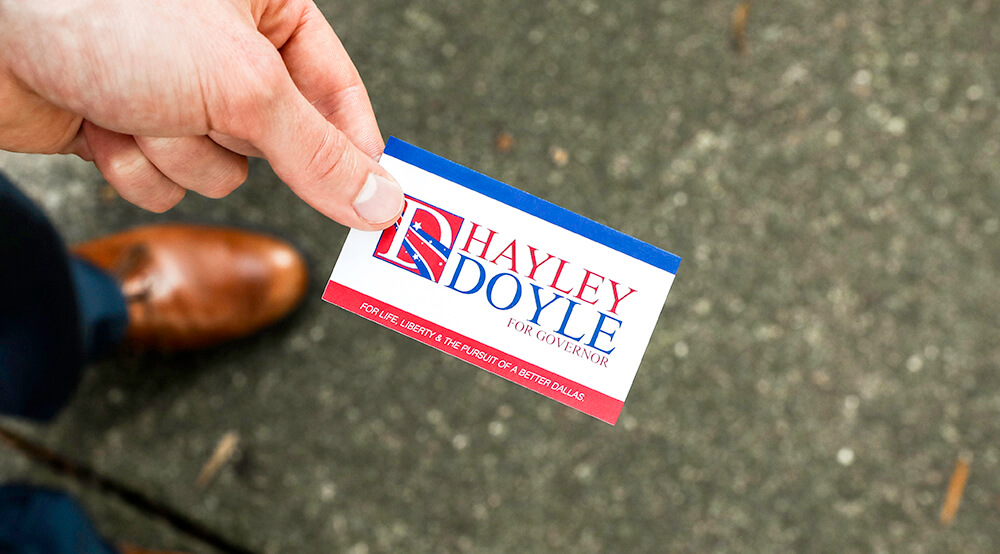 Roll Label Stickers
Have your voters show their support with full-color roll stickers. Political stickers have a tendency to stick around for a long period of time. They are excellent to hand out at your events and at your local businesses.
We also offer crack-n-peel stickers and campaign bumper stickers.  These stickers can be exposed to thousands of potential voters. Make sure you print plenty of stickers to promote your campaign and distribute them everywhere. They are affordable, so you can print them early and start handing them out ahead of your competition.
Brochures and Flyers
Also knowns as Push Cards and Palm Cards, they make great marketing tools. Who are you and what is your campaign about? Not only is a brochure an additional touch, but it is also a great opportunity for you to drive home your campaign message to voters. Printing custom brochures are great for events and especially beneficial for meetings.
Flyers make it easy for you to distribute your platform and message to potential voters. For your upcoming campaign events, handing out flyers can boost your drawing power and give you an opportunity to express your campaign or event artistically.
Get your message directly to target voters and rally your supporters with custom printed campaign materials. Request a free sample packet of our political products or contact us with any questions by completing our online form.
Need help with designing your political campaign materials? As a political printer, we can help! Contact one of our graphic designers and get started on a custom design for your next print project.