For many women and men, the wedding day is considered one of the most important days of their lives. A wedding invitation needs to display the importance of this special day!
A wedding invitation should be brief, yet informative. And it should set the stage for what guests can expect during the wedding, such as tone, theme, and colors.
Below you'll find out everything you need to know from designing, choosing the paper stock, and when to send the invitations; we've got you covered!
Describe the Style of the Wedding
Often, the term style refers to the overall design. When designing a wedding invitation, this is an excellent opportunity to offer a "glimpse" of the wedding style or theme to your guests. Yet, the most classic and elegant weddings have a theme, even if it's something simple such as the season or venue. Look over the details of the special day and start to pull out the different elements slowly.
By doing so, this can help you come up with a beautiful invitation. Incorporate the colors, patterns, and creative fonts (make sure they are eligible) that reflect the ambiance of your special day. Keep all of those in mind when planning on the other elements of your wedding, including the program, reception menu, name place holders, gift bags, directional signs, and more.
Once you have your style, your guests can get an idea of what the day will be and dress appropriately. Similar to the wedding day, you want your invitation to be perfect and fit your style.
Selecting the Colors
When planning a wedding, a few colors are chosen during the set-up. As we previously described, the colors often carry through the wedding invitation design process.
Having a cohesive look is important. Take a moment and consider the colors you are thinking about selecting. Colors are attached to emotions! When viewing them, think about how the color makes you feel.
Below are a few popular color options to help create the mood.
Black and Grey: Formal, powerful, and sophisticated
White: Innocence and purity
Red: Warmth, love, and intense emotions
Blue: Serene, calm
Green: Tranquility, good luck, and nature
Brown: Strength, warmth, natural
Yellow: Attention-getting, warm, and cheerful
Purple: Wisdom, exotic, and royalty
Pink: Love, romance, and calming
Orange: Warmth, excitement, and energetic
Which color represents you and the mood of your wedding? Keep in mind, it can be either exciting or challenging to select the colors, but select colors that are appealing. But, choose wisely as the colors will play a role throughout your wedding day – flowers, bridesmaid's dresses, groomsman attire, and even the decorations for the ceremony.
Types of Paper Stock
Selecting the paper is the fun part! It's an excellent opportunity for couples to show their creativity by choosing the card stock. Card stock varies by texture, materials, feel, and price. There are plenty to select from to make it memorable.
When thinking about your paper, keep your wedding style in mind. Different paper types can pair well with different styles and help strengthen the look you are going for.
Our Natural paper has a light cream appearance, which can pair well with softer colors, giving it a serene, calming effect.
The French Kraft paper can help give a rustic, vintage, or organic feel.
Then there's the Pearl Metallic. This paper has a beautiful shimmer to it. The paper is embedded with Pearl fibers, giving it a luxurious metallic look and smooth finish. This can offer a more elegant feel or even could be more flashy.
Resouce: 10 Creative Ways to Show Appreciation for Your Wedding Guests
For an invitation that has a soft touch, the velvet is perfect. It feels like a rose petal. Raised Foil or Raised Spot UV makes this paper an ideal choice for just about any style.
We offer additional paper stock such as Matte, Glossy Coated, Silk Laminated, uncoated, etc. So, regardless of the colors, any of these paper stocks will become a beautiful wedding invitation!
Invitations Sizes
Invitations are the most personal form of stationery you'll select. Have fun, and play with a few shape options. The variety of size options can be overwhelming, and choosing the relevant dimension can help complement the wedding day's theme and tone. Today, the most common wedding invitation size is 5 x 7 inches. This size allows plenty of space to include specific details such as venue address, wedding date, and essential design elements.
But, there are plenty of sizes to select from, allowing additional information and design elements. The other standard invitation dimension includes 6 x 6 inches (square), 6.25 x 8.25, and slim options such as 4.25 x 9 inches.
Make Sure It's Legible
It can be easy to select a non-traditional and unusual font that's unconventional from the standard fonts we're used to seeing every day. We're not saying you can't pick a unique font, but you'll want to make sure that your guests can read the invitations and ultimately understand the information. Remember that some fonts look appealing to the eye, but sometimes guests can have difficulty reading the thin or highly-scripted fonts. You would hate to create a beautiful design that guests are unable to read.
Consider the following when selecting the font:
Does the font take away or add to your wedding theme?
Most importantly, is it legible?
Should you break up the design by using accent fonts?
Popular fonts include Abraham Lincoln, Aphrodite, Catherine de Beaumont, Coneria Script, and Wanderlust Letters.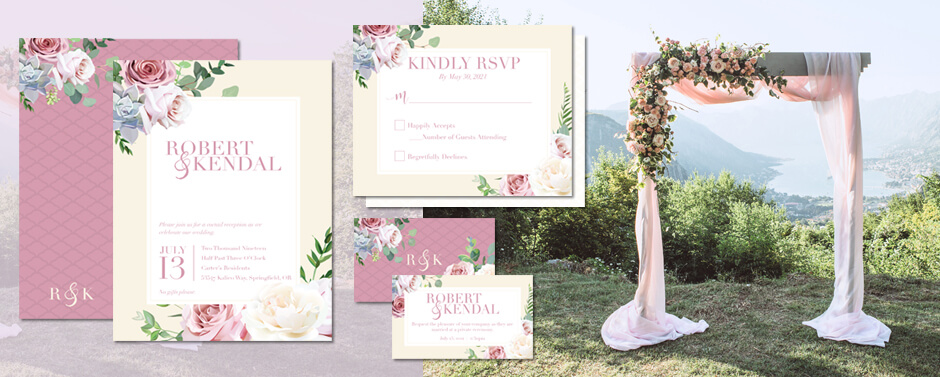 Before Mailing
So, you're ready to mail them out. Make sure you take time and triple-check everything! Let your family member or friend look over them. If you have a grammar-savvy friend, that's even better. You put some much thought into them; it would be a shame to miss something. You'll be surprised by the commonly overlooked errors such as spelling, wrong date, time, or even the venue's locations.
When to Mail out Your Invitations
The million-dollar question is – when to send your wedding invitations? Typically, the invites should go out in the mail anywhere between six and eight weeks before the wedding. Doing so gives the guests ample time to RSVP, arrange travel, and book their hotel room. If a destination wedding, it's recommended to send out earlier than later to allow guests to coordinate travel arrangements.
If a destination wedding, it's recommended to send the wedding invitations two to three months before the event.
If a local wedding, it's recommended to send the invitations six to eight weeks before the event.
But, before mailing, make sure you have time to review the invitation. It can be helpful to have others look over it as well. The last thing you want is a wrong venue address, a spelling mistake, or other errors that may be embarrassing.
It's OK to Ask For Help
It's ok to ask for help. Leading up to your big day, you have plenty of items on your plate. Designing an invitation can have its challenges. Let us help bring your vision to life. Complete our graphic design form, and one of our in-house designers will be in touch.
With the above tips, you'll be on the right path to create and send your wedding invitations!