It's officially the start of the wedding season; the temperature is starting to drop slowly, and the leaves begin their colorful transformation.
Traditionally, June has been the most popular month to try the knot. However, the tides have turned! According to our Real Weddings Study, 78% of all weddings take place between May to October. The most popular months are June, September, and October. 
With the peak wedding season about to begin, it's important to figure out what you'll need to include in the welcome gift bags for your guests. 
Below are a few creative print products to include to celebrate your nuptials.
Wedding Print Products:
Creative Wedding Favors:
Personalized Door Hangers
These are excellent gifts for those out-of-town guests staying at the hotel. Have fun and showcase your creativity by creating clever "Do Not Disturb" signs.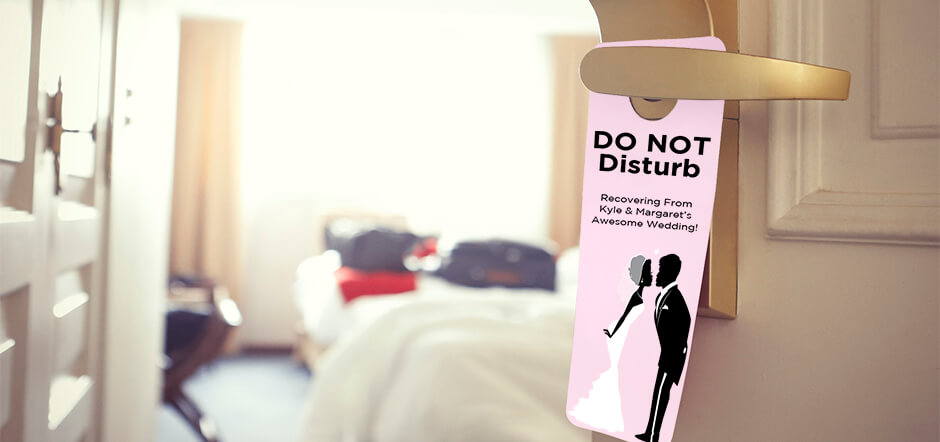 Add a fun message about the wedding, such as "Do Not Disturb: We're recovering from our awesome time at Kyle and Margaret's wedding!" There are so many ways to use door hangers, have fun, and be creative!
Wedding Hang Tags
Printing hang tags are an amazingly versatile print piece. Their size is perfect for leaving a little note on the items in your guests' welcome bags. A wedding bag often includes bottled water or a carbonated beverage; place the wedding hang tag on the bottle. It can add additional pizzazz.

Create a "wedding wishes" station that allows your wedding guests to write pieces of advice for your wedded bliss and hang them up on a decorative metal tree or string them up as part of your decorations. As the night goes on, you'll see thoughtful and loving messages from your family and closest friends, wishing you a lifetime of love and happiness.
Wedding Magnets
They are the perfect wedding souvenir for your guests. When writing thank-you notes and cards, add a magnet with a photo of you and your spouse captured on your wedding day. Whether used as wedding save the date magnets or favor, it's sure to be a beautiful reminder for the guests of your special day.
Postcards
Wedding thank you postcards are a great alternative to the traditional thank you card. Use a photo from your engagement shoot, wedding day, or a scenic shot of your wedding location on one side and write a sweet note thanking them for their gift and attendance on your special day.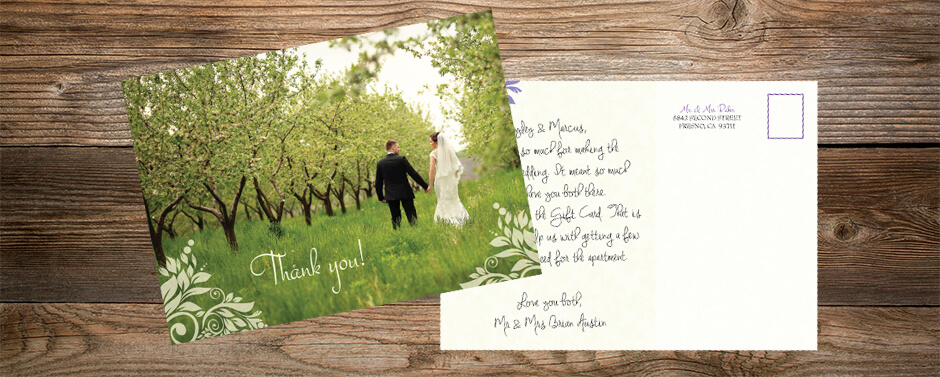 They can also be used as a wedding itinerary to keep your guests in the know. Wedding postcards can be used as a list to-dos for guests unfamiliar with the city or a list of bride and groom's favorite restaurants or local hot spots.
Be creative and tell a story on why you have chosen this location: first date, favorite to-go restaurant, a must-stop for local cuisine, etc.
Roll Labels & Stickers
Custom roll labels are a great way to personalize one of the gifts. Get creative! Use them to label mason jars or stick them on snacks or bags of baked goods. Custom printed roll labels can be used to label mason jars for a candy bar table or decorate a complimentary wine bottle for your guests.
Request your free samples to see and feel a variety of paper stocks, finishes, and products for your upcoming wedding.
Along with the above print products, below are a handful of popular wedding favors.
Custom Wedding Tote Bags
Traditionally, wedding favor bags consist of small paper bags. Why not offer a personalized tote bag to your wedding guests? Surprise your guest with a memorable wedding welcome bags! Not only will it be the first thing they will receive in their hotel room, but it will bring lasting memories of your special day.

They are a great decorative and functional piece.  Use tote bags as welcome bags for your wedding guests. If you have an artistic friend or family member, have them create an image or illustration to screen print onto the bag, commemorating your big day.  Or, you can explore your crafty side and DIY the tote bag art design. This is also a great place to share your wedding hashtag as well.
Depending on your theme and day, there are a variety of items that you can include in the wedding favor bag. Items can include bottled water, sweet or savory snacks, fruit, mints, and so much more. Take a look at the Wedding Welcome Bag Handy Checklist, which offers suggestions on what to include.
Flip Flops for Wedding Guests
Most weddings are traditionally semi-dressy or formal. So, it might be a surprise to see flip-flops listed as one of our wedding gift bag swag. Because wedding attire is traditionally formal, dress shoes are commonplace. By the time the dancing starts at the reception, many find themselves with sore feet. Flip-flops are a great impromptu way to dance the night away in comfort.
Get ready to dance the night away with some of these favorite songs!
"Gangnam Style" by Psy
"Cupid Shuffle" by Cupid
"Cha Cha Slide" by DJ Casper
"Electric Boogie" by Marcia Griffiths
"Thriller" by Michael Jackson
Looking for that favorite first dance? Take a look at the Top Wedding Songs of 2020.
Custom Engraved Wine Glasses
Engraved wine glasses with your names and wedding date are a classy way for your guests to remember your nuptials. What's great is that you can cut costs by using them not only as a gift but as the wine glasses for the reception dinner.
If you're looking for a more contemporary look, you should look into selecting stemless glasses. They offer a more relaxed style, yet they are still elegant.
Wedding Koozies
Koozies are a tremendous low-key gift that'll keep your drinks cold long after the reception ends. Pick a koozie that matches your color scheme, and customize it with typography and art that honors your wedding day.
Printing wedding koozies are the perfect gift. They are something that your guest will continue to use over and over, and most importantly, they think about your big day every time they use them.
Help Share Guests Photos
A picture is said to be worth a thousand words. Sometimes the guests at the wedding can capture some fantastic images and funny videos. So, it's important to offer them a way to share their photos of the bride and groom.
Custom Wedding Hashtag
So, why not create a custom one-of-a-kind wedding hashtag? Include the hashtag in the wedding program, so the guest will be able to see it first thing. That way, they can share their images with the hashtag for everyone to see throughout this beautiful; day. The bride and groom can remind guests throughout the day to share pictures with the hashtag.
Resource: Everything You Need to Know About Wedding Hashtags
Upload Image & Videos with Wedding Apps
Along with social media, there are a few other ways for guests to share their images helping the bride gather all the photos.
If you are willing to pay for a service, The Guest app allows your wedding guests to upload their photos and videos in real-time easily. This app includes unlimited video and photo uploads. You can learn more about this app by visiting The Guest.
Eversnap is also another popular wedding app. This app allows your guests to share them in a private online album easily. The albums are a paid service, but by having the album, your guests can download the app and quickly start uploading their masterpieces for free. Learn more about this app and its capabilities by visiting Eversnap.
Old School – Disposable Camera
Yes, you read that correctly.  Disposal cameras are still a "thing." You can still purchase them!  If you're looking for a unique way for guests to capture carefree candid shots, having a disposable camera can work well. Everyone will be talking about them! Place a couple on each table; that way those of all ages have the opportunity to capture the festivities.
Create a table sign informing your guests you're needing their help to capture all the special moments. We offer a large selection of products to help make your wedding memorable.
Do you have any suggestions on how to show appreciation for your wedding guest? Let us know by commenting below with your favorite party favor, product, or idea.