In a world driven by technology, businesses continue to use printed products, including brochures. Custom brochures can leave a lasting impression in the minds of the targeted audience.
Statistics show that 80% of people who pick up a brochure consider visiting the business or company being advertised.
Another survey revealed that seven out of 10 tourists would pick a brochure if they see it. As you can see, printed brochures are still a powerful and affordable marketing tool for many businesses.
Brochures send a subtle message and reminder to potential customers that your business is professional and committed to providing quality products or services.
Along with business cards, flyers, and other promotional materials, brochures make a strong case to be included in your marketing strategy. Below we've highlighted some of the benefits and how to make your brochure stand out.
They are Tangible
Unlike other forms of advertising, brochures can be held and felt by prospective customers. This means they are able to interact with your brand directly, unlike in the case of online or billboard marketing. Besides, they can refer back to the brochure anytime they want.
It's a big mistake to think that brochures are old-fashioned. As much as online marketing is the most preferred, the truth is that there is a large group of people that still prefer to hold things physically and have a feel on them.
Cost-Effectiveness
If you are looking for a pocket-friendly way to market your products, then printing brochures can be a great option.
All you have to do is find a reliable printing company and produce as many copies as possible.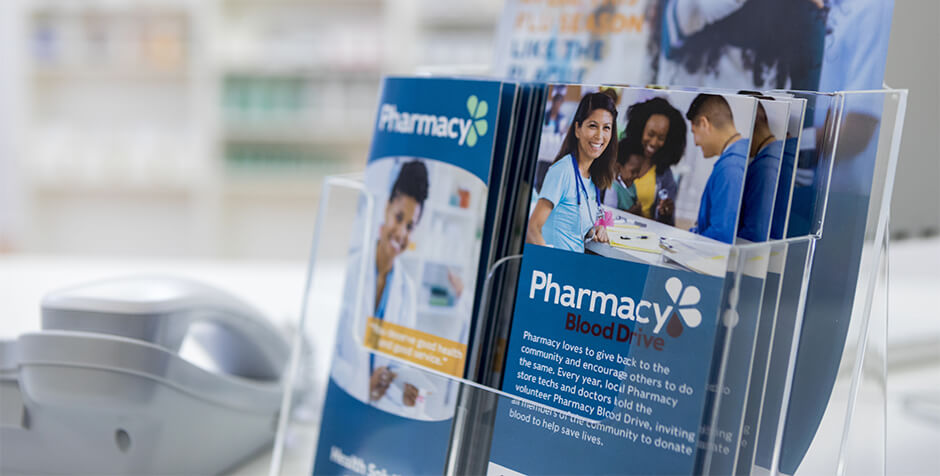 It doesn't matter if you plan on leaving them at the hotel or shop counter for customers to pick them or distribute them outside your premise; brochures will always get the message home.
Brochures Cultivate Trust
As long as you are able to get clients to read your brochures, building truth with them becomes easy. That's why you should include information that will quickly grab the attention of prospective customers.
76% of visitors picked up a brochure
For instance, include all the relevant information about the products or services you offer. Ensure that your message is clear and precise.
A brochure generally gives the customer the impression that your company is credible and reliable.
Brochures can be Distributed Through Various Channels
Another benefit of using brochures is that you can distribute them through several channels. Below are some of the ways brochures can be distributed:
Distribution through exhibitions, trade shows, and fairs
Inserting them inside an order package
Displaying them at the reception area
Placing them at kiosks or bulletin boards
They can also be distributed through malls
Long-Lasting Impression
One of the significant advantages of a printed brochure is its ability to leave a long-lasting impression on potential customers. This is unlike online adverts that pop up and disappear forever.
But for printed brochures, customers can take their time to peruse them and even refer back to them at a later time.
Detailed Information
Brochures allow companies and small businesses to include useful information on a small piece of paper.
You can compact all necessary information about your products and services in a tri-fold design, unlike postcards and letters, where the amount of information to be included is much limited.

Brochure Folds
Congratulations on knowing what you want to include. But, before we get into the design tips, it's important to select the fold first. We provide helpful certified brochure templates. 
Before you make your selection, ask yourself what the purpose of the brochure will be. By doing so, it can help you decide on the fold. Below are two popular options.
Half Fold: This fold option is one of the more common and the simplest of the folds. This fold offers two equal sides, resulting in four-pages.
Tri Fold: It's ideal for showcasing a business, promoting brand identity, and highlighting products and services effectively.
Resource: Brochure Fold and List of Folding Options
Brochure Design Tips
Now you know the benefits of brochures, it's time the fun part…designing. Below are a few steps to follow when designing your brochure.
Logo: You'll want to make sure that your log is in the highest resolution. If you need a custom logo, our design team will be happy to help. Complete our online form to get started.
Images: Similar to the logo, you'll want to make sure that they are of high quality. Make sure that you select the best images of your products and services. If you have a group photo or team photo, that can be something to include as well. It can build trust. Images can be difficult to find. So, we've listed 25 of the best sites that offer free stock images.
Copy: Images play an essential role, but you'll want to make sure that your text is accurate and easy to read. When creating your copy, it's important to include the following information.
About Your Business: This is the best opportunity to have the recipient learn about you and your business. Keep it short and easy to read with a few key points. Only highlight important details. Make sure you always include your business address and contact information.
Resource: Marketing Brochure Design: The Definitive Guide
Services and Products: What does your business offer? Include short descriptive paragraphs with bullets. Make sure that you keep them separated into categories. This makes it a lot easier to read and understand.
Resource: Top 15 Brochure Design Trends
In a nutshell, there are a lot of benefits when it comes to the use of printed brochures to market your products and services. Let us know how you use the brochure by leaving a comment below.