Due to the COVID-19, the everyday work routine has drastically changed. Many people are being told to work from home to help eliminate the spread of the virus. From setting up a workstation to making sure you're on a working schedule, the changes aren't easy. But what does this mean for your furry companions? It offers you and your pets a better quality of life! You mean the world to them. Just ask Rolo, a seven-year-old dachshund, who actually sprained his tail due to his extreme happiness because everyone was stuck at home.
Did you know? 74% of pet owners reported mental health improvements from pet ownership.
[bctt tweet="Did you know? 74% of pet owners reported mental health improvements from pet ownership. via @Got_Anxiety #pets #health #anxiety " username="primoprint"]
We all know that working from home offers plenty of benefits, but are you aware that there are just as many benefits working from home as a pet-owner? Checkout our Top 7:
1. Pets Decreased Stress Levels
The Human-Animal Bond Research Institute shows owning a pet reduces a person's depression and anxiety. But, working at home with a pet has also proven to decrease an individual's level of workplace stress, whether physical or emotional. Being around your family pet has a positive impact on a person's health, such as lowering blood pressure and additional stress level indicators.
2. Happier Pets
When people work from home, it becomes an animal-friendly workspace. Your pet will become more comfortable and at ease, knowing that there will be less separation from their owner and less alone time for an extended period of time during the day. They won't struggle with that "missing you" feeling while you are gone each day. Working from home allows you to monitor your pet and receive the extra attention they need.
3. Increased Productivity
Study shows that pet-owners that work from home increases their productivity. When working away from home, it's easy to worry about your pet and think about other home distractions. This includes items such as walking their pet, taking them to the veterinarian, and more. Now, they can easily monitor their pet as they do their work and be more productive because they don't have to worry about their pet's care.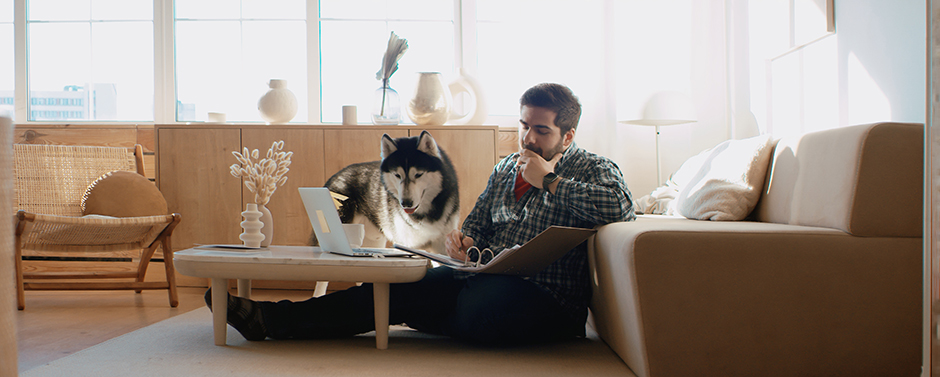 4. Savings On Animal Care
Individuals working from home may experience significant cost savings. They might not need to pay a dog walker or a doggy daycare. Plus, the pet owner can provide more one-on-one care for their pet.
5. Feeling Better
The Mental Health Foundation has shown how pets offer unique companionship. It has also increased happiness as well as motivation. Feeling good is an essential element of a person being productive while working from home. Being around a pet puts everyone in a better mood, which enables them to perform at their best. Working from home can be challenging and sometimes lonely for some people. Working alongside your four-legged-friend eliminates those feelings and provides company during the day.
6. Breaks
We all love taking a break from the everyday work hustle. When working in an office, it's challenging to take a break or even schedule one. It's easy to stay in the same location for hours. Owning a pet proved a great opportunity to take a break throughout the day. These breaks can be a healthy distraction. Pets not only crave attention, but they thrive on an established routine. A break means taking them out throughout the day, short walks, and even playtime. Not only does it help with stretching your legs, but the breaks can clear your mind too.
7. Pet Enrichment
A benefit of working from home enables people to interact more with their pets. They can reinforce the home rules. By doing so, they will learn when it's time to play, but also understand when it's time for work. Ultimately, being at home will increase the bond they share with their pets.
Being able to work from home during the COVID-19 allows people to spend more time with their pets. It's known that working from home can provide many benefits from being around their pets. Plus, it often leads to a better quality of life.
Additional Resources: