Inline foil is a great option for enhancing your business card design. Unlike stamped foil, where the foil material is pressed into the paper, a silver inline foil is applied to the paper prior to the ink. When the ink is printed over the top of the foil, the foil then takes on the appearance of the ink color.
This gives your artwork the flexibility of adding the metallic foil to any color or gradient. It also allows for fine lines and text to be foiled, giving it another advantage over stamped foil.
The inline foil business cards below, for 23rd Floor, are eye-catching, and a great example of how someone can use this foiling process. The thin lines that make up the detailed map could not have been achieved with stamped foil. By using inline foil, we now have an intricate metallic gold that genuinely enhances the aesthetic of the business card.
Setting the file up for inline printing is quite easy. First, create your artwork using the colors you'd like to see foiled. Lighter colors work best as they do not over-saturate the foil.
Once you have the design, copy the file and get rid of all elements that you do not want to be foiled. The elements that are left should be converted to 100% black. The image below shows my print file as well as my inline mask file.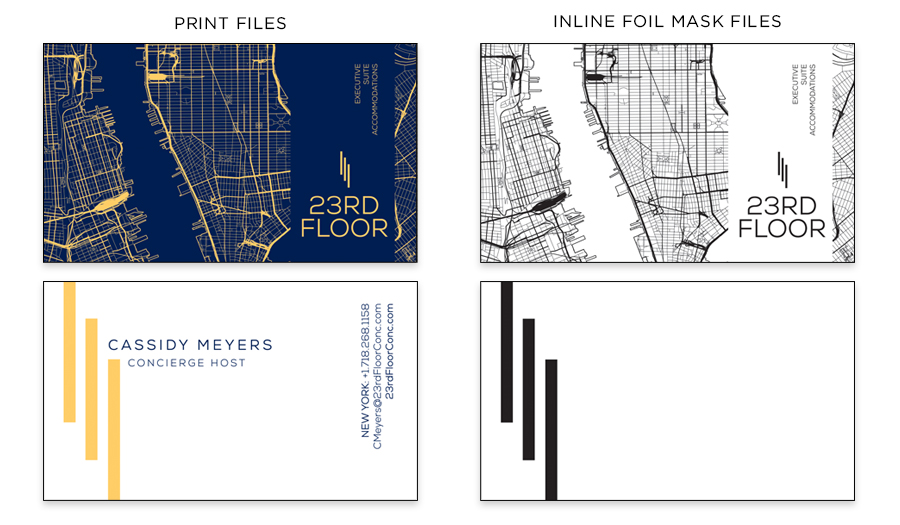 Another great way to use inline foil is through gradients. As an example, we've had quite a few requests for a holographic foil look lately. With the use of a simple gradient and inline foil, you can give your business card design the appearance of this particular eye-catching effect.

Below is the print file and the mask file for Be*Tween Boutique. The gradient stands out beautifully and adds a holographic dimension to the business card design.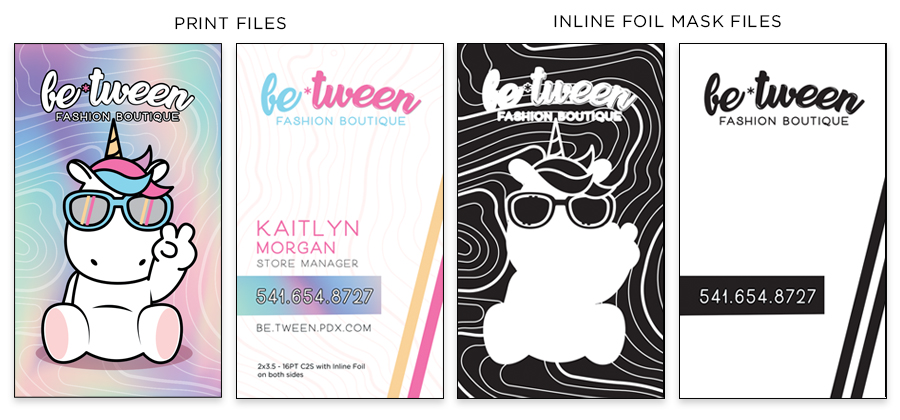 YouTube Video of Be*Tween Boutique Inline Foil Business Card
Three last things to remember when
creating your inline foil artwork
.
The final inline foil will be darker than the ink you've assigned to it. If you'd like to receive a free inline foil swatch card, fill out this sample pack request form. We'll get it sent out to you right away!
If you are looking for a bright silver color, I recommend using the color value c0, m0, y0, k10. This small amount of black ink over the inline material will keep the foils bright silver color while helping to prevent the foil from scratching as you hand it out to all your potential customers!
Have fun with your designs. I've seen some fantastic designs using inline foil. It can add a small, elegant touch to your wedding invitation, and it can create a loud and proud, in-your-face metallic design, and everything in between!
If you have any questions about uploading your files or about foil printing, or if you need help creating your files, feel free to contact us. We are always here for you! If interested in design services, please complete our online form to get started.