Working in real estate is a competitive driven environment. When you're striving to become the leading force in the industry, it's important to have an effective marketing strategy. Utilizing both realtor print products and other promotional items, you can draw the attention of buyers and capture customer leads, ultimately making sales. We've listed some of the popular real estate marketing materials and promotional items to highlight your business.
For Sale Signs
A traditional marketing tool, yard signs (or for sale signs) remain to be one of the most effective ways to promote your brand. A great marketing display, it allows you to provide crucial information about you and your business around the community. It's also important to stake these signs in clients' yards to show off your current business engagements.
Key takeaways could be a photograph of yourself, the real estate company you work for, your contact information, and your website. You have the option to include H-stakes (also called a wire stake) for easy displaying.
Real Estate Business Cards
These compact mobile billboards are the foundation for any successful business. As an essential tool, it's important to keep these with you at all times. You could meet potential customers outside of a business setting, such as a social gathering or random interaction. If you have business cards or custom realty cards on hand, you can provide those interested parties with important contact information.
Make sure not to fall into a stodgy rut with your business cards' appearance. Share a spark of creativity with your design layout. Don't forget to add social media links to your company if you have them.
Are you looking for free real estate business card templates? You're in luck! We are excited to offer free templates! Choose from dozens of templates and elevate your brand with professionally designed business cards.
Free Real Estate Business Card Templates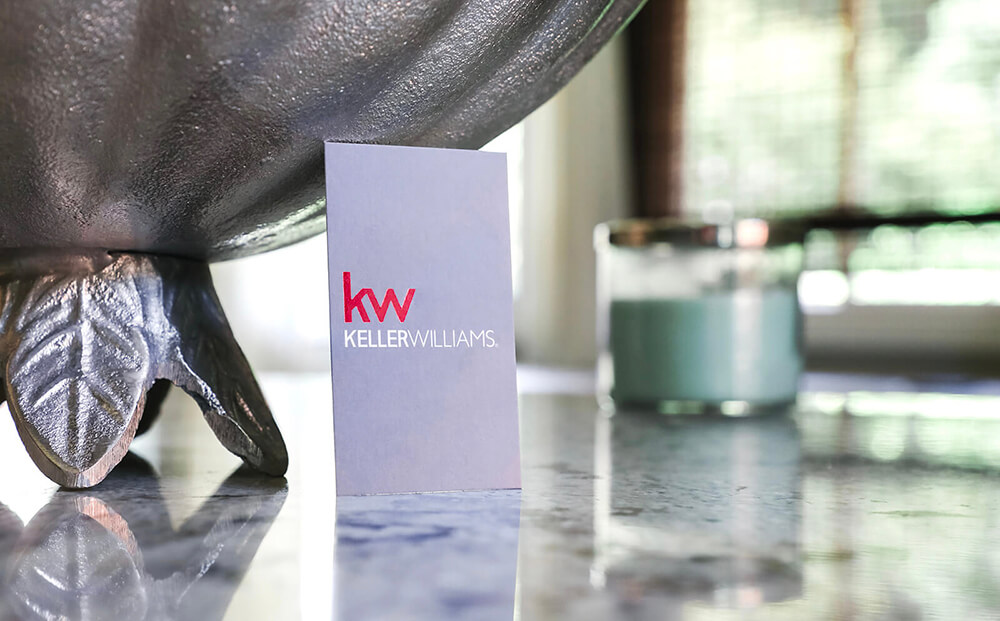 Reach Clients with EDDM®
Every Door Direct Mail®, or EDDM®, is a marketing channel in which companies send postcards out to a targeted zip code or area.
According to a 2015 USPS® Household study, researchers discovered that 81% of recipients read or scan their mail daily. With such a high viewing rate, this saturation mailing tool is a great way to capture potential buyers and sellers.
Download our Free EDDM® Success Guide
Learn how to utilize every aspect of our route selection tool. Our video tutorial teaches you how to select routes based on Zip Code, residential and/or business addresses, median income, age, and household size.
Real Estate Direct Mail
Another postcard marketing strategy can be done with direct mail. It allows you to reach existing or new customers by using a mailing list. With real estate direct mail, you'll be able to target demographics including age, income, voter registration and more.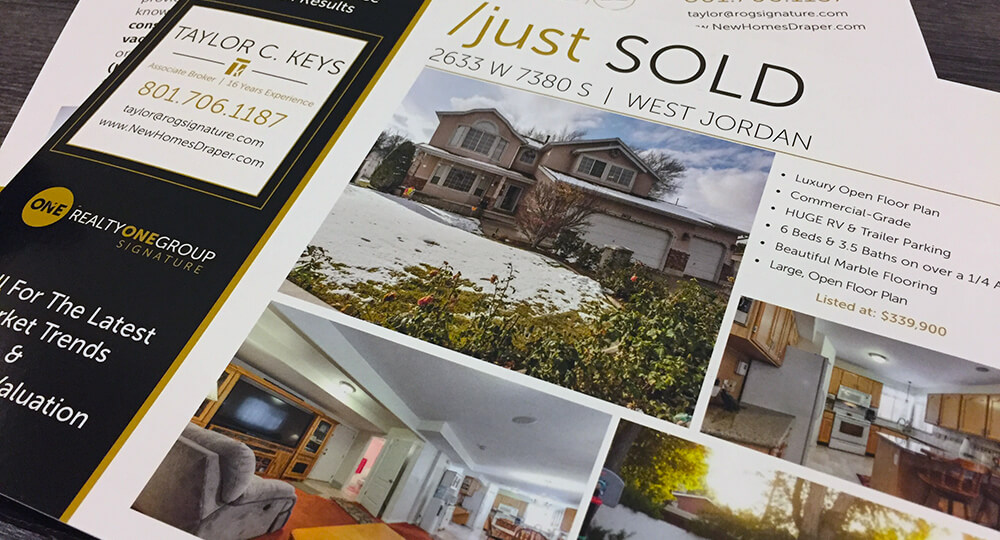 Sell Sheets
When selling a property, it's important to ensure the viewing is a positive and memorable experience. Make sure the house is welcoming and tidy. During open houses, many real estate agents offer a light appetizer or snack in the kitchen for the viewers, such as fresh baked cookies.
By placing your sell sheets next to the food, it ensures that the potential buyers will more than likely snag one. Make sure to feature high-quality photographs of the property and descriptive details about the property, potentially using photographs that are not currently featured on realtor websites. By doing so, it offers the viewers an exclusive variety of visuals.
Sell Sheets are also great to display for curious passerby in a literature dispenser. Keep in mind, if you need help with a custom graphic design, contact our designers by completing the online form.
Realtor Promotional Items
Along with the above real estate marketing products, we've include promotional items are a wonderful takeaway for potential buyers. Here are three of our favorites:
Mugs
Most companies offer free promotional items, but not everyone gives away practical gifts. A mug with your logo offers a practical purpose for the recipient, ensuring that he or she will be more likely to hold onto the promotional item.
Stress Balls
This promotional item is a fun and practical one to hand out. Stress balls are great for stressful days in the office, or it can be used as a colorful toy for younger children. Stick to the traditional sphere, or think outside the box and utilize different shapes and objects, such as a house or even a caricature of yourself.
Pens
An office essential, pens are a popular promotional item. They offer the perfect amount of space to place a logo with your website or telephone number. Depending on your clientele, you can opt for bulk orders of simple ballpoint pens to a set of luxurious, engraved gel pens to hand out.
Real estate agents have a diverse range of print and digital products available to them. With the right marketing tools, you're sure to excel in this industry.
Along with the above information, at Primoprint, we offer a variety of real estate printing for all your needs.