Google has launched a new way to promote your local business with your best Google reviews from customers. Named Small Thanks with Google, this simple platform allows you to generate a variety of posters to showcase your best Google reviews. Presently, it's only available for US-based businesses.
For local businesses, reviews and ratings are extremely important ranking factors that such engines such as Google take into consideration when displaying results.
92% of consumers take time to read business online reviews. Plus, 80% of consumers trust online reviews as much as receiving a personal recommendation from friends or family.
Potential customers want to see positive reviews to help influence their decision making because it assuages any purchase anxiety. At Primoprint, we offer our short-run posters for only $1.50 with no minimum purchase.
How to Create Your #SmallThanks Poster
Google has made the process very easy. Below we'll walk you through the Google review poster setup, so you can start displaying to your customers.
Visit Small Thanks Poster Maker
Next, you'll want to enter your business name and select the results when it appears.

Once you've selected your business, Google will generate one of your Google Reviews with a random poster option layout and color options. You can also click "or customize your own" to view additional reviews to select from.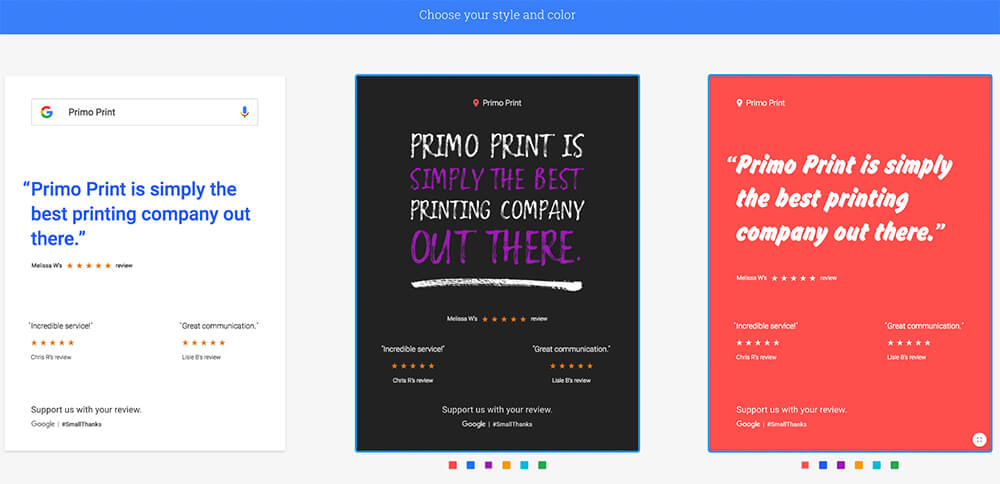 Google will populate additional reviews. You'll have the option to choose from two layouts; single review or three review layout. I like how Google gives you these options, making it easy to really highlight your reviews.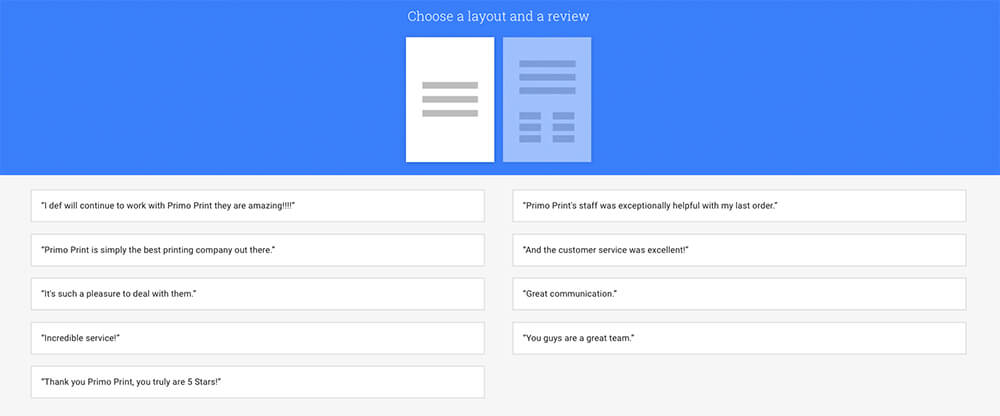 How to Use Your Small Thanks Posters
Once you have selected the poster's style and color, click next, and your Google poster will be automatically generated. You'll download a zip file that includes all the files for printing. Also, Google makes it easy for you to share your poster on Google +, Facebook, and Twitter. It's another great way to promote your business and positive reviews.
Small Thanks posters are great to display in your business for customers to see. Businesses such as coffee shops, bakeries, restaurants can really benefit from the posters.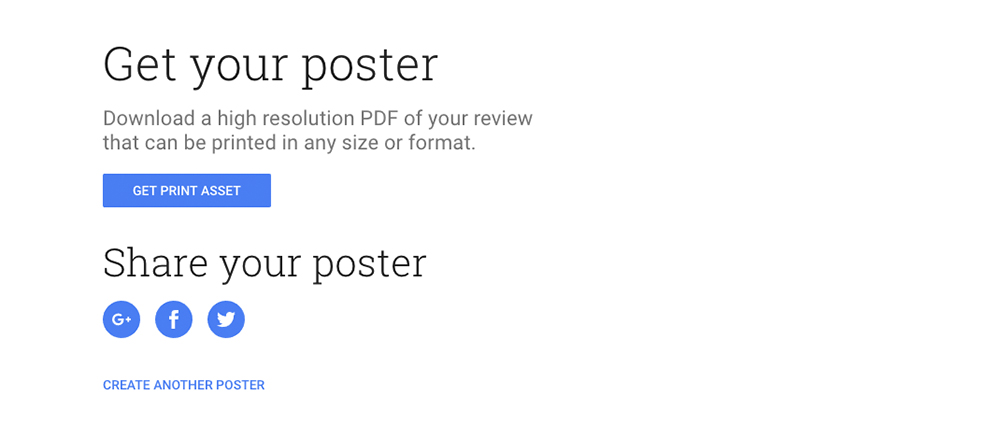 If you look closely at the bottom of the page, there is a disclaimer: "All business reviews are written by real people and represent their own opinions".
This is an exciting new way for businesses of any size to share their customers' reviews. Head over to our posters page and upload your PDF file; you'll have your #SmallThanks poster in hand in no time!
Along with the Google posters, you are able to get Google stickers as well.