At Primoprint, we have the privilege of working with some incredibly talented and inspiring clients. Today on the blog, we caught up with John DiBiase, an exceptional freehand artist, to learn more about his artwork, inspiration, and more.
Your art is incredible. How did you discover your love for drawing?
I honestly can't remember a time when I wasn't drawing or doodling. But I started drawing just my own little cartoons as a young kid – silly stuff. I'd come up with my own characters and be inspired by whatever I was into at the time. I'd make my own little comic books of sorts. My cartoons were largely an artistic outlet and expression for me.
But I discovered my interest in drawing portraits when I was 13 years old. I tried drawing a baseball player as my first attempt. It was terrible, but it was a start! I moved on to music artists and eventually to actors in movies I liked. I ended up shelving art almost completely for a decade when real life responsibilities got in the way, but I eventually rekindled my passion for it and I've been drawing every day since.
You draw freehand. What is that and how has that become your favorite medium?
Freehand is drawing without guides. So, while one might look at a photo and try to draw it, or look at a still life model or object and try to draw it, you're not using rulers or stencils or tracings or "the grid method" – you're just eyeballing it. It's a challenge for me – one that isn't easy and I don't always get right (and I still get very frustrated with), but something I want to only ever get better at, so I practice it daily. To me, personally, I find it more rewarding when I can get the drawing to turn out because of it. (Although, admittedly, the eraser is one of my favorite tools!)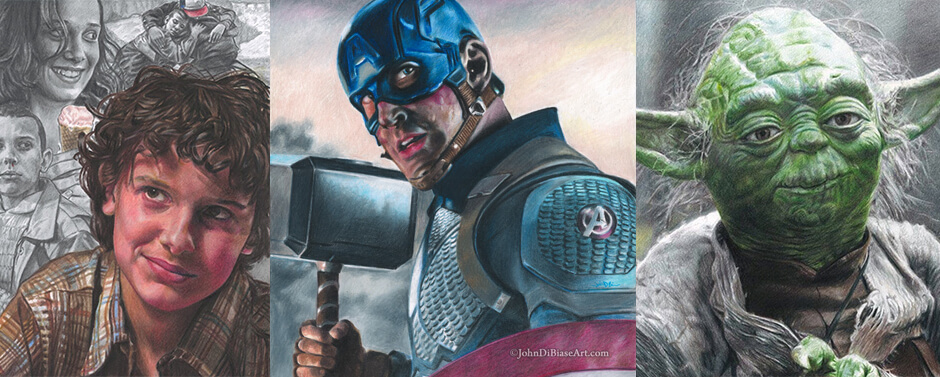 Here is a flipbook style progression video, of a completed Jim and Dwight freehand graphite drawing.
What are the three words that you would use to describe the work?
Work in progress.
What's the inspiration behind your trading card designs?
I've had the privilege of working with the trading card company Topps to do some officially licensed one-of-a-kind original sketch card art pieces for several of their Star Wars and Stranger Things trading card sets (I've drawn cards for over 15 different Topps sets so far). It's sparked some inspiration for making trading cards of my own.
One day (about two years ago), I opened a Star Wars cards pack, and one of the cards was a bonus promo card for their own online memorabilia store. It featured a still from a Star Wars film on the front, and the back had a promo code for their online store. The gears started turning, and I thought it might be a fun promo item to include in my own art shop orders. I decided to number the first card in hopes to add on to it, and I've been doing that every couple months since then.
How do you decide what you print?
So far, it's been either a recent piece I've done that I like or a subject matter that represents a fandom I really love. So far, they've been Jurassic Park, The Office (favorite TV show), Iron Man, Ghostbusters (my favorite film), Back to the Future and Star Wars: The Empire Strikes Back (my second favorite movie).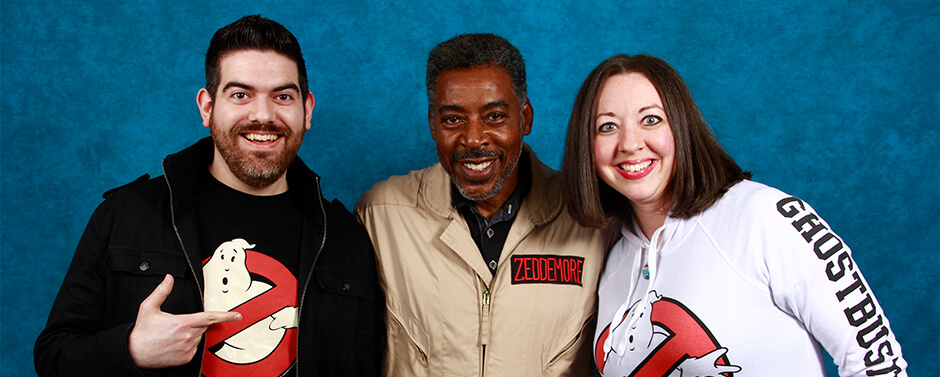 Tell us your Top 3 favorite artists.
Great question! Justin Maas has been a great inspiration and also just a super nice guy and very encouraging of my own artistic pursuits. He's got a unique style and some of the best portraits out there. Danny Schoening is an amazing artist who does work for IDW comics and, specifically, their Ghostbusters series, and he's so creative and just amazingly talented (and also a super nice guy!).
And I have to give a specific nod to Mark "Crash" McCreery, who did the concept art for the first Jurassic Park movie. It's literally his artwork (which, coincidentally, was featured on a line of Topps trading cards in 1993) that inspired me to want to make more realistic drawings. His artwork still amazes me to this day!
Where did your website name come from?
Ha, I'm assuming you mean JesusfreakHideout.com? It's a long story, but basically, I was a teenager who loved Christian music in the 90s, and I was greatly inspired by a band called dc Talk's 1995 album, Jesus Freak. The following year, my family got the Internet, and I liked meeting people in chat rooms, and I used the name "Jesus Freak."
One site was giving out private chat rooms, and I created one called "The Jesus freak Hideout." I never used it, but in August of 1996, I signed up for a free website on Angelfire.com, learned very basic HTML from a tutorial, and decided to call my website "The Jesus Freak Hideout." A long, hard road, and almost 24 years later, it's still alive and kicking at JesusfreakHideout.com, I'm still running it and working on it daily, and it's the longest-running Christian music website of its kind (and one of the biggest of its kind out there).
Tell us your top 3 Favorite Foods
Oh, man… Instead of taking the vague route of like "pizza" or something (especially since not all pizza is good). I'll say My grandmother's homemade Italian meatballs (I miss her!), my mom's homemade pasta & lentils dish (it's also amazing), and… hmmm… probably the Ginger Chicken & Broccoli dish at PF Chang's. Ha!
Where are you from?
I was born in New York state, just over the border from New Jersey, but I never lived in NY. I was in Jersey from birth until I was 9 when my parents moved us to Nazareth, Pennsylvania, where I lived until I married my wife Amy, and we moved to Bethlehem, PA. haha (True story!)
Your art is RAD! Where can folks buy it?
Thanks so much! I have a lot of originals, prints, and some sketch cards up in my Etsy shop at www.JohnDiBiaseArt.com. You can also just contact me directly or on one of my social channels.
Why Primoprint?
I hit the web to look for custom trading cards, and you guys had exactly what I needed – and you've all been pretty dang awesome. I'm thankful I found you guys! Thank you!
Resource: Making My Own Trading Cards: Working with Primoprint
Follow John DiBiase
Check out more of John and his work by following him on Facebook and Instagram.