Since the launch of Full-Service EDDM®, there have been quite a few questions regarding how to successfully prepare your EDDM® mailer for print. The USPS® requires this product to be designed a bit differently than regular print-only EDDM® postcards, so we thought we'd try to answer a few of the most common questions.
Resource: 9 Design Tips for a Successful EDDM® Postcard
What is EDDM® Indicia?
Let's Talk Indicia! Print-only is pretty loose with the size and location of the indicia and the "local postal customer" box. There are basic requirements, but overall, you have some wiggle room. With Full-Service, the post office is giving you a postage discount because Primoprint is doing all the work for them.
We are ensuring them that the paperwork is correct and that the EDDM® indicia placement and postal information are perfectly placed and readable. That is why it is so important to follow the postcard template we provide on our site. (EDDM® Postcrad Size templates include):
4.5″ x 12″
6.5″ x 9″
6.5″ x 12″
6″ x 12″
8.5″ x 7″
8.5″ x 11″
8.5″ x 14″
8″ x 6.5″
8″ x 10″
9″ x 11″
9″ x 12″
We have templates available in all size options for download. No matter if you are using InDesign, Illustrator, Photoshop, or other design software, all you have to do is place the indicia image first and then build your artwork on top of the template. We provide the indicia template in .eps and .psd formats for horizontal and vertical layouts.
Download our Free EDDM® Success Guide
With my postcard design, I always set up my InDesign file according to the postcard size I'm printing, and then I draw a frame rectangle – fitting it perfectly to the edges of the page. Next, I place the EPS indicia file that matches my final print size. Do not "fit to page", "center" or make any additional adjustments to the file. It should place perfectly where it is to print.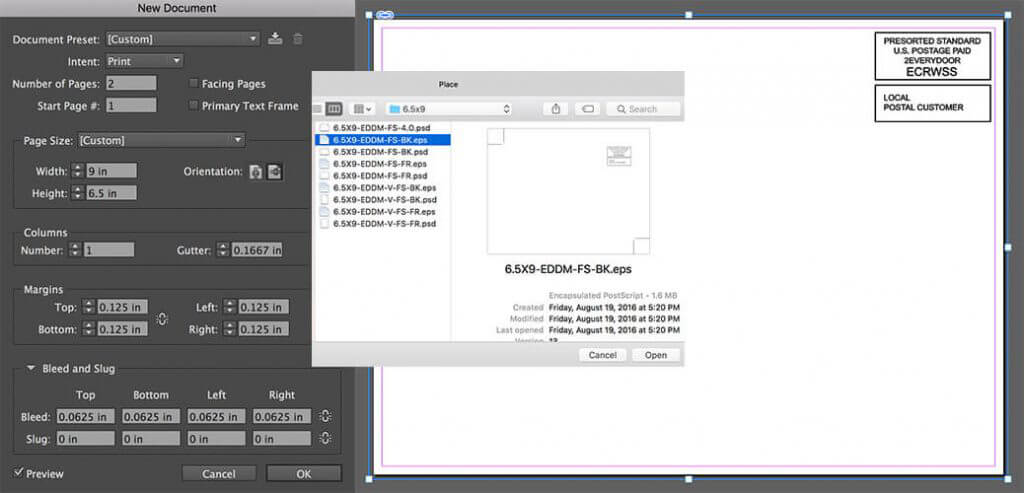 Then, make sure you lock it into place. Now, as you build your artwork, you know that the indicia and postal box are secured in the required position. You'll want to be sure you place the indicia that matches your postcard print size exactly. Each template is slightly different to match the proportions.

The indicia and local postal customer boxes can go right over the top of your background image. Just make sure the background image is on the layer below the locked indicia layer. We've included the EDDM® Indicia template to help.

Return Address Placement
The return address is critical and is a required element of your postcard. You need to supply either a physical address or a P.O. Box, and where you put it is just as important. Typically, we think of the return address going just to the left of the indicia. But with EDDM® mailing services, it is required for the return address to be placed in the top left corner.
Some people choose to make it relatively small and on one line so that it is not too noticeable. Others decide to place the logo at the very top with the address large underneath it. It just depends on whether or not you would like for your customers to notice it.

If you follow these two simple placement requirements, your Every Door Direct Mail® postcard should be able to mail correctly!
If you need further assistance with your EDDM® setup, feel free to contact our design department. We would be happy to help you set up the postal information or even help you design one from scratch for your next postcard marketing campaign.
Take a look at our Route Selection Tutorial Video.
You'll learn how to utilize every aspect of our route selection tool. Our video tutorial teaches you how to select routes based on Zip Code, residential and/or business addresses, median income, age, and household size.
How to Design Your EDDM® Postcard
Once you've made the decision to send out an oversized postcard campaign, it's important that you send the right message with the right artwork.
We've listed a few tips to keep in mind; 9 Tips for Designing a Successful EDDM® Postcard.