We live in a technology world, but business cards continue to be one of the most affordable and best marketing tools for any business and brand.
Choosing a business card can be fun. Not only are they great for branding, but they can also highlight your personality.
How?
Well, for example, let me discuss socks. When we were younger and received a pair of socks for our birthday or during the holidays, we were all probably disappointed but thankful. We all wanted that new popular, fun toy.
Sure, socks can be boring. But, as an adult, we have a variety of business socks to choose from, and we're more likely to be looking at the design, colors, and material. Why? Maybe we want to highlight our personality and characteristics. Let's say someone describes you as being fun, outgoing, and possibly a risk-taker. You're more than likely to purchase one that offers bold colors, unique patterns, and possibly an off-the-wall design.
I've purchased a few of my socks from Freaker USA. My socks range from Luke Kueckly, NC State Wolfpack, and Tupacca socks. I'm always impressed with their bright colors and fun designs.
The same goes for business cards. With your business and brand, you constantly want to get noticed. If you're looking for a way to stand out, be unique, and impress potential clients, go beyond the traditional sized business card and branch out by selecting square business cards.
72% of people say yes when asked if they judge a company by their business cards.
Square Business Cards; A Unique Option
Business cards continue to be one of the best marketing tools for any business. We understand the style and design of your business card can be a very personal decision.
They provide an immediate benefit. They allow you and your business to seem confident and interesting. Having a square card is a bold move!
Creative individuals such as graphic designers, photographers, and artists often use unconventional card shapes such as square. But, design agencies, doctors, finance professionals, and lawyers also use square shaped cards. They're versatile and can provide you with endless opportunities to dazzle the crowd with your creativity.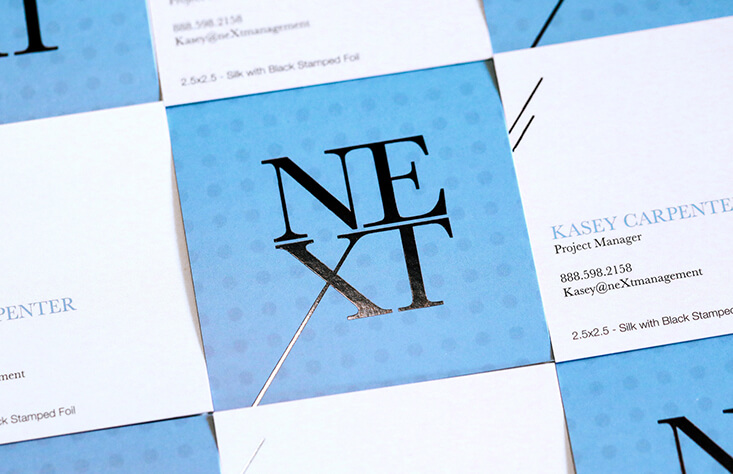 The first impression can be significant for you and your business brand! Why not select a unique size and fun business card. Along with the slim cards, you have the option to select from two square business card sizes;
They will have people talking about you and your business brand.
Different Card Stocks
When thinking about a creative business card, people associate that with the design. But, an area that can be overlooked, but can be critical, is the card stock. I promise I won't get too technical. But, similar to the card's shape, the card stock can play an important role and highlight your personality. For example, do you enjoy the outdoors or have a connection with nature?
Well, we offer two environmentally friendly card stocks; Kraft paper and Natural. Both contain 30% recycled materials. Please take a look at all the different paper stocks we offer.
Be Creative with Special Features
The size is unique, but we offer square-shaped cards on a variety of card stocks and features. For example, you can include Spot UV, which is a clear varnish applied to certain areas of your business card design. It can create dramatic contrast, highlights, and dimension to the text, images, patterns, and more. It's one of my favorite features. Other options can quickly make your design come to life and pop off the card.
Below is a product video of our Inline Foil card with Spot UV. These unique features make the cards design pop, making them eye-catching!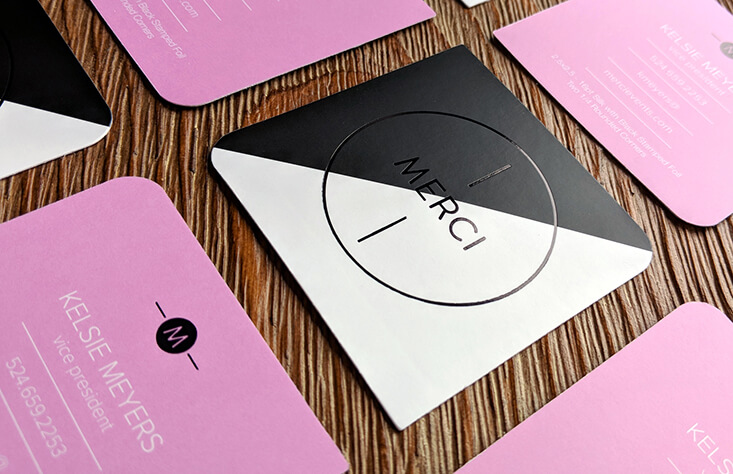 So, know you're ready to have that special card. What's the next step? You can either upload your design or contact our design team. We understand designing a card can be challenging. Let one of our in-house designers create a one-of-a-kind design for you and your business. Just complete the online form, and they'll be in touch with you soon.
If you have a design and want to get started, download our free square business card template.
Do you need help with a custom design? We can help! To get started, please complete our design form and one of our in-house designers will be in touch.
See and feel our print products for yourself. Request a free business card sample packet!
Additional Resources: