Business cards and postcards continue to be great marketing tools for you and your business. These small but useful tools are great for establishing your brand. It's important to stand out among your competitors, and having a premium business card and a well-designed postcard can help.
By selecting a thicker card stock, you're making it easier for you and your business to stand out among the competitors.
At Primoprint, we are excited to offer two different types of thick business card options.
The ModCards™
Painted Edge Business Cards
The ModCard™
What exactly is the ModCard™? It's a unique business card made from three layers of premium uncoated card stock, making it 32PT thick. The three layers are glued together with a black center layer for a distinctive look like no other card.
The ModCard™ is a thick card stock option that's available at a fraction of our competitors. You can see the price comparison with the image below as it breaks down the prices and quantity. There is a drastic difference when it comes to price and quantities!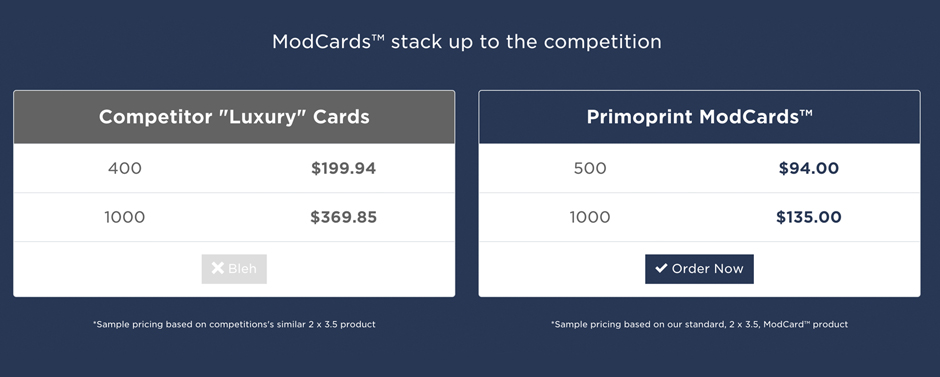 Below you can see the distinct edge, which makes these cards stand out! The below image demonstrates the thickness compared to our 16PT matte business card and our 22PT gloss laminated business card. Each stack contains 100 business cards.

The ModCard is available in business cards and postcards.
Painted Edge Business Cards
Professionals seeking to showcase their creative and playful personality should look no further. Gove you and your brand a customized look with bold colored edge cards! Similar to the ModCard™, our Painted Edge Business cards are printed on premium 32PT thick uncoated card stock.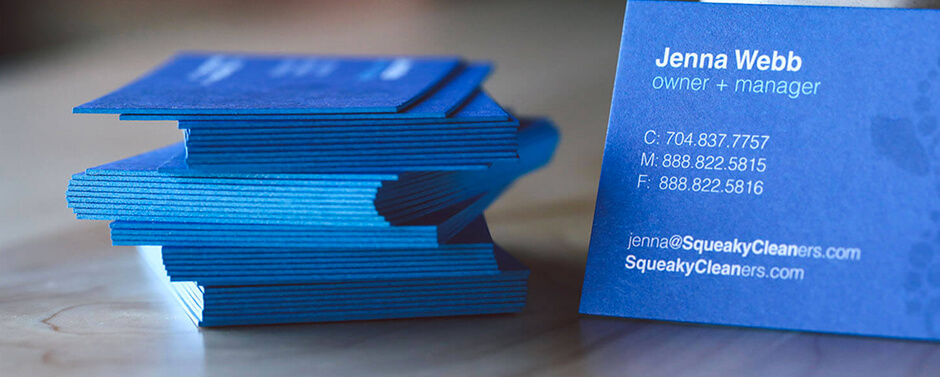 They are slightly thicker than a standard credit card, making them extremely durable. We have seven unique pearlescent colors to select from and nine standard colors to meet your branding needs.
Pearlescent Edge Color Options:
Gold
Green
Blue
Pink
Orange
Purple
Yellow
Standard Edge Color Options:
Red
Black
Yellow
Blue
Brown
Turquoise
Orange
Pink
The ModCard™ and Painted Edge Cards are popular with designers, photographers, boutiques, and other professionals looking to make a lasting impression.
Not only does a strong business card depends on a variety of factors, including business name, information, well-thought-out design, and durable card stock. Keep in mind, there are business card design mistakes you should avoid.
If you need help with a custom design, our in-house design team will be happy to bring your idea to life! To get started, complete our online design form.
Interested and seeing the card for yourself? Request one of our free sample packets! You'll be able to see and feel the products for yourself. There is no need to question the thickness when you can have them in your hands.