What is Spot UV?
Whether you are using regular Spot UV or Raised Spot UV, this is a clear gloss that is applied to set areas of your choosing. Unlike Full Gloss that covers the entire surface of the card, this can be applied over small or larger areas – giving an extra dimension and contrast to the artwork.
What is the difference between Spot UV & Raised Spot UV?
Spot UV is the OG of spot gloss. This process has been around for years and many people have come to love its effects. When applied, the clear gloss lays flat along the papers' surface. When you run your hand over the gloss, there is only a slight lift above the printed ink.
In contrast, Raised Spot UV, is still a fairly new product. Debuting in 2018, this clear gloss bubbles up off the page – giving a rounded, extra noticeable effect to the design. The texture created is significantly higher than the original Spot UV.
Why use Spot UV or Raised Spot UV?
Why not!? No matter what type of business you have, either of these processes is sure to get you noticed. These effects take your design to an entirely new level. If you want to bring attention to a particular area of text or design on the card, this is the way to do it!
What products are available with Spot?
So many things! Spot UV allows you to go beyond business cards and put a splash of "wow" on most of your marketing materials. Try adding it to your bookmarks, postcards, invitations, sell sheets, presentation folders, EDDM/Direct Mail, Hang Tags, Trading Cards, and Greeting Cards. Look for Spot UV on Silk, Matte, and Velvet papers.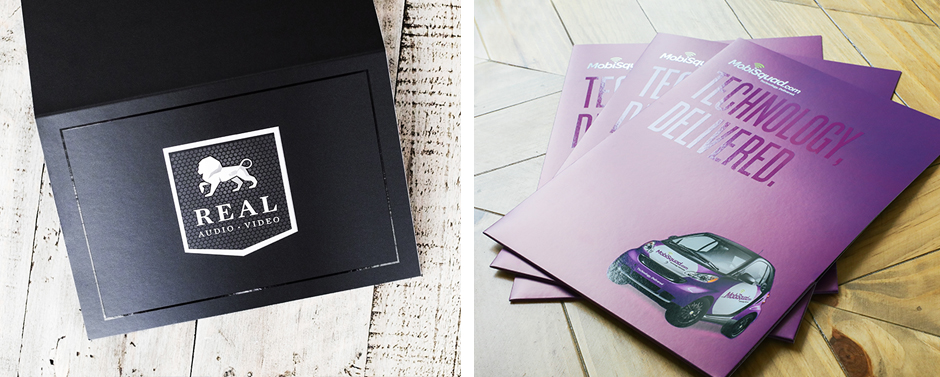 What products are available with Raised Spot UV?
Raised Spot uv is a bit more limited on its availability. Unlike normal Spot UV, Raised Spot UV comes on our Velvet paper and can be added to Business Cards and Postcards only.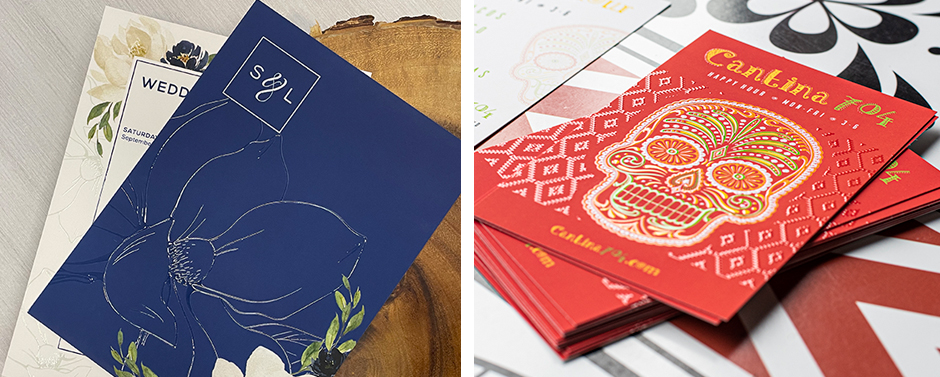 Recommended Uses:
There are a couple ways you can use both Spot UV and Raised Spot UV. The most common way is over the top of your logo. It helps to accentuate the logo and make it a bit more noticeable. But this process can go much further than that. People are drawn to things that entice their senses. So take full advantage of what this process has to offer by getting a bit more creative. Appeal to your customers' sense of touch by using the product to create texture. Create positive and negative space by not filling entire objects with the gloss. Pick and choose areas that are important and draw attention to it. Or create a texture with graphics or text in the background. By getting creative, you have the ability to make your card more memorable.

Spot UV Specifics:
A mask file is required for all Spot UV products in order to tell the press where you want the spot uv to be placed. For more information on how to create your mask, take a peek at the below video.
Spot UV can be placed on the front and/or back of your product.
Raised Spot UV Specifics:
A vector mask file is required for all Raised Spot UV orders. This tells the press where exactly you would like the clear gloss placed. Vector mask files can be created in Adobe Illustrator or Adobe InDesign. If you need help creating the mask file, our Design Team would be happy to assist you.
It is recommended that your Raised Spot UV coverage does not exceed 30% of your surface. Because the gloss is a thicker substance, larger coverage areas will not dry as easily and will cause your cards to stick together in the box.
Raised Spot UV can be placed on the front and/or back of your product.
For more information on how to create your mask files, check out the blog "How to add Spot UV to your design."
Can you write on Spot UV?
The spot gloss does not allow for writing over the top. Both the Silk and Velvet papers can be written on with select pens, so if you need to write on your card, it's recommended that you first request a sample pack and test the paper, and second, do not place Spot UV or Raised Spot UV on areas that are intended for writing.
Folds:
It is not recommended to place Spot UV or Raised Spot UV along fold lines. This may cause cracking in the gloss and will not look good.
Insider Info:
Did you know that Spot UV, when printed on Silk, can also include Stamped Foil? Wanna talk about making an impression… This is the way to do it! Be sure to leave at least ⅛ of an inch between your Spot UV and your Foil though, because the two processes cannot overlap.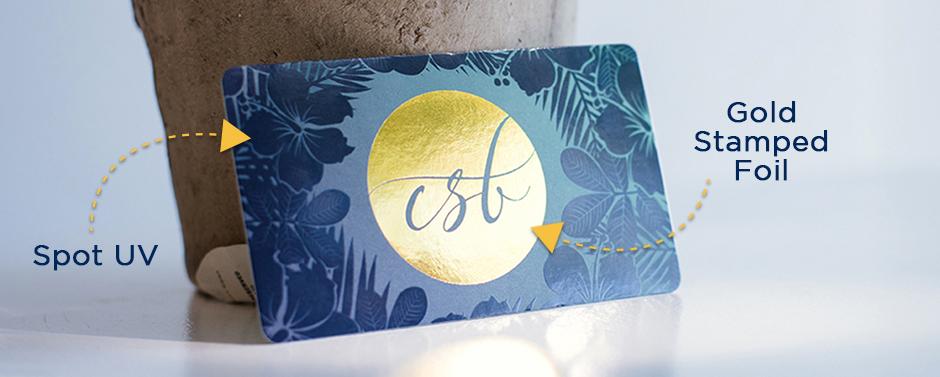 Go Blind:
Blind Spot UV or Blind Raised Spot UV is always a fan favorite. Most commonly you'll see designers place the gloss over the top of a printed object. With Blind Spot UV, the gloss is applied over the background and does not follow a printed shape.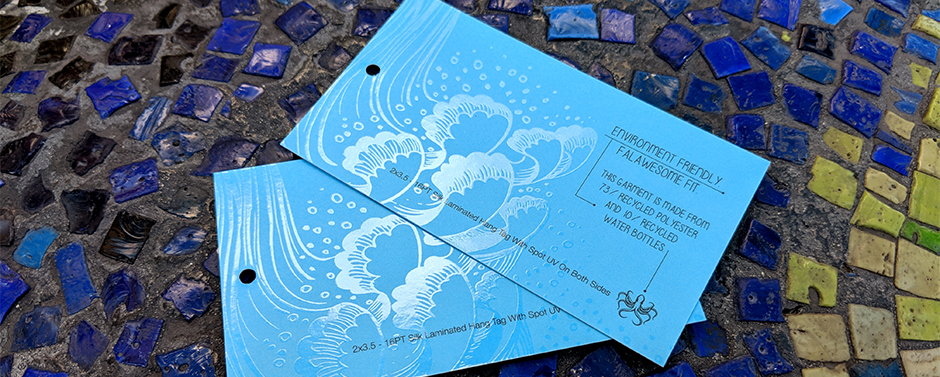 Turnaround Times: During a normal production time, Spot UV & Raised Spot UV products take 2-4 business days to produce. If you add stamped foil to your Silk with Spot UV, however, production time increases to 5-7 business days.
For a full Primoprint business card paper comparison, click here.
Want to see and feel Spot UV products for yourself? Request a FREE sample pack!
If you want to try Spot UV &/or Raised Spot UV on your next project, see all the ways you can use it HERE! And as always, if you need help creating your artwork or your mask files, don't hesitate to reach out. One of our amazing Graphic Designers would love to work with you on your project. Get in touch today!
READ MORE: Take your design to new heights with Raised Spot UV